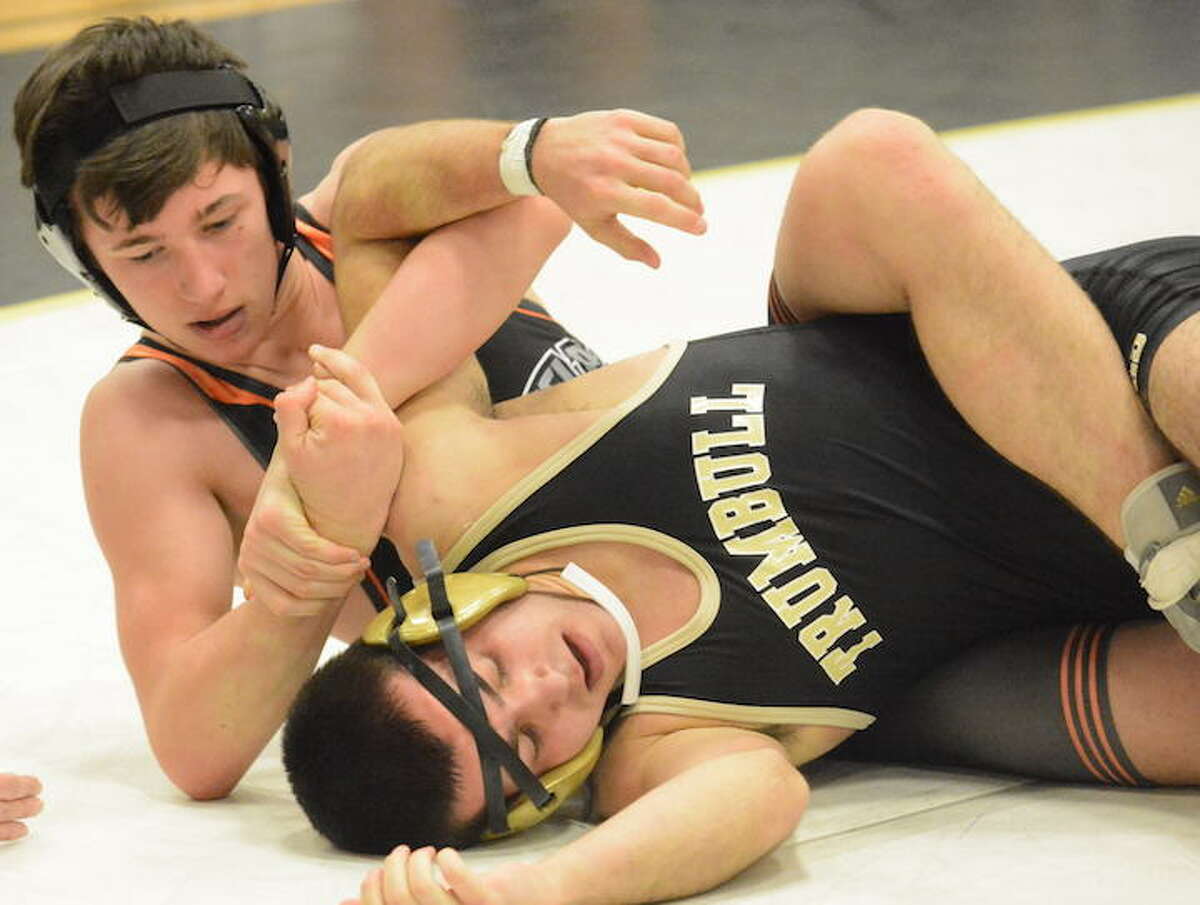 Ridgefield High's wrestling team earned four pins and won another match via decision in Thursday's visit to FCIAC foe Trumbull.
But just as significant as those individual wins, in the eyes of coach Travis Tiger, were the hard-fought losses in Ridgefield's 52-27 loss.
After all, several Tigers are either freshmen or inexperienced wrestlers.
"It's never a bad thing to get your but kicked. It humbles you. It teaches you. If you're paying attention it teaches you a lot of things," Tiger said. "You've got to compete against guys that are better than you."
At 152 pounds, Ridgefield's Connor Brown pinned Jace Starrett in 3:27. Brown had picked up 10 first-period points on a reversal and near falls.
"Seeing him very much dominate the match, scoring almost all the points and get a pin at the end, was great," Tiger said.
Lazar Agoev pinned Trumbull's Michael Hegley in 2:27 to win at 160 pounds. Agoev held a 10-2 lead at the time of his pin, compiling points on four takedowns and a near fall.
Liam Keppler (170 pounds) won on a pin in 2:38, and Sam Klotz (220) pinned his Trumbull counterpart in 3:24.
In the 126-pound division, Ridgefield's Ben Smart prevailed with a 9-5 decision over Jonathan Kosak. Smart led 3-2 after one period, on an escape and a takedown, and carried an 8-3 lead into the third behind two reversal points and three near-fall points. Smart tacked on one point with an escape in the third.
Tiger liked how his freshmen competed against two of the better FCIAC and state competitors in two other weight classes.
Nathan Blaha tangled with Mike Longo at 106 pounds and went three periods before falling 11-1. And at 120 pounds, Lucas Ferreira escaped to extend his match before being pinned by Jack Ryan in 1:39.
"We fight hard. It's a very tough opponent and we have a lot of youth," Tiger said. "They don't mind going up against tough guys. They want to go out and scrap as long as it takes."
The coach added that he is impressed with the implementation of moves the Ridgefield wrestlers have been working on in practice.