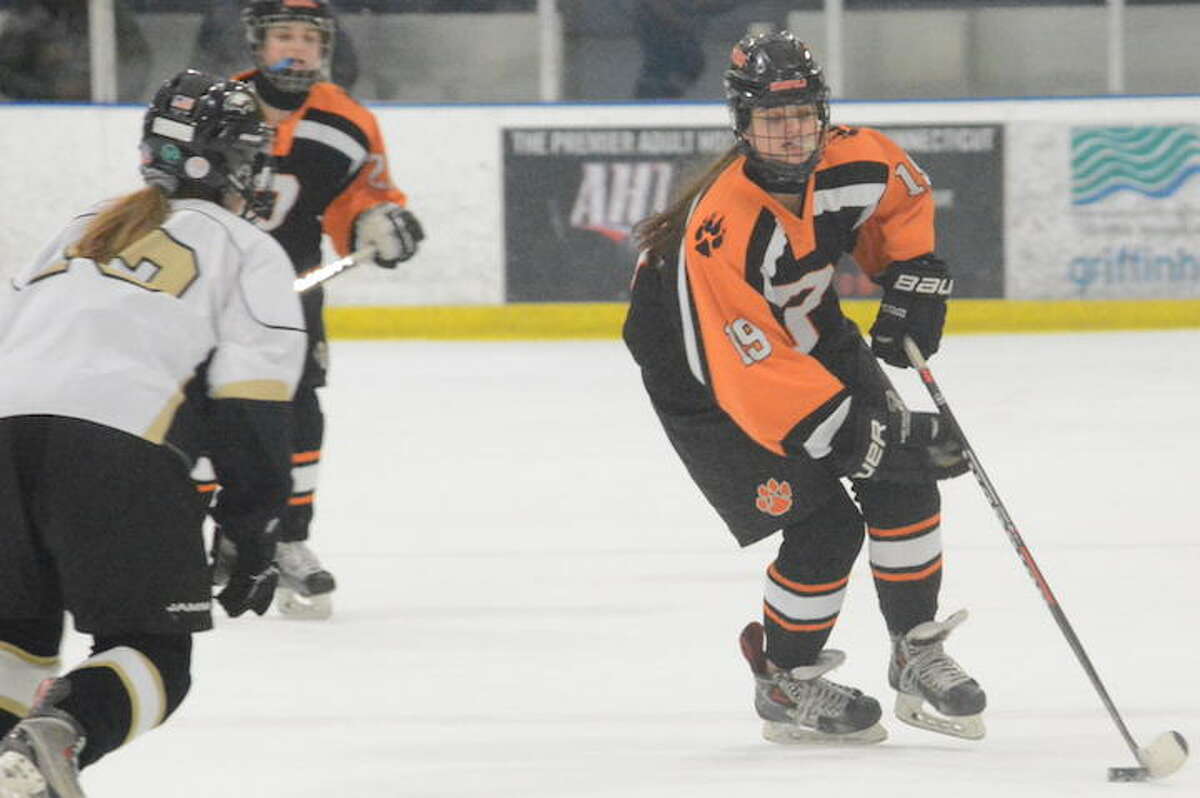 The Ridgefield/Danbury co-op girls hockey team moved the puck well and created an abundance of scoring chances, leading to six players scoring goals in a 7-0 blanking of host Trumbull/St. Joseph at The Rinks at Shelton on Monday night.
With the triumph, Ridgefield concluded the regular season at 9-10-1 overall and 6-6-1 in FCIAC play.
Kate Zangre scored twice, and Julia Bongo, Emily Stefanelli, Katie Rector, Bridget Galloway, and Jaime Kunzmann added one goal apiece.
Ali Caiola and Bongo each had two assists, and Aubrey White, Julia Zangre, Rebecca Gartner, and Chiara Signorelli contributed one assist apiece.
Goalie Reagan Bonadies made 15 saves for the shutout.
Bongo's goal just 3:20 into the contest was the only scoring until the second period.
Kate Zangre scored an unassisted goal 5:54 into the middle period, but — despite continuous pressure in the Trumbull defensive zone — the Tigers were unable to pad their lead until late in the second.
Goals by Stefanelli and Rector in the final two minutes of the period doubled the lead to 4-0, and Kate Zangre scored again just 51 seconds into the third period, putting the Tigers ahead 5-0.
"I think we had bus legs to start," Ridgefield coach Laura Lubrano said. "Once we got our legs under ourselves it all started coming together."
Kunzmann recorded her first high school goal, depositing her own rebound after taking a pass from Bongo.
"It shows how much she has improved all season," Lubrano said about Kunzmann, a first-year player."She stayed on her skates, got her rebound, and shot it in."
Ridgefield's defensive effort was led by Signorelli, Caiola, Julia Zangre, and Galloway.
This game served as a confidence booster for the Tigers, Lubrano said.
"It allowed the girls to work together and pass the puck around. The girls had fun with it, too. Once you have the confidence it's easier to have patience with the puck, generate opportunities and be more creative," Lubrano said.
"We definitely communicated on the ice and I think we passed and moved well to get into position for passes, and we got pucks to the net, especially later in the game," said Signorelli, a captain.