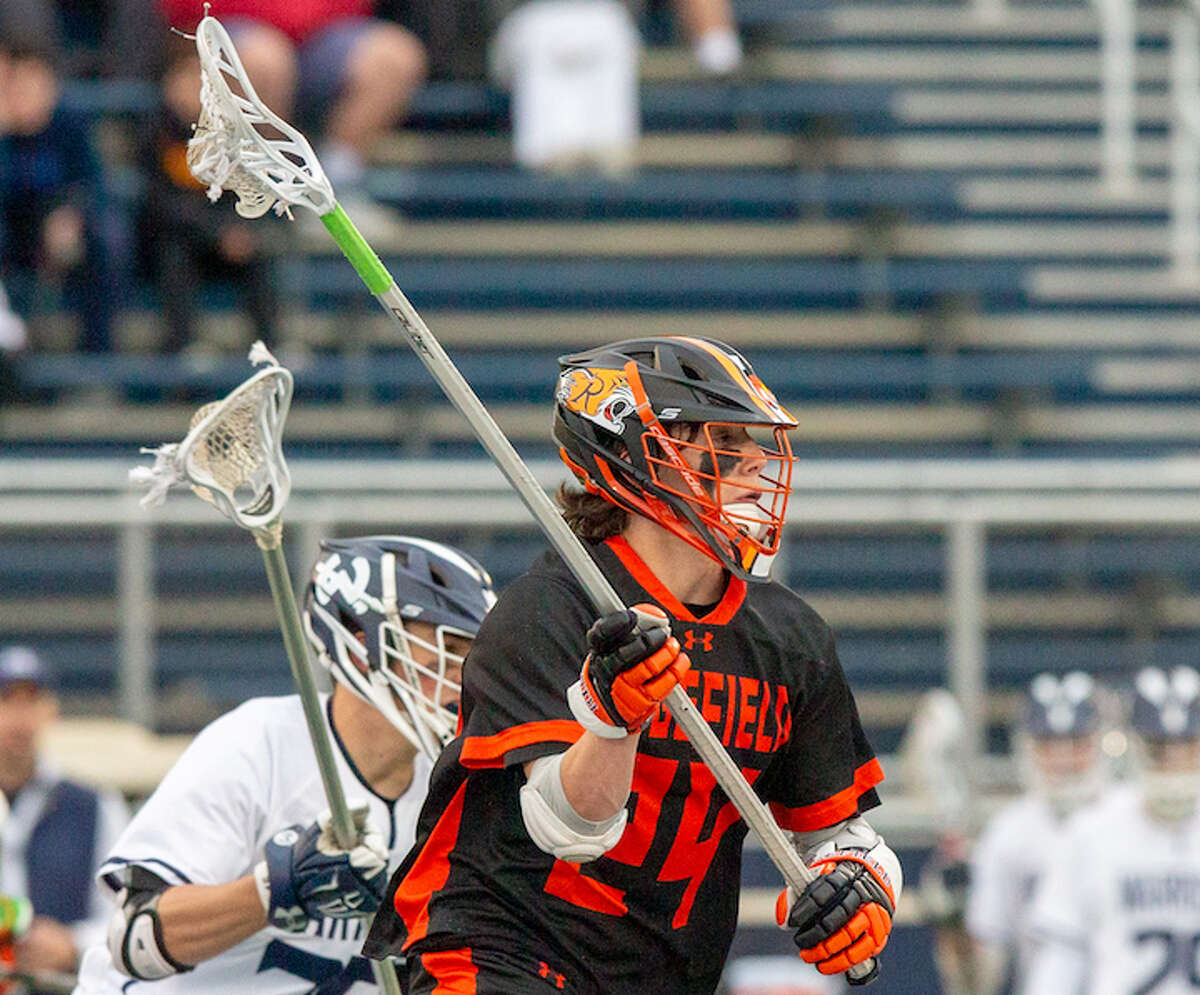 "This is why people don't like Ridgefield," yelled a Wilton fan midway through the final quarter of Thursday night's boys lacrosse game.
The reason for his frustration? Ridgefield had scored the last goal to open a 9-7 lead and now the Tigers were content to move the ball around and take time off the clock.
For nearly three minutes, Ridgefield maintained possession without taking a shot. The Tigers then called a timeout with 4:22 left, and when play resumed Weston Carpenter scored to give Ridgefield a three-goal lead.
Wilton had only one more brief possession as the Tigers closed out their 10-7 road triumph and improved to 12-2 with two regular-season games left.
"I'm going to do that every time ... if I have the lead and the ball you're going to have to come and get it," Ridgefield coach Roy Colsey said about slowing down play. "That's why we need a shot clock. At the end of the day I'm a fool if I'm giving them back the ball when they have to be the ones on the offensive end."
Ridgefield led 5-3 before Wilton got back-to-back goals from Zach Rossi and Reilly Sullivan to tie the score with 7:59 left in the third period. But Ryan Colsey and Owen Gaydos scored off sweet individual moves and John Mathes followed with another goal to put the Tigers ahead 8-5 going into the final period.
Less than a minute into the final quarter, Wilton (6-8) was back within one at 8-7 following goals by Liam Sullivan and Andrew Luciano.
But after Mathes gave Ridgefield a two-goal cushion, the Tigers went to their stall.
"Ridgefield is a very skilled team," Wilton coach Steve Pearsall said. "They know how to control the possession, let's say. We knew that. You can't get behind against them."
Winners of their previous five games, the Warriors played a strong first period. Reilly Sullivan opened the scoring for the hosts, and after Ridgefield went ahead on two goals from Carpenter, Wilton got goals from Liam McGovern and Andrew Luciano to lead 3-2 at the end of the quarter.
Both goalies — Dan Parson for Ridgefield and Andrew Calabrese for Wilton — made nice saves during a second quarter that included only two goals. The Tigers scored both of those: Noah Gels converted a feed from Ryan Colsey off a fast break started by Kai Prohaska's forced turnover; and Ray Dearth followed with an unassisted goal on a ripped shot from 15 yards out.