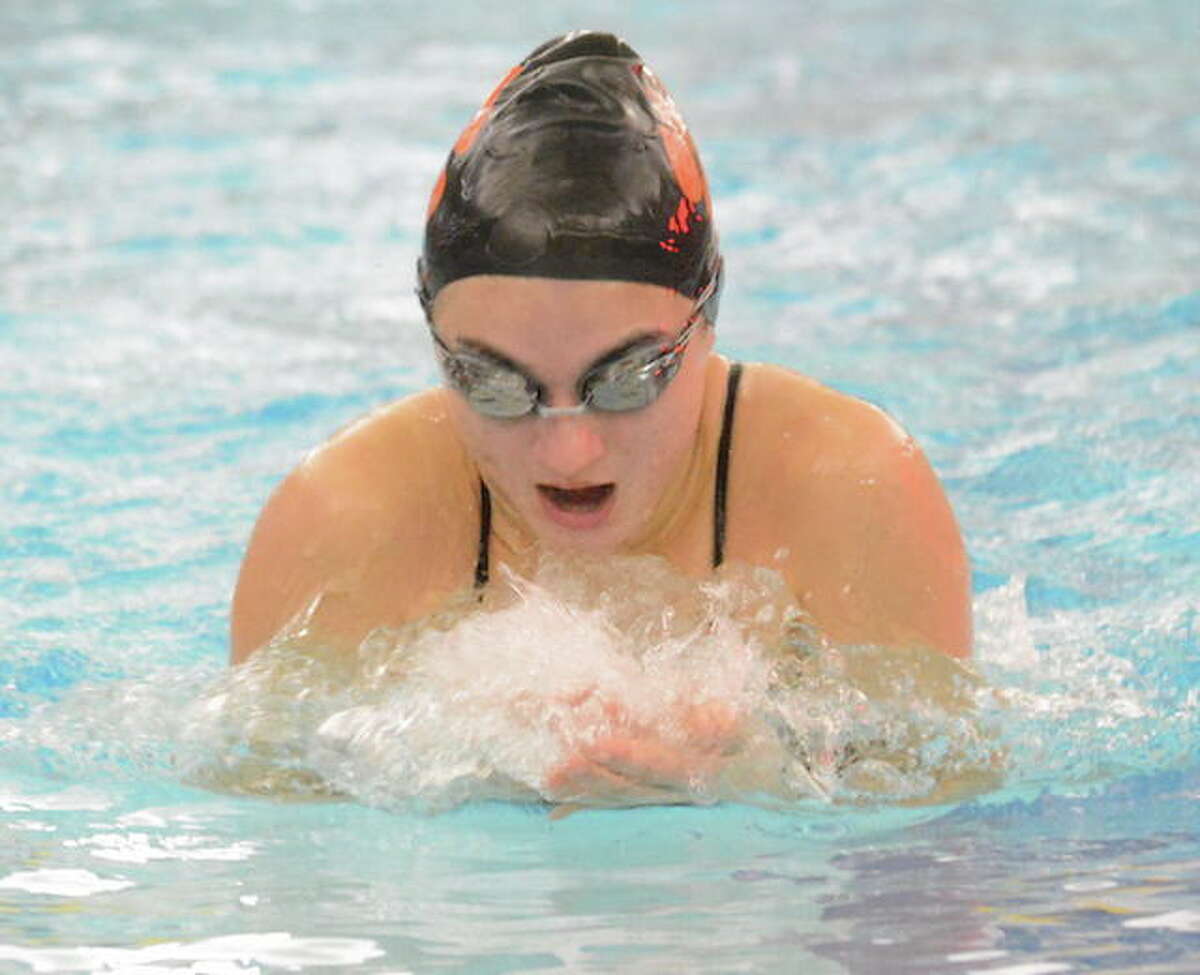 Although the exact final score was still to be determined — by this afternoon's diving competition — the outcome was certain: Another win for the Ridgefield High girls swim team.
In their penultimate regular-season meet, the Tigers outscored host Trumbull, 100-68, in the swim events at Hillcrest Middle School on Monday.
Ridgefield, which improved its record to 7-1, won all but three events before sealing the victory and swimming exhibition (no points) in the 400-yard freestyle relay.
Stephanie Bishop and Jenna Budicini gave the Tigers a one-two finish in the 200 freestyle with times of 2:02.41 and 2:04.69, respectively.
Ridgefield's fastest swimmer in the 200 individual medley was second-place finisher Anna Turner, who made her final touch in 2:10.80, just behind Trumbull's Lauren Walsh (2:10.55).
Hannah Snyder was second in the 50 freestyle in a time of 25.87, edged out by Trumbull's Mia Zajac (25.79).
Elissa Clancy added a second-place finish for the Tigers in the 100 butterfly with a time of 1:01.61.
Bishop (55.23) and Riley Giles (55.66) were first and second, respectively, for Ridgefield in the 100 freestyle.
Turner won the 500 freestyle in 5:20.79, beating her closest competitor by a whopping 20 seconds.
Julia Weiner triumphed in the 100 backstroke for the Tigers in a time of 1:05.61. Teammate Prentiss Corbin (1:07.22) was second.
Ridgefield swept the top-three places in the 100 breaststroke, with Hanna Sotolongo (1:11.55) finishing first, Clancy (1:13.35) second, and Mia Ciavarelli (1:15.90) third.
Adding victories for Ridgefield were Weiner, Sotolongo, Clancy, and Snyder in the 200 medley relay (1:53.86), and Bishop, Snyder, Turner, and Giles in the 200 freestyle relay (1:43.27).
"I think we had a pretty good meet," said Turner. "We had some off-swims for team members to see what they can contribute in postseason. I'm really excited. It's coming up fast."
"I feel like we have stronger depth than we ever had before," said Snyder. "I think that's really going to help us at FCIACs."
According to assistant coach Thammara Clemente, Ridgefield still has areas to improve.
"Reaction time on the start needs work," she said. "Underwaters are good, breakouts are good, turns need some work, but, overall — flat to flat — they're really good."
Most of all, according to Clemente, the team has great chemistry.
"This is more than a swim team. These girls are amazing; they're all friends," she said. "Their commitment to the sport is really good. They're always helping each other all the time. Communication is really good."
Notes: The diving portion of the meet is scheduled to take place today at the New Canaan YMCA.