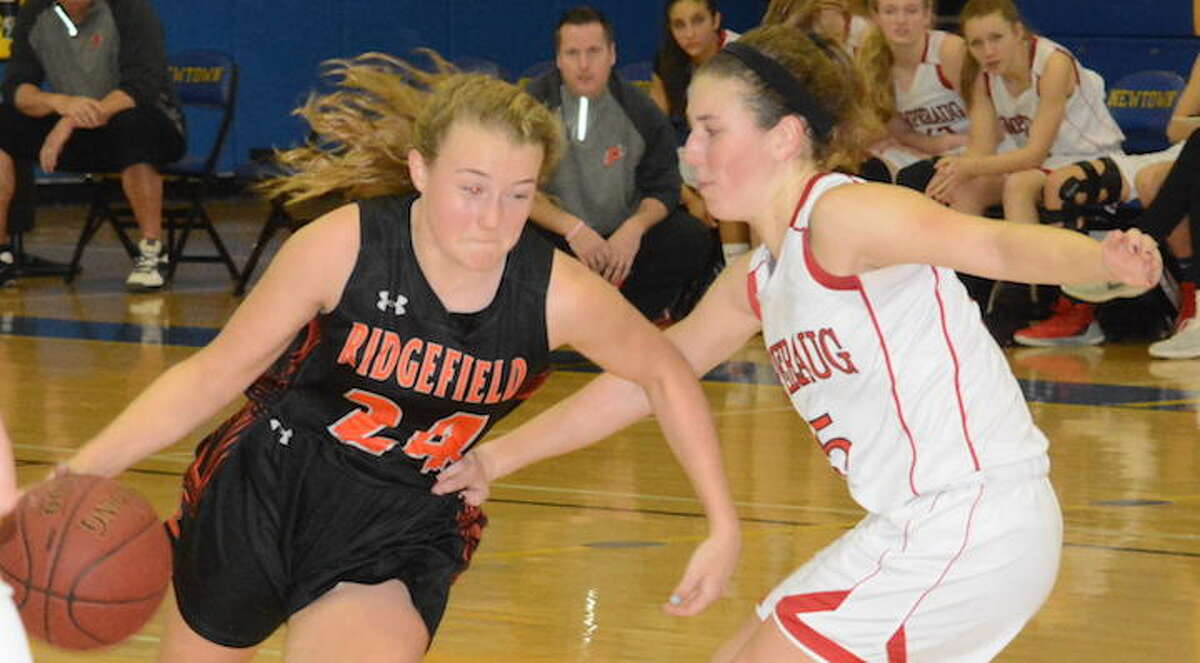 A challenging non-conference clash with Pomperaug could have been more than a good test for the Ridgefield High girls basketball team. But the Tigers saw their comeback fall short in a 42-39 loss to the Panthers in the Threes for Charity tournament at Newtown High on Friday morning.
Trailing 25-22 at halftime, Ridgefield saw the Panthers score the first six points of the third quarter before Kate Garson finished on a fast break to get the Tigers on the board in the second half, making it 31-26.
Down seven points again, Ridgefield closed the gap to three, 35-32, heading to the fourth. Kate Wagner dropped in a three-pointer and Cameron McClellan hit another three-pointer from the left corner after the Tigers broke Pomperaug's full-court press.
Ridgefield had two possessions and three shots at the basket late in the third quarter but couldn't cut any deeper into the deficit until the fourth, when the Tigers eventually drew even.
Ridgefield closed within 39-37 with 4:35 to go when Faith Arnold drove to the basket for a bucket and was fouled, hitting the free throw for a traditional three-point play.
Megan Klosowski then sank a pair of free throws to knot the score at 39 with 2:31 left.
Pomperaug went back in front by hitting a foul shot with 2:08 to play. A turnover then cost the Tigers a chance to claim the lead.
Ridgefield was forced to foul in the waning seconds, and Pomperaug's Maggie Lee (24 points, including 13 in the opening quarter) missed the front end one-and-one with 22 seconds left. But Lee tracked down the rebound, was fouled again, and made both shots with 14 ticks left on the clock.
Pomperaug's tight defense denied the Tigers a good look for a potential game-tying three-pointer, and time ran out on Ridgefield.
"We had a set play. I don't think we ran it quick enough — a couple too many dribbles and that takes time," Ridgefield coach Tom DiMarzo said.
"Defensively, we're tough," DiMarzo added. "I like what we did defensively. Offensively, we've got to be a lot more confident; we missed some layups. We didn't always box out, and we gave up a couple second-chance points that hurt us."
Wagner had 11 points (nine of which came on a trio of three-pointers) to lead Ridgefield. Garson added 10 points and McClellan contributed six points on a pair of three-pointers.