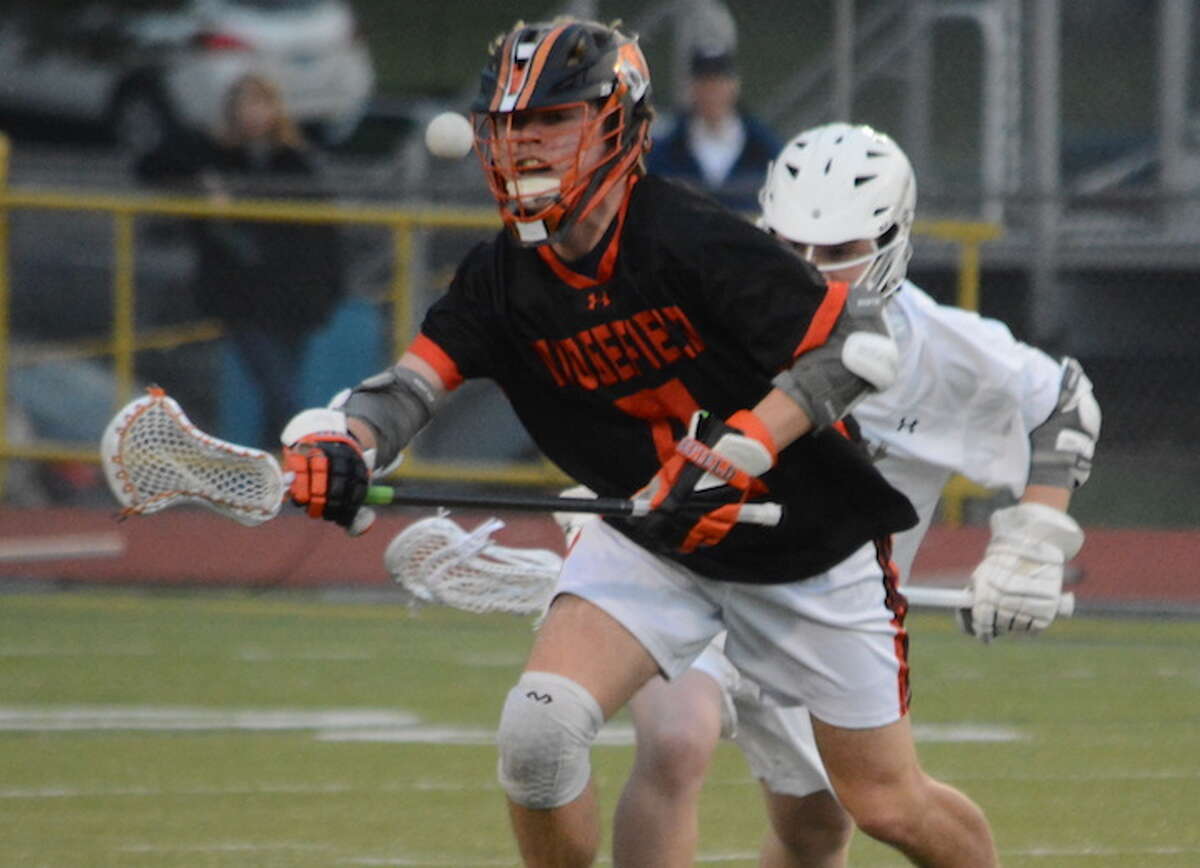 You can't win if you don't score, and you can't score if you don't have the ball.
Behind the face-off efforts of Jake Lynne and Eliot Hynes, the Ridgefield High boys lacrosse team had the ball for much of the time in Tuesday's game at Trumbull. The Tigers took advantage, extending their winning streak to four games with a 16-6 victory.
Ridgefield (11-2 overall) built a 7-0 lead, was ahead 7-3 at halftime, and bounced back from a tough end to the second quarter with a dominant third period in which it doubled its goal total to carry a 14-5 advantage into the final quarter.
Weston Carpenter scored four goals and Owen Gaydos and John Mathes each netted three goals to power the Ridgefield offense. Mathes added a pair of assists.
Ryan Cosley had two goals and three assists, and Noah Gels added a goal and an assist. Ray Dearth, James Isaacson and Brady McSpedon contributed one goal apiece.
Issacson led Ridgefield with six ground ball scoops, with Dearth getting five and Lynne four. Robbie Liesegang had three ground balls, and Connor Riebling, Gels, Carpenter, Quinn Caviola, and Jack Dowd all had two.
But the biggest stat may have been the 20 face-offs that Lynne and Hynes combined to win out of 26 total draws.
"It's everything," said Ridgefield head coach Roy Colsey about winning face-offs. "You can't give any offense 14 more possessions."
Especially an offense such as Ridgefield's, which is capable of piling up goals quickly with its fast-moving attack and crisp ball movement. The Tigers have produced double-digit scoring in nine contests this spring.
They might have been poised to check off that category in the opening half, but a few miscues led to Trumbull temporarily seizing some momentum.
"I think we got a little selfish not getting back on defense," said Colsey of the offense needing to do its part and help out defensively.
"Trumbull's had a nice season. They're a talented team. It was exactly what we expected. We made some mistakes and they capitalized," Colsey said.
During halftime, the talk was to get back to the ways that sparked Ridgefield to a big, early lead and initial shutdown of Trumbull's offense.
The Tigers dictated the game in the third quarter with effective possessions and turnover-causing defense, as well as hustle for loose balls.
When the Eagles got through, Ridgefield's goaltending stood tall. Dan Parson started the game and made three saves. Matt Shepard and George Rioseco each stopped one shot in late-game net duties.
Although pleased overall — "I'm happy with the effort," Colsey said — Ridgefield's head coach is looking for his team to improve as the season enters the stretch run.
"We just need to get better," he said."Every game counts toward seedings [for the conference and state tournaments."
Following a visit to Wilton on Thursday, Ridgefield travels to play Brien McMahon on Saturday in Norwalk before ending the regular season on the road against Fairfield Ludlowe next Tuesday.
After that, maintaining possession will be not only a way to score goals but also a means of avoiding playoff elimination.