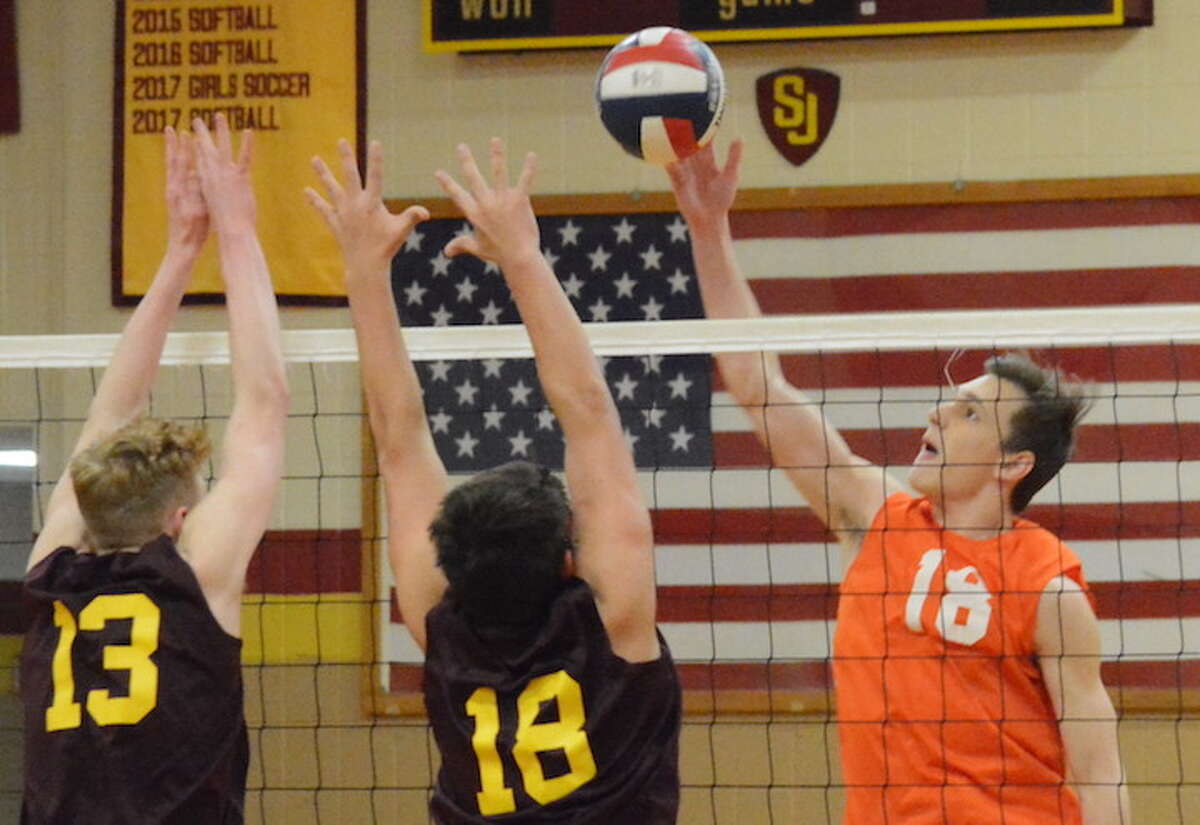 The Ridgefield High boys volleyball team clinched a state-tournament berth with a 3-1 road victory over Greenwich in the regular-season finale Friday.
The win was the third straight and seventh in eight matches for the Tigers, who improved their record to 8-10.
Setter Max Stafford had 41 assists, nine digs, and 11 service points for Ridgefield. Andrew Masciotti added a triple double with 14 kills, 10 digs, and 10 service points, and Chris Knachel contributed 19 kills, six digs, and four service points.
Shayne Meyer (nine kills, three digs, and three blocks), Harrison Konopka (15 digs, 13 service points), and Matthew Sorgie (12 digs) also played well for the Tigers.
Ridgefield was coming off a 3-0 sweep of St. Joseph last Tuesday in Trumbull. The Tigers won by scores of 25-17, 25-20, and 25-21.
Stafford had 32 assists, seven digs, and 11 service points, while Knachel registered 16 kills, seven digs, and eight service points.
Masciotti had five kills and five digs, and Meyer added 10 kills and six blocks.
"I'm happy. We played our game and we executed," said Ridgefield coach Lidania Cibere. "We didn't have a lot of unforced errors. We served well. We passed well."
Cibere said that Meyer did a good job blocking and hitting at the net. Early in the first game, he had back-to-back blocks, the second of which went for a point.
A diving save by Knachel led to another Meyer block for a point as the Tigers maintained some breathing room. Meyer's spike ended the first game.
In game two, the Cadets again hung close. Late-game kills by James Rudnicki and Knachel, including a hard smash down the middle to end it, helped Ridgefield go ahead 2-0.
Meyer's hard hits helped give the Tigers multiple three-point advantages early in game three. St. Joseph battled back to seize an 11-9 lead before kills by Konopka and Meyer evened the score. The teams went back and forth and Masciotti had kills to answer Cadet points, helping Ridgefield open a 19-16 advantage.
More late-game kills by Masciotti — one of which was made possible thanks to a diving dig by Knachel — gave the Tigers match point at 24-20. After St. Joseph staved off defeat for one point, Konopka ended the match when his smash was deflected out of bounds.
Cibere said that Stafford distributed the ball well, allowing left-handed, right-side hitter Konopka and outside hitter Knachel to finish opportunities.
"We've been battling,"  said Cibere, whose team lost nine of its first 10 matches this season. "These kids are fighting hard." .
Notes: Sorgie had nine digs in the win over St. Joseph. Rudnicki added five service points and five kills, while Konopka contributed six kills, four digs, nine service points, and two blocks.