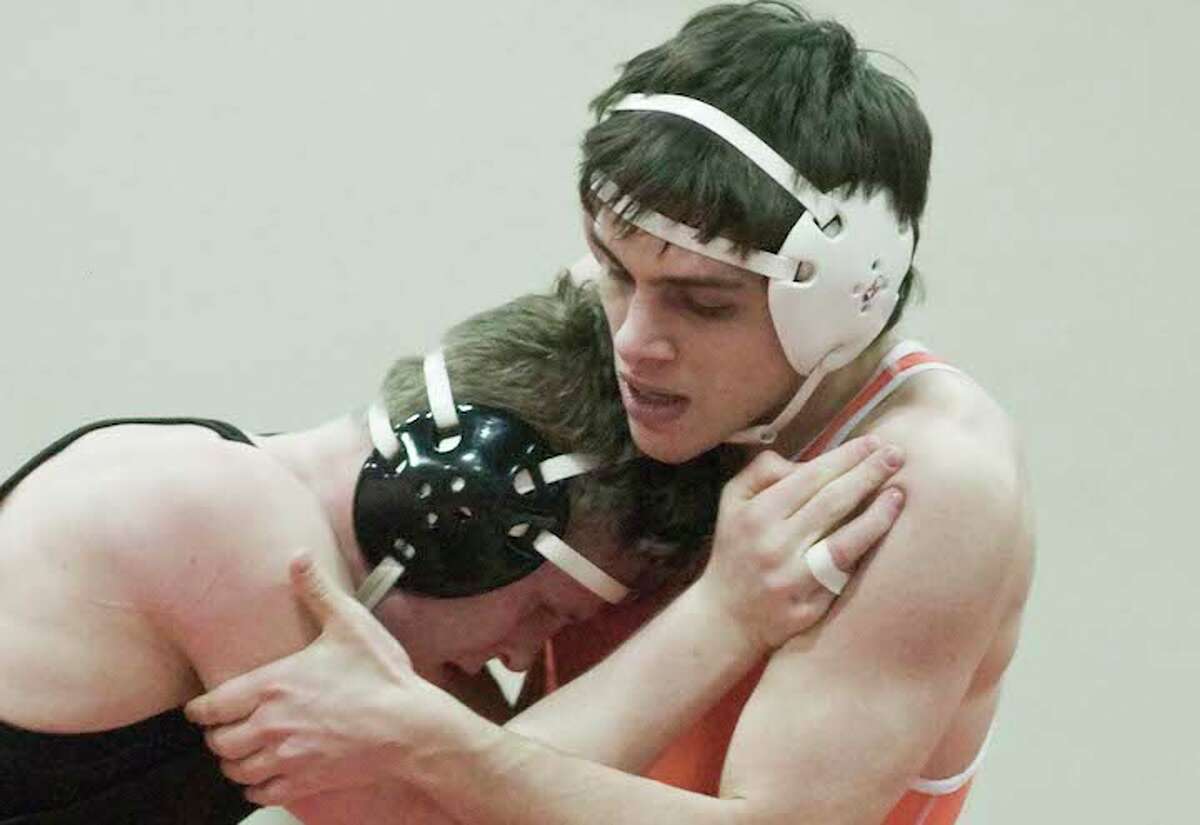 Ridgefield High senior Lazar Agoev likes to live life.
It is his innate ability to spread that joy that draws attention — and played a factor in Agoev winning the 160-pound title at the FCIAC championships on Saturday in New Canaan.
"This is fun," a smiling Agoev said while a throng of teammates surrounded him after he left the podium with the first-place medallion around his neck. "There is stress in life, but that comes in school, making sure you have homework done, choosing a career.
"This," he said with arms spread wide, "this is a relief. You get to take the mat and just have fun."
Agoev was one of five Ridgefield wrestlers who placed (top six in each weight class) as the Tigers finished seventh in the team standings. Danbury scored 257 points to win its 32nd FCIAC championship in 33 seasons, with Trumbull (200 points) second and Fairfield Warde (177) third.
In the 160-pound finals, second-seed Agoev's battle for the title with top-seed Christian Sibbett of New Canaan was an entertainment junket, with back-and-forth action throughout.
A  jaw-dropping, five-point move gave Agoev a 9-3 lead with 52 seconds left in the second period. Sibbett escaped, and in the third period traded his takedown for an escape point. Looking for a four-point move, Sibbett kept shooting to no avail and Agoev won the title with a 10-6 decision.
What is Agoev's secret to making every bout a little off kilter from the norm?
"Maybe it is because I took judo before I wrestled," he said. "I know those moves better than I do throws."
Ridgefield head coach Travis Tiger can't keep a smile off his face when discussing his firebrand of a wrestler.
"Lazar is not afraid to put on a show," Tiger said. "You never know what you are going to see, because he just goes with his instincts. He gets new fans at every tournament we go to. Even kids he beats wants to be friends with him. Lazar has that quality."
Notes: Ridgefield senior Ben Smart finished second at 126 pounds. Smart, the second seed, lost an 8-4 decision to top-seed Ryan Jack of Danbury in the title match. Jack took a 6-2 lead into the third period and then traded points to win his third conference championship.
Sophomore Connor Brown placed fourth for Ridgefield at 152 pounds. In the match for third place, Brown was pinned in 2:42 by Danbury's Jaylen Hawkins.
Also placing fourth for the Tigers was freshman Nate Blaha at 106 pounds. Blaha dropped an 8-6 decision to Norwalk's Jack Cahill in the consolation finals.
Blaha's twin brother, Alex, finished second at 99 pounds — an exhibition class that did not count toward team scores. He lost by fall to Danbury's Liam Byrne in the finals.