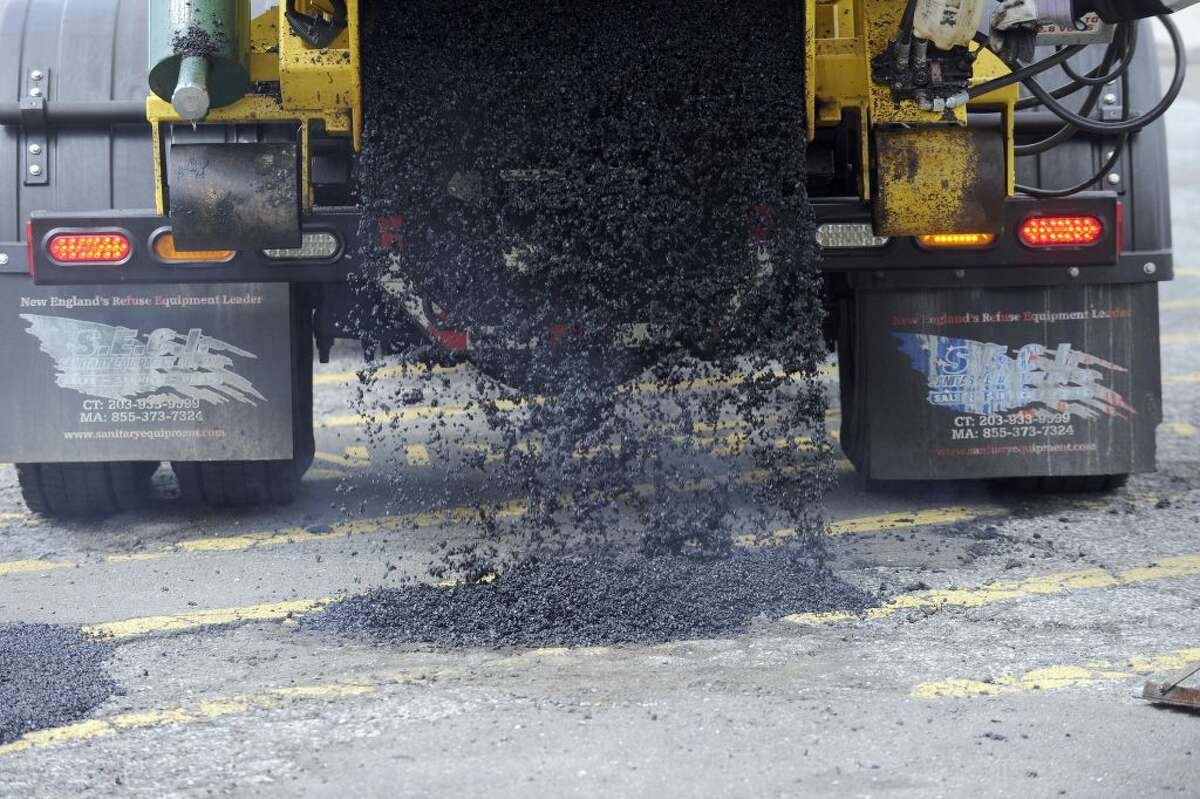 Warm-weather paving season beckons like a stripe of smooth oily blacktop, and the Ridgefield Highway Department has a list of 14 roads it's hoping to repair and repave this year.
Ridgefield's roads are traveled by commuters, shoppers, school buses and soccer parents — the quality of driving surfaces is important to people.
"If I was to rank the number of emails I get," First Selectman Rudy Marconi said during this year's budget deliberations, "the biggest number is 'the curb in front of my house,' 'the pothole,' 'my house isn't selling because of the cracks in the road.' "
The budget being sent to voters in May by the Board of Selectmen and Board of Finance allocates $1,840,000 for roads and infrastructure work. Of that, $1,765,000 is slated specifically for roads and repaving — $1,425,000 for road and infrastructure maintenance, $250,000 for drainage work, and $90,000 for rock crushing related to the road work. The remaining $75,000 is set aside for projects to address accessibility projects driven by the Americans With Disabilities Act (ADA).
A list of road reconstruction and paving projects as sent out by the Highway Department in April includes: Barrack Hill Road (partial); Florida Hill Road (partial); Grandview Drive; Mimosa Circle; Oscaleta Road; Peaceable Hill Road; Peaceable Ridge (partial); Pumping Station Road; Revere Place; Rising Ridge Road; Standish Drive; Stony Hill Terrace; Stonecrest Road; and Thunder Hill Lane.
Two processes are going to be tried this year in an effort to make road repaving more efficient, Public Works Director Peter Hill told the selectmen and Board of Finance.
Many roads will be repaved with the traditional methods using the contractor Tilcon, which operates a big paving plant off Route 84 between Waterbury and Hartford.
On some other roads — which aren't in the most serious condition — the resurfacing will be done with a new process from Gorman Roads that uses "fiberglass they bind up with aggregate and oil," Hill said.
An initial plan to address some roads with a "micro-surfacing" process was projected to cost about $348,000. But that plan was scrapped in favor of the Gorman Roads process that uses fiberglass as part of the mix. That is expected to cost about $147,000 — less than half the earlier proposal.
"This year we're going to be trying a new process," Hill told the Board of Finance. "We're trying to get the most bang for out buck, do our share to keep the budget down."
The new process is expected to be faster. "Once it's in place, and rolled, a car can drive on it," Hill said.
He's been watching the success some other towns have had with the process.
"I've spoken to a number of towns. We've looked at this process over in Redding," Hill said. "... Newtown's been using it a number of years and they're very pleased with it.
"It's lasting," he said. "Again, it's going to last depending on the weather."
How long a repaving job lasts is subject to a number of variables.
"They used to tell us we'd get 12 years out of a paving," Hill said. "Twelve years ago we didn't have the traffic we have now. Twelve years ago we didn't have the weather we have now."
Having a couple of contractors lined up, using different processes, may also help get all the work done — always a concern.
"One of the biggest problems is getting the contractor into town," Hill said. "They'll promise you a date and between that time they're working in another town, and it starts to rain and it gets pushed back."
With some 420 roads covering about 170 miles, there's always more to do.
Even with contractors doing much of the milling and repaving, Hill's 16-worker crew installs or upgrades the road drainage systems before repaving, as well as handling a lot of more routine preparation work.
"I keep telling the selectmen: We need more people," Hill told the finance board.
Marconi said much of logic behind hiring contractors to repave roads was to get jobs done while holding down personnel costs.
"Farm it out. Outsource it. Get it all done," Marconi said.
"I'll never come here and tell you I don't have any roads to pave," Hill told the finance board.
"I feel like you guys are doing a good job," said finance board member Jessica Mancini.
"We feel that way," said Hill.
"For the amount of money we spend, they do a good job," Marconi agreed.