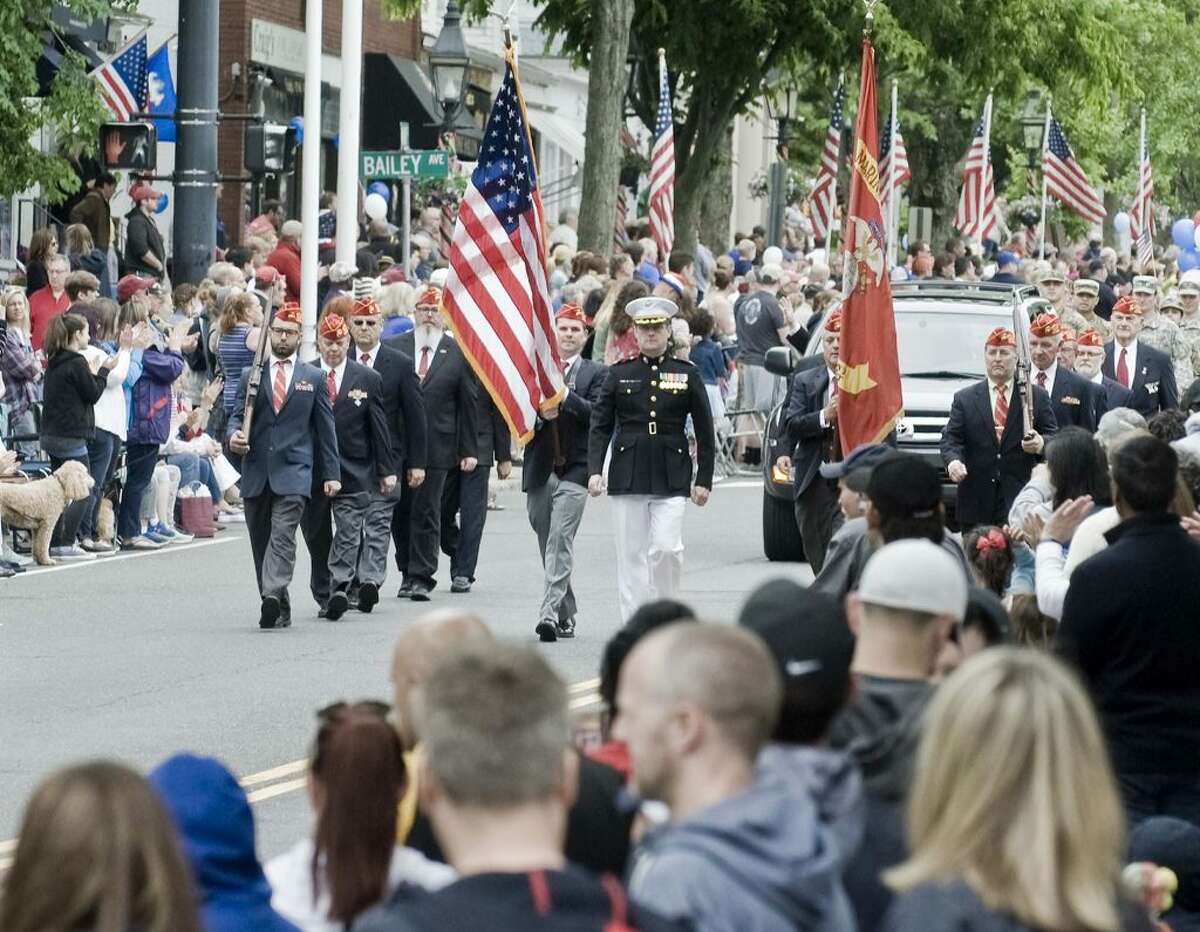 Two thousand marchers will represent 75-plus organizations at Ridgefield's Memorial Day parade Monday, May 27.
The annual tradition is scheduled to start at 11:30 a.m. from the Jesse Lee Memorial Church, with marchers heading north down Main Street and ending with a closing ceremony in Ballard Park.
This year's parade features seven bands, a military flyover, numerous floats and vehicles as well as a record-setting, estimated 2,000 marching participants.
"The first parade took place in 1921 so we're closing in on 100 years," said Denis Loncto, the American Legion's parade coordinator. "It has been run by American Legion Post 78 every year since then, and it's only not run three times due to weather."
Loncto, who will be coordinating for the fifth consecutive year, is familiar with two of those three cancellations. He started off clean in 2015 with a beautiful parade day but the 2016 and 2017 marches were called off due to inclement weather.
"Last year, it was cloudy but it happened," he said. "There's only been one other rainout as far as I know and that happened decades ago — way before my time."
In 2016, the parade was called Sunday night but the weather broke favorably after a forecast of thunderstorms and heavy winds. In 2017, the parade was washed out — leaving Ridgefielders without a parade for two consecutive years.
"I learned my lesson calling it early," Loncto said. "Now we meet Monday morning to make sure of the forecast."
The decision will be made by 8:30 a.m. Monday, Loncto said.
There's plenty of preparation before that meeting Monday. Loncto said he keeps in constant communication with Dick Aarons, the town's emergency manager, in the days leading up to the parade to stay updated on any significant weather patterns that may impact the area.
Weather isn't the only precaution the parade's coordinator takes.
"We've been planning this since early February," he said. "We start early — Feb. 1 — with a blast all email to all our participants, that's the first step. What we're trying to do is find the contact person within any given organization and figure out if it's the same person as last year or someone new."
By late February, a letter is sent out with the parade's registration link. Two weeks later, Loncto uses a shorter version of that letter to remind any groups that haven't responded.
"There are five key points in that letter: lineup times, the pre-march ceremony that takes place at the monument on Main Street in front of Jesse Lee, the transition from parade grounds to the parade on Main Street, the post-march closing ceremony at Ballard Park, and cancellation instructions."
Further instructions
That last point Loncto has come to know all to well but one he hopes he doesn't have to utilize Monday.
"If we need to cancel, we will be able to manage to salvage the speeches that are typically made at the end of the parade," he said.
"Jesse Lee Church is our backup plan if it rains," he added. "We held speeches there in 2017 and about 200 people attended."
In the case of a rainout, the speeches will run at 11:30 a.m. — the same time as the parade.
Residents should check The Ridgefield Press website — theridgefieldpress.com — for updates Monday morning. Information will also be available on the town website, ridgefieldct.org, WLAD radio (800 AM) and 94.1 FM. The Press and town's Twitter and Facebook pages will also have updates.
Organization
All parade participants are to line up starting at 10 a.m. on the grounds of Jesse Lee Methodist Church located at the corner of Main Street and King Lane. All vehicles and floats will line up at 9:30 a.m. entering King Lane from High Ridge. The parade is scheduled to get underway at 11:30.
George Besse, commander of American Legion Post 78, emphasizes to participants that King Lane will be a one-way street from 9:30 a.m. until the end of the parade.
"You can drop off your children in the staging area by entering King Lane from High Ridge only," he said.
The drop-off area is just for dropping off participants, there is absolutely no parking allowed except for authorized vehicles, Besse instructed.
"There will be American Legionnaires in all areas to insure your child gets to their designated area. Floats and vehicles in the parade have to enter King Lane from High Ridge. Do not arrive before your prescribed time! Upon entry you will be directed to your assigned position."
The parade will begin with short opening remarks and a wreath laying ceremony at the monument in front of Jesse Lee Methodist Church with a Military Honors gun salute and playing of Taps. Proper protocol is for all to remain silent when Taps is played, hold your hand over your heart; if you are in uniform, you have the option to render a hand salute.
"The parade ends at Ballard Park; with a closing ceremony that includes short speeches by our honored guests and patriotic music throughout the program," Besee said. "All are invited to this ceremony and we thank you for your support in making this parade one that truly honors those who gave their lives for our freedom."
Grave decorations
The American Legion's annual grave decorating detail will take place Friday, May 24. All volunteers should report to the American Legion Hall on May 24 by 6 p.m.
The American Legion relies on help from volunteers. There will be brief instruction on the proper placement of the flags before volunteers are dispersed into the cemetery.
In the cemetery, there will be Legionnaires stationed about as informational guides. Residents should bring a large screwdriver.