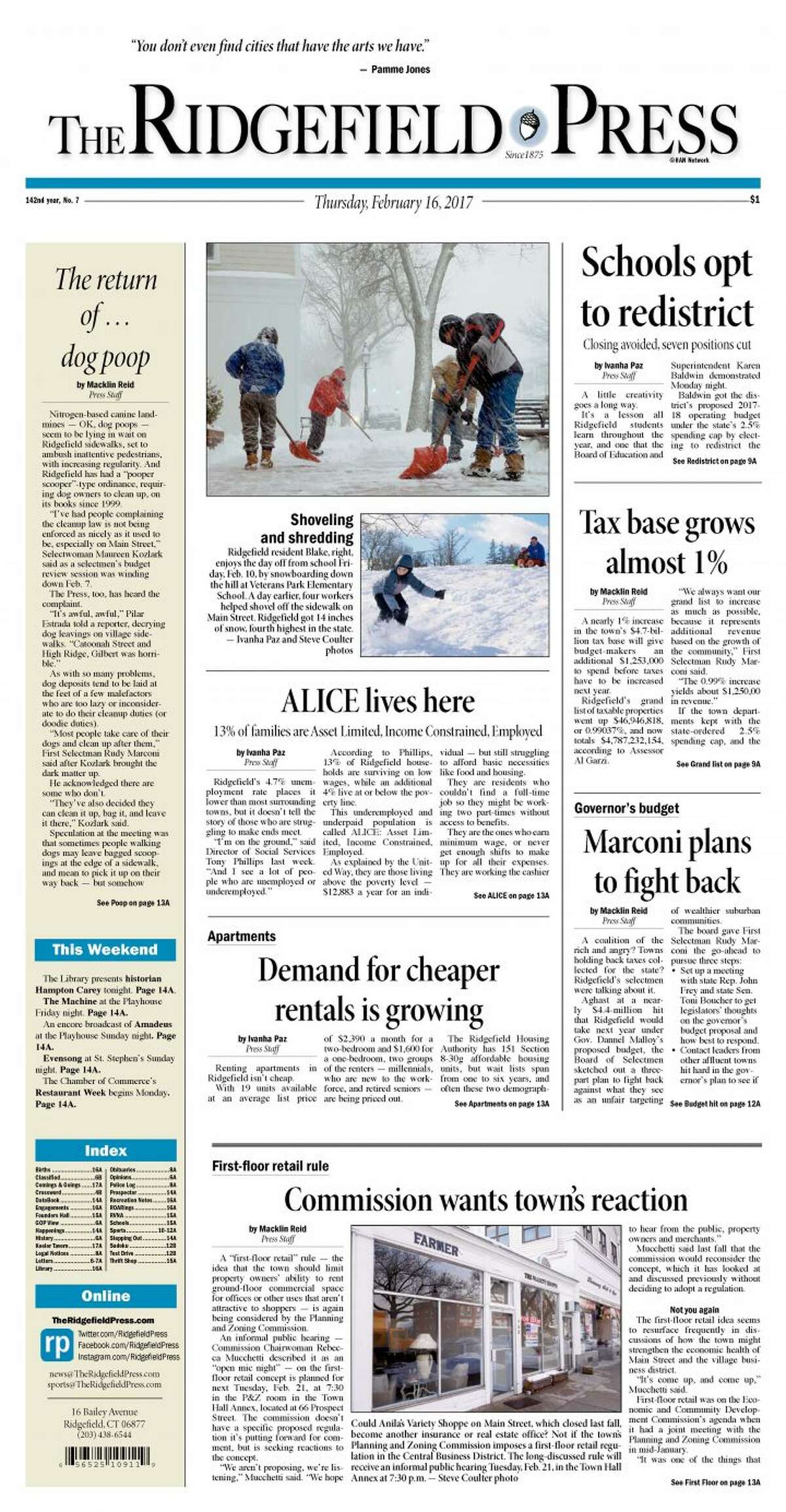 Here's a look at some of the headlines in this week's Ridgefield Press:
While heavy snow and harsh wind dominated half of the week's headlines, the other half were covered in a different cruel reality — the fact the town has some severe budget work to do over the next month. It started with the school board Monday night, where seven positions were eliminated to meet the state's spending cap.
That wasn't the only numbers-dominated headline this week. At least one came with some good news: the town's tax base grew over the last year by 1%.
The wealthy towns can't have all the fun, and the selectman learned that the hard way last week reviewing budget ramifications from Hartford. Were they upset enough to consider suing the state? You'll have to pick up a copy of today's paper to find out.
Enough with the budget bore though. You want some real serious action? Good, because here's some: dog poop is becoming such an issue around town that fines might be raised...hey, you asked for it!
That's not the only village-related item getting a review. The Planning and Zoning Commission will review a first-floor retail regulation that's been getting kicked around for years Tuesday night. The public is invited.
The following evening, back at Town Hall, there will be a public vote on two proposed leases that will allow the town to recoup some money from the Schlumberger property without creating a high disturbance in the local neighborhood. Sounds like a win-win. Not everybody agrees though.
What do millenials and retirees have in common? They both desire workforce-affordable housing. Is the town giving it to them? Not yet, but maybe soon.
What about underemployment? Did you know that 13% of Ridgefield families are income constrained, and forced to work multiple jobs? The Press highlights a growing portion of the population that needs help.
Speaking of help, a Ridgefield High School grad is providing it in spades — well, technically, in paperbacks, but who's counting. Meredith Karle is featured for her work with the nonprofit company, Turning Pages, which she founded.
The Ridgefield Press is on Facebook — become one of more than 4,505 friends and get news updates at Facebook.com/RidgefieldPress
More than 17,000 people have signed up for Ridgefield Press news bulletins via Twitter. You can, too, by stopping by twitter.com/RidgefieldPress
Don't forget to sign up for Press alerts on our latest social media platform: Instagram. Go to www.instagram.com/ridgefieldpress/ or search @ridgefieldpress on the app.