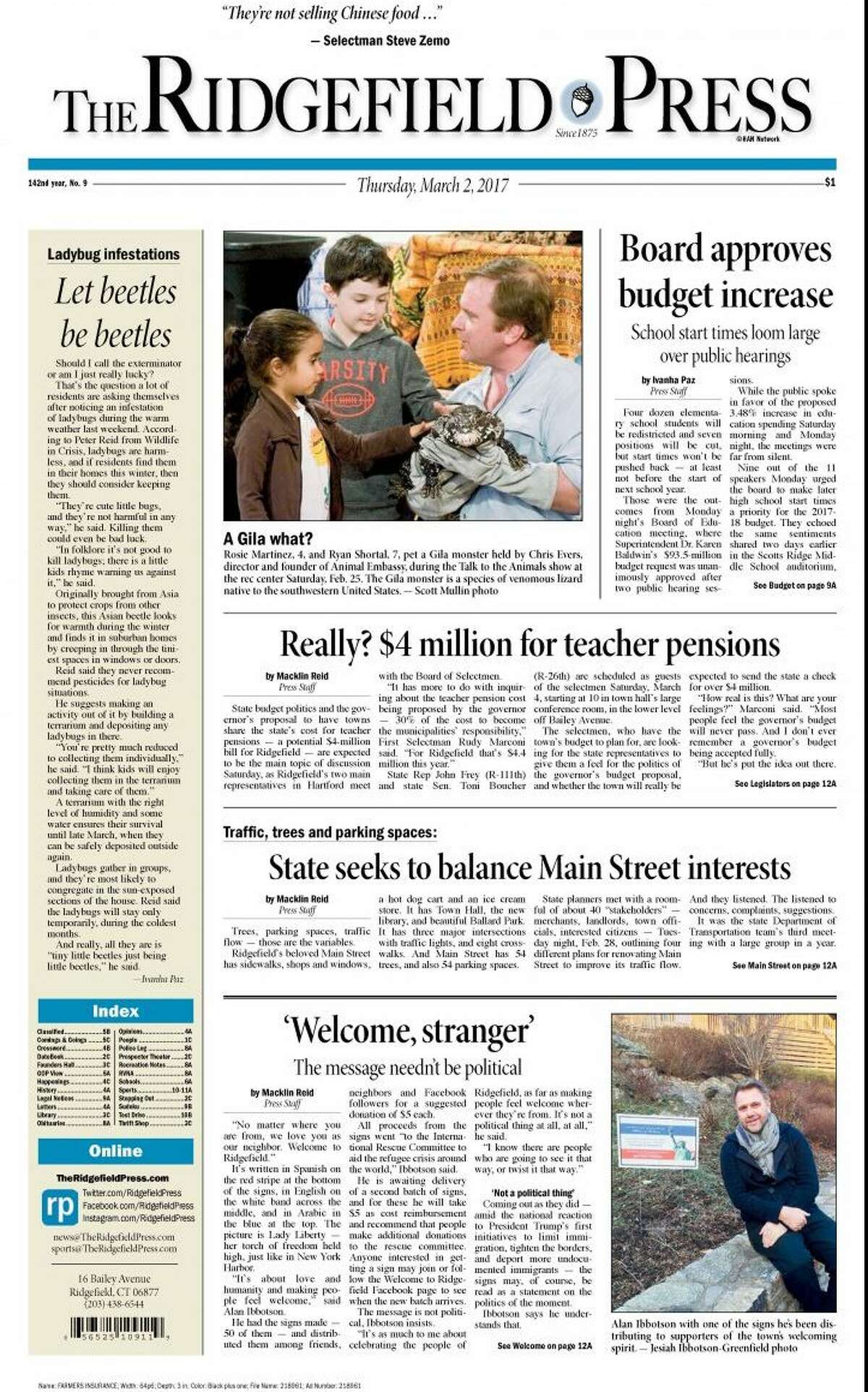 Here's a look at some of the headlines in this week's Ridgefield Press:
Main Street's lampposts are rotting — who will come to their aid? More importantly, how much will it cost to replace them?
Money, money, money — it's all the selectmen want to talk about these days. Saturday they will host a special meeting with legislators to discuss the state's budget. Next week they will have four budget-related meetings Monday through Thursday.
Speaking of budgets (lets get them out of the way, shall we?) the school board approved a proposed $93.5-million bottom line for educational spending in 2017-18. Residents weren't upset with the price tag but were vocal with disappointment in other areas.
Welcome signs are scattered on lawns around town. The Press spoke to their creator about his intentions and where he came up with the inspiration.
It wasn't the only immigrant-related story in this week's paper: Ridgefield Indian Americans submitted a piece about a killing in Kansas that took place last week. They will be hosting a candlelight vigil this weekend.
Also on topic about inclusivity: St. Stephen's has a church banner that's all about loving your neighbor.
Not everything in town is peaceful: the firefighter's union has filed a lawsuit with the town and Wilton police are looking for a man who robbed Fairfield County Bank.
Who won the Battle of Ridgefield? Scotts Ridge Middle School students seem to know, do you?
Their counterparts over at East Ridge are shunning the history for a musical production this weekend of Princess Whatername?
The middle schools are in the headlines but the high school sports teams are on a roll, too. Boys basketball advanced to its first ever FCIAC final Tuesday night. They play rival Wilton at Fairfield University tonight. Neither team has ever made it to the championship game.
The Ridgefield Press is on Facebook — become one of more than 4,548 friends and get news updates at Facebook.com/RidgefieldPress
More than 17,102 people have signed up for Ridgefield Press news bulletins via Twitter. You can, too, by stopping by twitter.com/RidgefieldPress
Don't forget to sign up for Press alerts on our latest social media platform: Instagram. Go to www.instagram.com/ridgefieldpress/ or search @ridgefieldpress on the app.