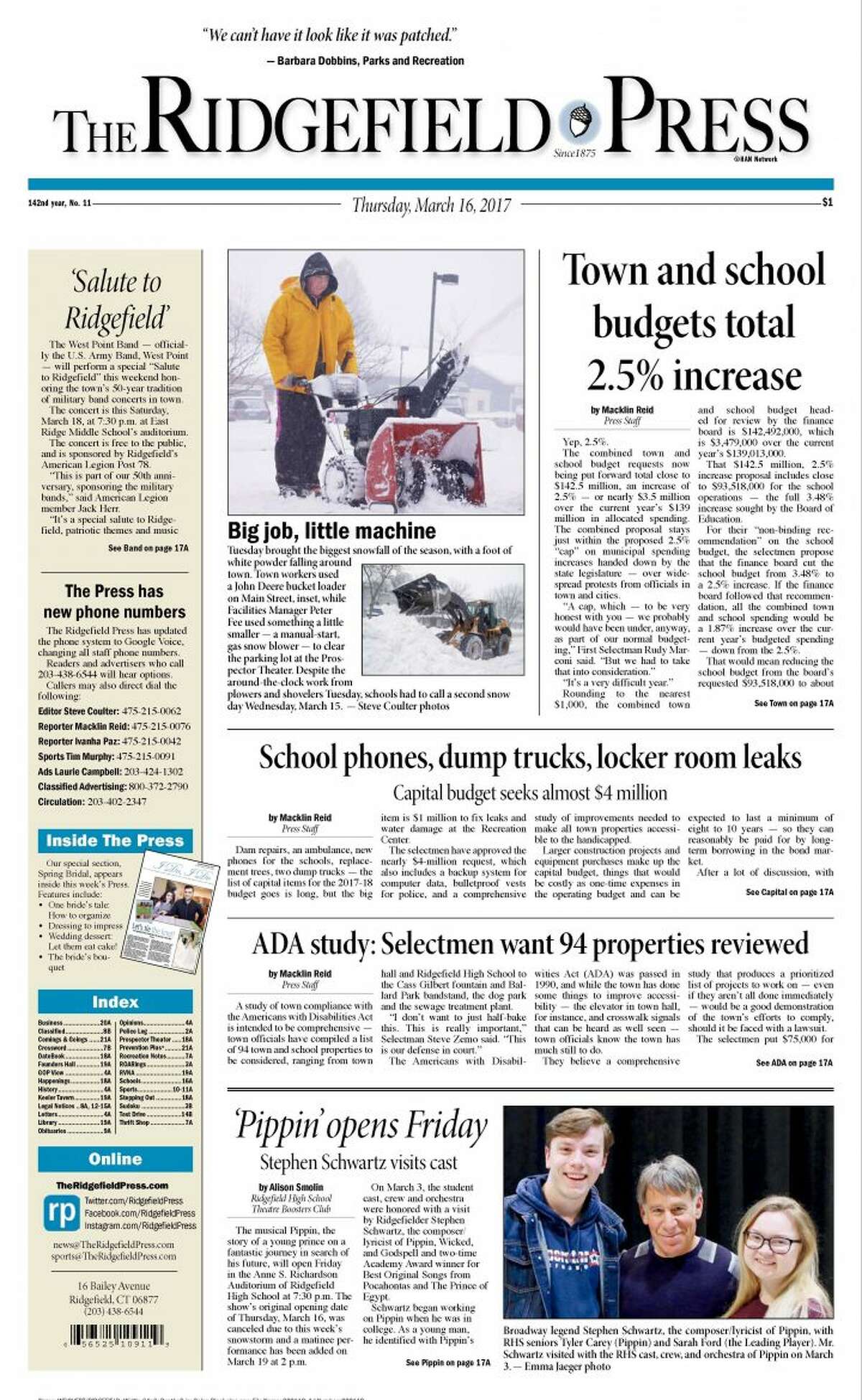 Everyone's favorite small-town topic — dog poop — is back in the headlines this week. Is the town really contemplating a committee to look into the issue? You'll have to read The Press to find out.
The empty lot on 28 Catoonah Street isn't going to be anything any time soon, the post office said.
Broadway legend Stephen Schwartz visited high school theater performers earlier this month. This weekend they will put on his play, Pippin. Tickets are going fast — don't miss this wonderful show!
A 2015 plane crash that claimed the lives of two Ridgefielders was caused by an aerodynamic stall, the National Transportation Safety Board concluded earlier this winter.
The Board of Education has begun looking into later school start times, but it won't be easy.
Speaking of the board, they balked at the selectmen's non-binding recommendation to trim more than $800,000 from the proposed 2017-18 school year  budget.
The budget was a big chunk of this week's Press — the capital budget items drew the ire of a few folks last week, the state-mandated 2.5% municipal spending cap did, too, and, lastly, the budget itself is printed its entirety inside the paper (four pages!)
Well, what else? How about some hockey? The boys team will play in the state semifinals Friday night. They barely escaped Fairfield Prep in the quarterfinals last weekend.
The Ridgefield Press is on Facebook — become one of more than 4,615 friends and get news updates at Facebook.com/RidgefieldPress
More than 17,240 people have signed up for Ridgefield Press news bulletins via Twitter. You can, too, by stopping by twitter.com/RidgefieldPress
Don't forget to sign up for Press alerts on our latest social media platform: Instagram. Go to www.instagram.com/ridgefieldpress/ or search @ridgefieldpress on the app.