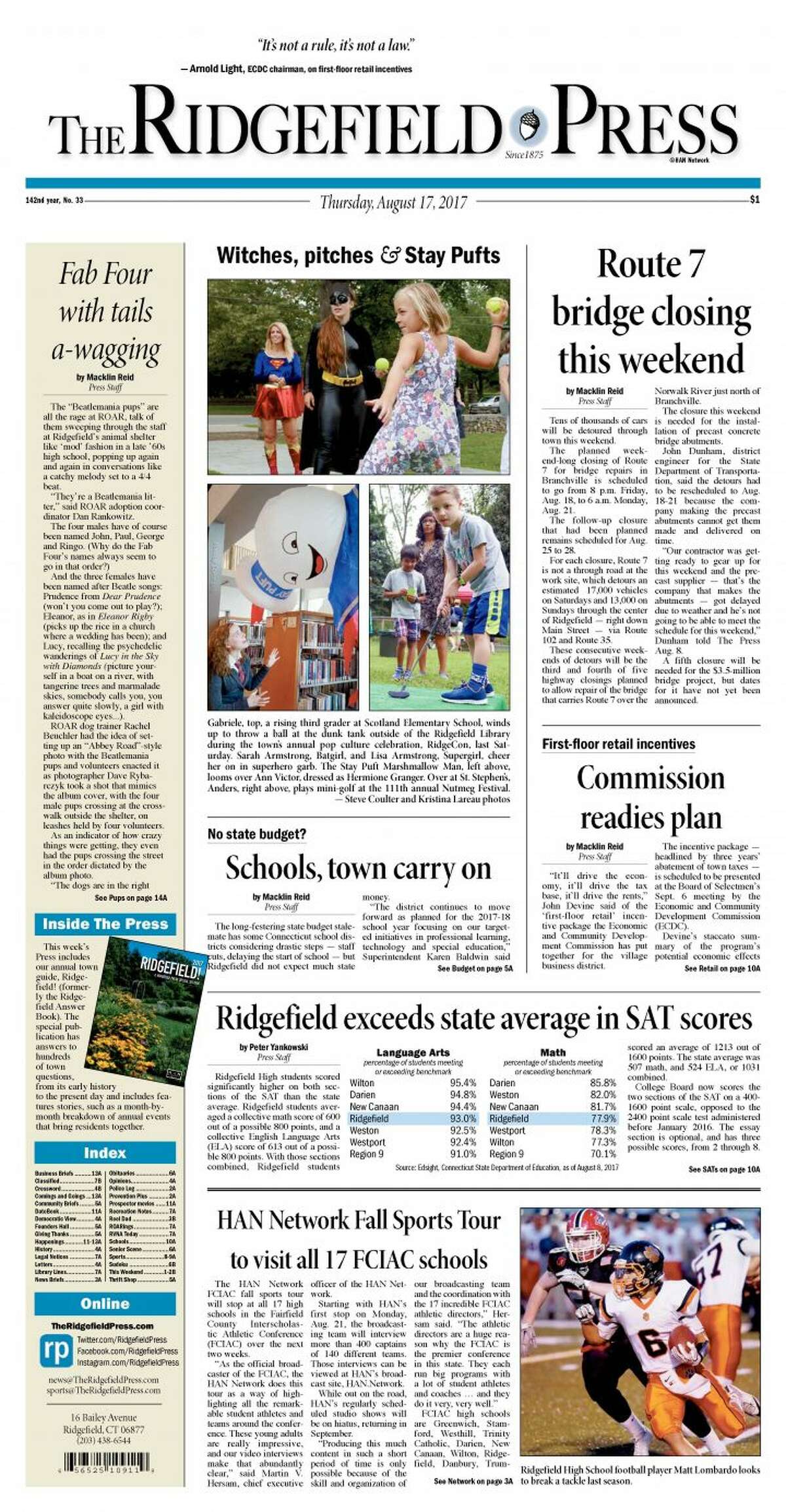 Here's a look at some of the headlines in this week's Ridgefield Press:
Ridgefield! The Press' annual town guide (formerly the Ridgefield Answer Book) is on newsstands today — inside this week's paper! Check out all the fun features and brush up on your town's history.
Well, while we're on the subject of history, ROAR — the town's local animal shelter — celebrated the past last week with a Beatles-themed litter and a re-imagining of their famous album cover for Abbey Road. The group includes four male pups named after the band's musicians, and the three girls — Prudence, Eleanor, and Lucy — named after a trio of Beatles tunes.
First Selectman Rudy Marconi had water on his mind this week when he sat down with The Press. What can we do to protect it locally? It's an important question.
Sorry, folks: Traffic seems to be the theme of the week. Construction on the Route 7 bridge will detour thousands of cars through the village this weekend, and the bridge over on Route 35 will stop drivers from 9 a.m. to 3 p.m. the rest of this week and at the beginning of next week.
Want something to brag about with friends who live in other parts of Fairfield County? Tell them that Ridgefield's SAT scores rock! In fact, they're some of the best in the state.
Speaking of the state, the budget crisis in Hartford is impacting other districts but Ridgefield remains on course — to open on time and to hire the proposed amount of part-time teachers it proposed in the 2017-18 budget.
The Ridgefield Press is on Facebook — become one of more than 5,002 friends and get news updates at Facebook.com/RidgefieldPress
More than 18,417 people have signed up for Ridgefield Press news bulletins via Twitter. You can, too, by stopping by twitter.com/RidgefieldPress
Don't forget to sign up for Press alerts on our latest social media platform: Instagram. Go to www.instagram.com/ridgefieldpress/ or search @ridgefieldpress on the app.