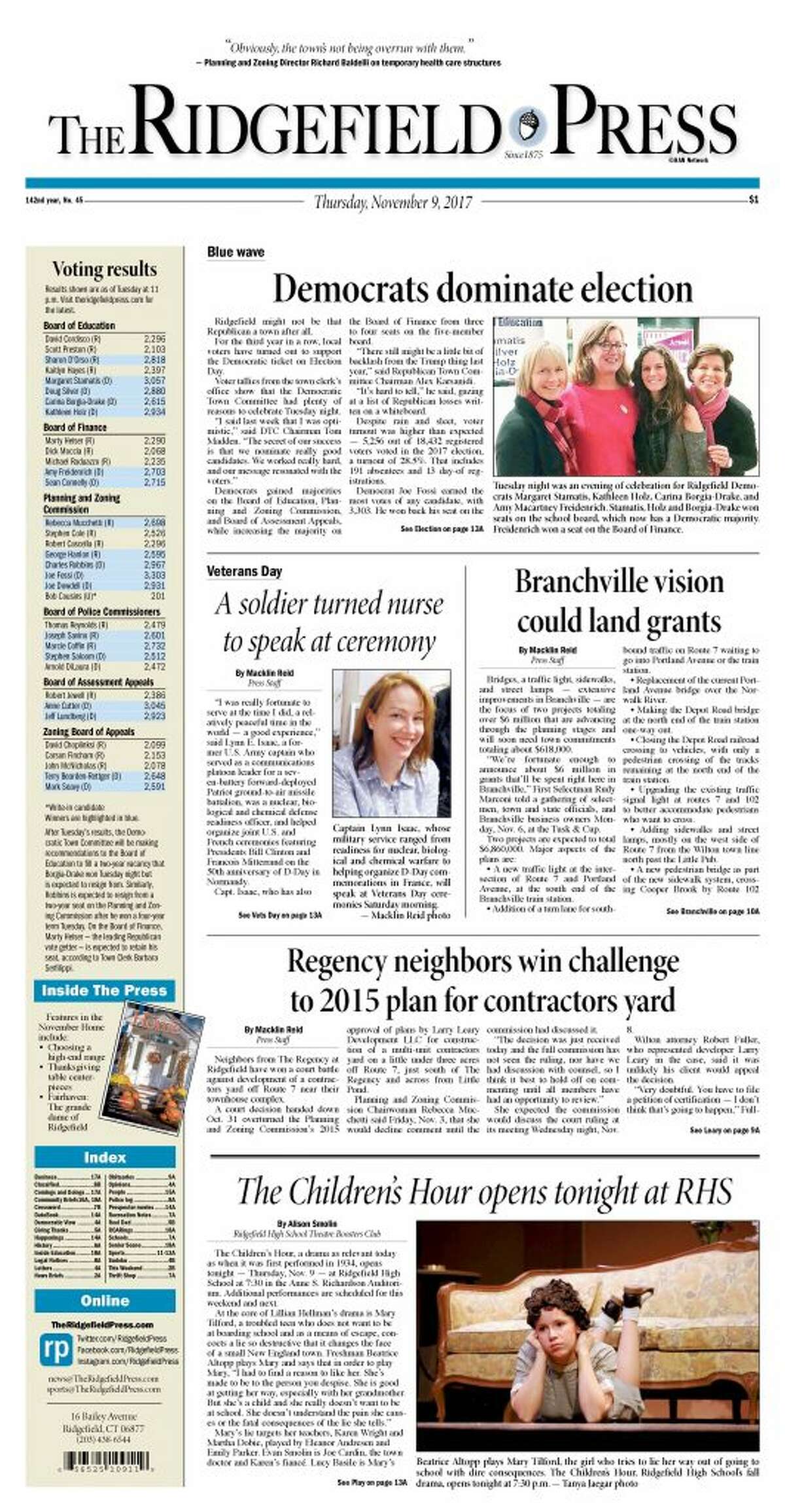 Here's a look at some of the headlines from this week's Ridgefield Press:
The first play of the school year begins tonight at Ridgefield High School — there will be five shows over the next two weeks, make sure you go to support the town's young thespians!
Election 2017 is in the books, and in its wake is plenty of celebrating on the Democratic side of the ticket — and some confusion in Town Hall, where three candidates won multiple seats. How will the respective boards fill the vacancies? What do the majority swings mean for Ridgefield's future. You'll just have to pick up a copy of this week's Press to find out.
Speaking of Ridgefield's future, the state is all in on plans to re-develop the Branchville area of town. The cost to taxpayers will be minimal, and the construction can begin in the spring of 2019. It'll be here before you know it.
It's not the online headline that discusses the state and bridge repairs: Alternating traffic returns to Route 35 this week, and drivers are already not happy about it.
Just up the road from the bridge work, there's something that Ridgefielders are very happy about: a new Mexican-themed restaurant. Prime Taco opens up for business Saturday, Nov. 11.
Hey, that's Veterans Day! What did you think The Press forgot? Not at all, this week's centerpiece story features Capt. Lynn Isaac who comes from a family of patriots and has traveled the world over the last 30 years as a member of America's military.
In sports, it's all about the state playoffs. Field hockey and boys soccer earned big wins earlier this week, while football dropped a big game against Greenwich over the weekend.
The Ridgefield Press is on Facebook — become one of more than 5,198 friends and get news updates at Facebook.com/RidgefieldPress
More than 18,843 people have signed up for Ridgefield Press news bulletins via Twitter. You can, too, by stopping by twitter.com/RidgefieldPress
Don't forget to sign up for Press alerts on our latest social media platform: Instagram. Go to www.instagram.com/ridgefieldpress/ or search @ridgefieldpress on the app.