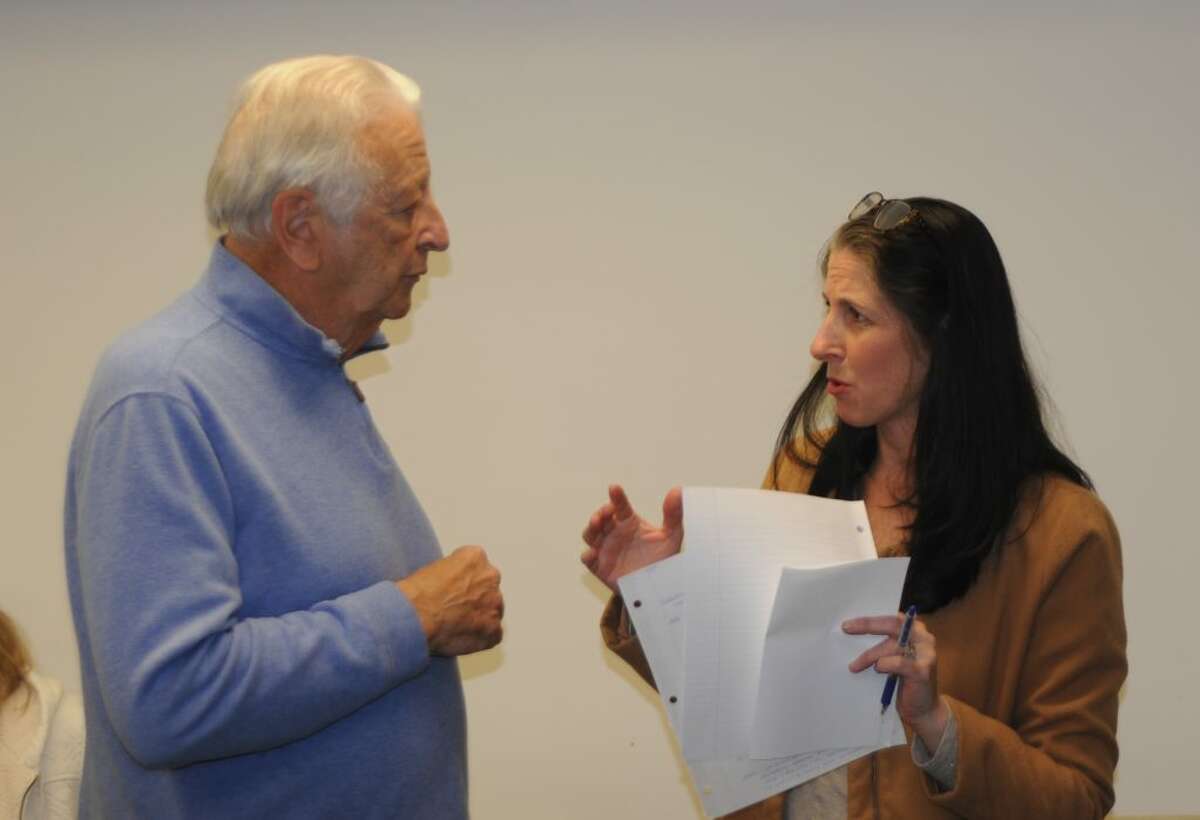 The math and science performance, a new "STEM supervisor" sought to oversee curriculum revisions in those challenging fields, the school system's long-neglected building maintenance, and still rising special education costs, were issues at times in heated discussion when public school officials defended their $98.4 million budget proposal to the Board of Finance.
With the selectmen's budget for town departments already at a zero percent increase, if the finance board finds any reductions the $148-million proposed budget, it's likely to be in the request for a 3.6 percent increase in school spending.
"It's no secret our math and science scores are not good. There's a reason for that," Superintendent of School William Collins said. "Part of that reason is we're very light in the curriculum department."
A team of school administrators and Board of Education members visited the finance board Thursday, March 28, and again Monday evening, April 1, to explain their proposal to increase school spending from $95,000,000 this year to $98,424,000 next year. (Editor's note: The finance board approved a $98.2-million budget Tuesday, April 2).
They attempted to make the case that Ridgefield's curriculum needs to be rewritten to meet new state standards in math and science. To lead and coordinate that effort they proposed adding a $162,500 position for a STEM supervisor, they said, invoking the common acronym for science, technology, engineering and math education.
Results of the state's Smarter Balanced Assessment testing showed 81% of Ridgefield students, across all grades, were proficient in English and language arts while in mathematics just 72 percent were proficient.
Ridgefield's 72 percent is the lowest rate of math proficiency among the top suburban Fairfield County schools in the state's DRG-A comparison group, which show proficiency ranging from 88 percent in New Canaan to 73 percent in Wilton, just above Ridgefield's 72 percent.
The tests also show a downward trend in Ridgefield's math proficiency as students move through the school system: third grade, 82 percent proficient in math; fourth grade, 79 percent; fifth grade, 76 percent; sixth grade, 61 percent; seventh grade, 74 percent; eighth grade 64 percent.
And, school board members said after Monday night's meeting, the Smarter Balanced scores include "growth" projections showing where each individual student should be the next year — another area where the town could do better.
"We're not meeting our growth scores," school board Chairwoman Margaret Stamatis said.
The new curriculum in math and science should be accompanied by revised "assessments" to measure students' progress, Collins and the school board said, as well as professional development for teachers.
"We're asking all of our teachers to teach differently," Collins said.
Teams, one guy
Most other top Fairfield County suburban schools Ridgefield is compared to by the state — the DRG-A schools — have been investing in curriculum improvements to address the changing educational standards and it shows in their scores, the school delegation told the finance board.
"Look at any of the similar communities. Who do they have to do this work? Teams of people. We just don't have that," Collins said.
"We don't have the people — one guy! — I've never seen that before," he said.
"... We really should have a math person and a science person."
While the school board is seeking to add a STEM supervisor to help the assistant superintendent for curriculum, there's been a humanities supervisor for a few years, — although she's currently filling in as a principal, the Scotland School principal.
The board envisions the STEM supervisor overseeing curriculum writing, including elementary science and also chemistry, biology and physics at the high school. The supervisor would also have a long list of responsibilities related the placement of students in math.
Finance board members wondered if there might be curriculum designed to meet the new math and science standards available from the state or some of the neighboring districts that have already done the work, but that's not the way it's done in Connecticut, according to Collins.
"Every district develops their own curriculum, based on the standards."
Having teachers in the schools are involved in the curriculum writing is important to instruction and learning.
"You can take a curriculum out the box and put it on a teacher's desk," Collins said. " ... Unless they really have ownership, what it means, it's not really implemented effectively."
Past cuts
School board member Doug Silver told the finance board that he and his colleagues had contributed to the situation by the way they'd reacted to budget cuts in previous years
"We as a Board of Education annihilated the curriculum budget last year," he said "... We pillaged the curriculum department to not cut teachers — that's what we did."
Finance board members asked about increased spending on building maintenance and also capital repair projects and equipment.
"We have a million square feet we have to get back in shape," Collins said.
Silver said this, too, was a case of catching up after a history of cutting maintenance to avoid direct hits to education program.
"When our budgets get reduced we have, historically, whacked the maintenance budget significantly," Silver said.
Special education
Finance board member Jessica Mancini recalled some other history "Three years ago when Dr. Baldwin first came in, we had an increase of almost 5 percent in the budget," she said.
Silver said much of that money had been used — with some success — to narrow the performance difference between special needs students and the general education.
"We had a dramatic gap" he said. "... We are closing that gap, We're proud of that."
Another area finance board members asked about was the decision to modify a plan to drop the use the Center for Children with Special Needs (CCSN) — which brings in people who specialize in applied behavior analysis, an approach that has proved to be effective with children on the autism spectrum — and replace them with in-district staff.
That's still the plan, but the program is now going to be phased in, with the CCSN consultants working another year and the in-district staff being added as well — though possibly not at the start of the year. "The best of both worlds," Collins said.
Collins said he's going to have to find about $100,000 to pay for a dual approach, but would do it within the proposed budget.
Finance board members wondered about the reason for the change of plan.
"We responded to community concern," Collins said. "If you get enough parents who are concerned, you want to provide comfort for them."
After discussing how students in some lower grades aren't comparing favorably with peers in other top school districts, Collins assured the finance board that the high school is doing well.
"The lower grades are problematic — those kids get to the high school, they're catching up," Collins said.
"Ridgefield High School is one of the highest performing high schools in the state."