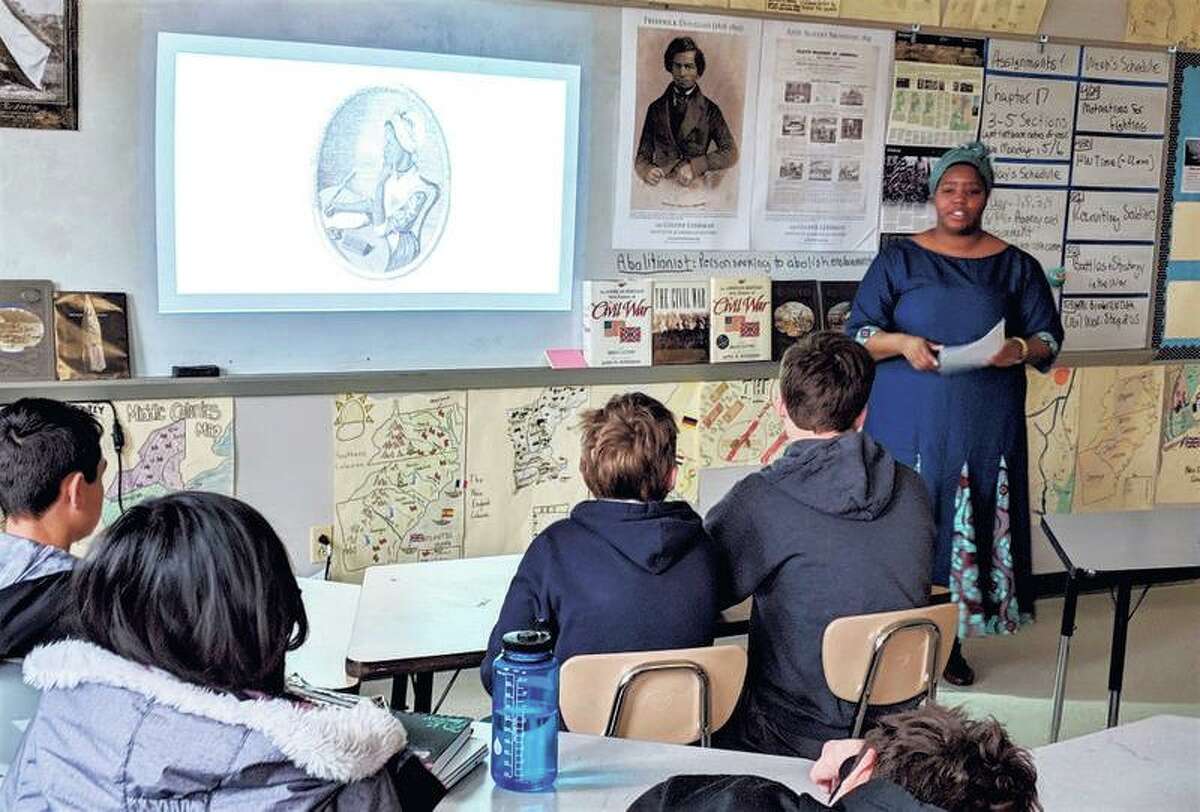 Wind power, geothermal home-heating, and solar — ground mounted, pole mounted, roof mounted, and even wall mounted arrays— all went up for debate in front of the Planning and Zoning Commission at its March 19 public hearing.
The hearing was an informal session for the commission to gather information as it plans new zoning rules to regulate solar panels and other alternative energy systems.
How did the town get here?
The commission's plan to regulate solar and other green energy systems stems from a fight before the Zoning Board of Appeals; which was brought by neighbors opposed to the construction of a ground-mounted array of solar panels that would serve a house being built on Canterbury Lane.
In February, the Zoning Board of Appeals overturned the permit for the Canterbury Lane solar array — the metal frame that would support the solar arrays had already been built — which was granted by Richard Baldelli, the town's planning and zoning director.
The ZBA ruled that the permit had been granted under the wrong set of regulations, as an outbuilding rather than as a "other structure" defined in a separate section.
Since then, the Planning and Zoning Commission has amended its regulations to clarify that "accessory structures" are permitted uses in residential zones.
The future
Tuesday's hearing brought testimony from two experts brought forward by First Selectman Rudy Marconi, followed by public comment from the roughly 20 townspeople who turned up.
Dwayne Escola was the first expert introduced to the commission. He suggested the commission is going to see a lot more cases of people building solar energy systems on their property within the next 10-20 years, as the nation transitions away from fossil fuels and onto renewable energy sources.
"That's kind of the goal," said Escola who, in addition to being a member of the Ridgefield Action Committee for the Environment (RACE), owns and operates a business that installs solar energy systems.
"The big one that's going to to change … is heating and cooling," Escola said. "Now our cooling typically is electrical, but our heating isn't, it's mostly oil."
Escola said that may change in the near future, as Mitsubishi and other manufacturers of forced-air heating systems develop units that work in the frigid temperatures of the American Northeast.
He calculated that the typical 3,000 square-foot home requires around 7,000 kilowatt-hours of electricity per year for lights and appliances, which would require about 550 square feet of solar panels.
Zoning rules
Charles Vidich, a senior project manager with the Western Connecticut Council of Governments, was the second expert Marconi introduced. Vidich outlined some of the areas the commission might want to consider when it builds its alternative energy regulations.
Out of 169 towns in the state, only 26 have included a definition of a solar energy system in their zoning regulations, he told the commission.
"There are technically as many as four different types of solar energy" systems, Vidich explained — ground mounted, roof-mounted (including arrays mounted on an angled or flat roof), pole mounted, and wall-mounted panels.
Pole-mounted systems, which are often built to automatically track the course of the sun throughout the day are highly efficient, but can act as a sail during high winds, and therefore have to be anchored to the ground, Vidich said.
Wall-mounted units are not typically used on residential homes, Vidich said.
"It's important to distinguish between small and large use," he said.
Small solar energy systems are those permitted for home use, whereas large systems are commercial, utility systems that supply power to the power grid.
"Is there a definition of when residential scale, and then at what point does it become industrial scale?" asked Chairwoman Rebecca Mucchetti. "Because anything that someone doesn't want to look at is becoming industrial, even though it's not."
"From a zoning point of view, there is no agreed upon definition," said Vidich. "In terms of what the Connecticut Siting Council has, they've got basically two-megawatts — and even less than that — which they can take responsibility for."
Wind, others
Solar wasn't the only type of energy discussed.
"What is the practicality of wind being used in a town like Ridgefield?" asked Baldelli, the planning director.
Vidich said windmills are typically considered only in remote towns with high elevations, because the towers can pose a risk if they ever fall down.
The prospect of geothermal heating — pumping relatively warm air from holes drilled into the earth — also came up.
Escola said installing those systems would also require more solar power, since the system runs on electricity.
"It's similar to forced-air heat pumps, which many of us think of as more economical, because you don't have to drill all those holes," said Escola.
Electric cars
"Another huge change is going to be our transportation," said Escola.
He calculated that if the homeowners replaced two gas-powered cars with plug-in cars, the home would need an additional 8,000 kilowatt-hours per year, or about 630 square feet of additional solar paneling.
Commissioner John Katz asked if those panels would need to be replaced with upgraded, more efficient panels as solar technology improves.
But Escola suggested the cost of doing so is prohibitive, and that the panels have a lengthy service life. "Some of the panels put up in [President] Carter's era are still running in California," Escola said.
"So's Carter," Katz added, to laughter from the audience.
Shade
Escola said the main reason that homeowners will continue to install ground-mounted solar panels, versus roof-mounted panels, is shade from other buildings and trees. Shade from architectural features of the home as well — such as dormers — and the orientation of the roof can also mean a home won't get enough sunlight to make rooftop panels practical.
"If your roof ridge goes north-south … you're down to 80%, that's a huge drop," Escola pointed out.
The RACE member said the weight of the panels is not usually an issue. While he has a structural engineer check each house when he installs roof-mounted panels, the panels weigh about the same as a second layer of shingles on the roof, he told the commission.
Audience
Canterbury Lane resident Sanjay Tripathi, who lives next door to the solar-powered house and has led neighbor opposition to the panels, said the commission should consider a "variable setback," so that the higher a ground-mounted solar array is, the farther back from the property line it would have to be, as well as encouraging lower ground-mounted solar panels to make them easier to screen from view.
"The point I want to make here is that I think what we do has to be in keeping with the neighborhood," said Tripathi. "If you look at most of the structures that have gone in, the 120 or so, they are generally 500-600 square feet, from my eyeballing of the information."
He mentioned that there are also solar shingles, panels that resemble traditional roofing materials that gather electricity from the sun's rays.
But Escola said the shingles are not readily available on the open market, and are much less effective at converting sunlight into electrical current than traditional panels. "Eventually, we may have those as the standard method," he said.
Kristin Quell, who chairs RACE, said solar shingles are not available to the public.
"I actually teach alternative energies and I teach solar panel installation with my students — we have a set but they are not available to the public."
She said the shingles would have to cover someone's whole roof, and even then would provide only around 75% of the home's electrical needs.
Attorney Matt Mason, who represents the Ungers, the family building the solar home on Canterbury Lane, said his clients "are strong advocates of solar energy and renewable energy," and "in favor of less regulation, more incentives" for solar energy.
"Everyone's in favor of less regulation, until it's in their backyard," said Katz.