This is a carousel. Use Next and Previous buttons to navigate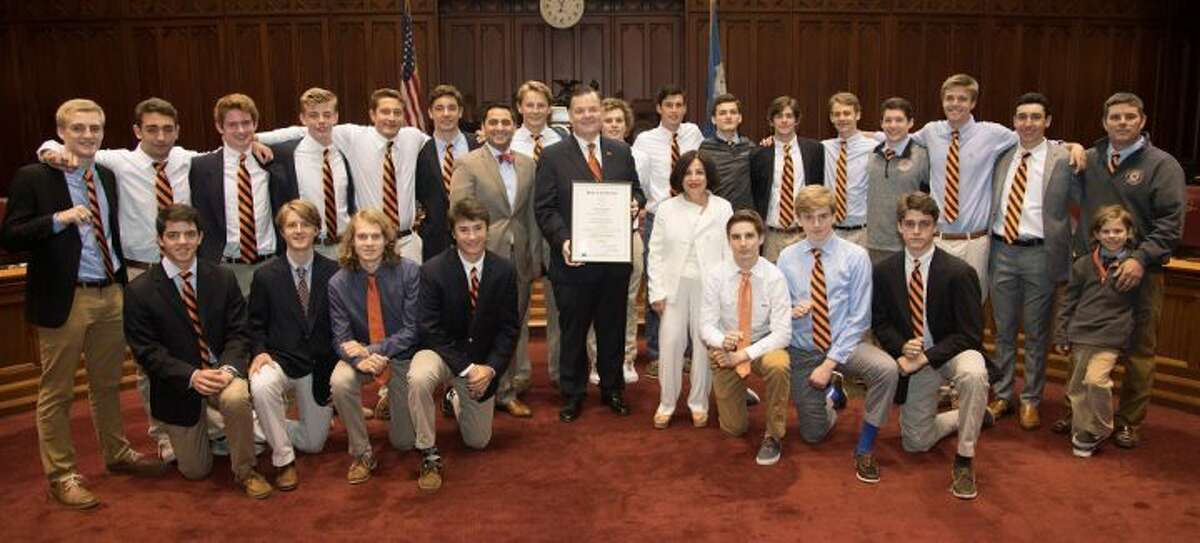 State Representatives John Frey (R-111) and Michael Ferguson (R-138) joined State Senator Toni Boucher (R-26) in welcoming the 2017 State Champion Ridgefield High School ice hockey team to the State Capitol in Hartford.  The Ridgefield delegation proudly introduced the Tigers players to their colleagues on the floor of the House of Representatives.  Later, they presented them with a state citation in honor of their triumphant 6-2 win over Northwest Catholic in the Division I State Championship game – the first in program history for Tigers hockey. 
"Let's give these guys and their coach, Shaun Gallagher, a round of applause," said Rep. Frey on the floor of the House.  "It wasn't just luck for Ridgefield. The talent, effort, and dedication from these players was extraordinary by any standard. This team culture is exemplified not just in the remarkable skill of Jack Stafford, who received all-FCIAC second team honors, or his peers Matteo Van Wees, Harrison Chuma, and Sean Keegans, who each received all-state and all-FCIAC honors. This team culture is also visible in the admirable team loyalty of Ryan Stewart, whose injury stopped him from playing yet who stayed throughout the season to manage the team, and Gordon Santiago, who served as team photographer."