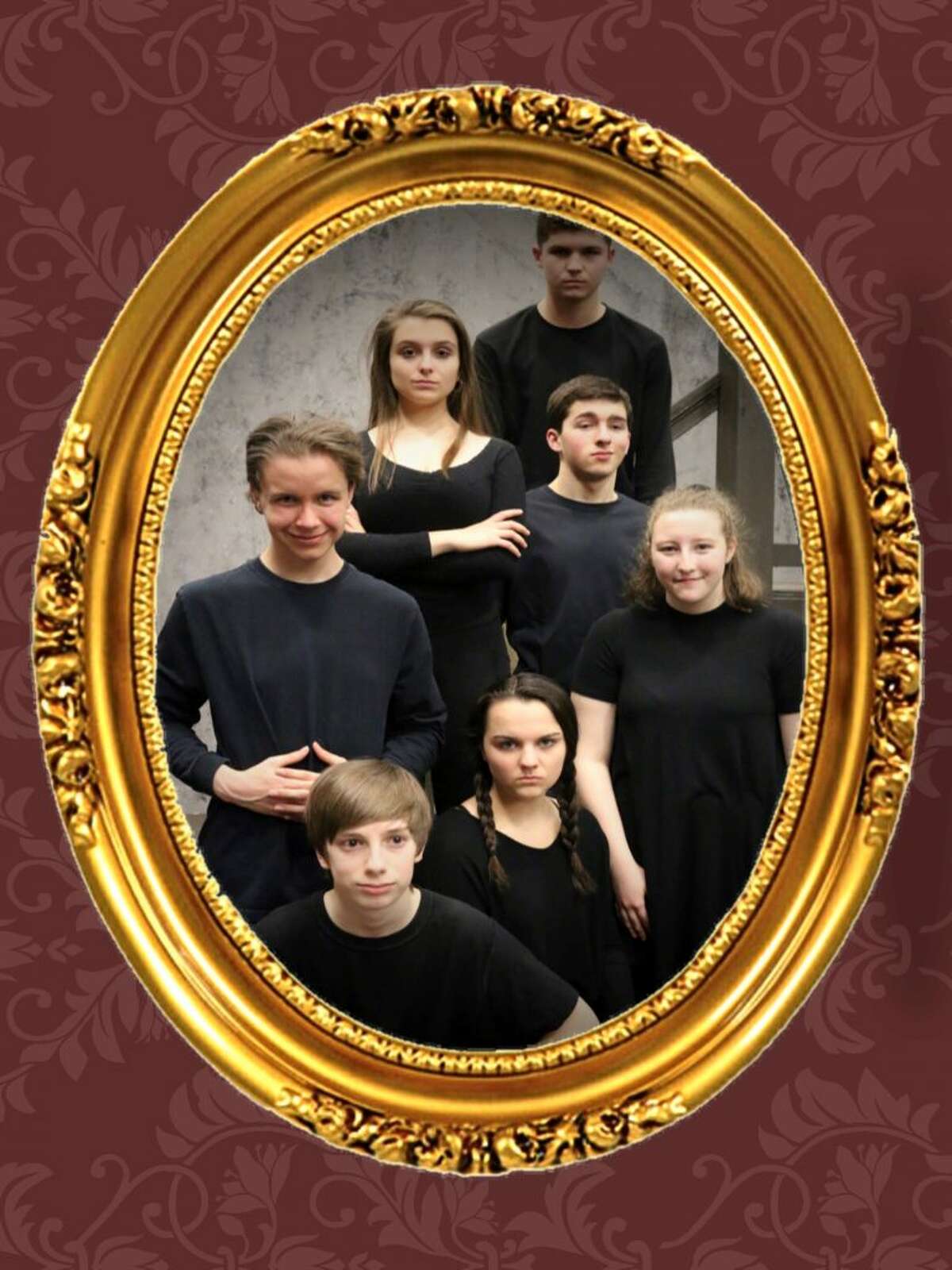 The Ridgefield High School Visual and Performing Arts Department will stage the musical comedy "The Addams Family" Friday through March 23 in the Anne S. Richardson Auditorium of Ridgefield High School.
"The Addams Family" has entertained four generations of fans beginning when the Charles Addams cartoons on which the characters are based first appeared in The New Yorker magazine in 1938, introducing Morticia, Lurch, and Thing. In 1964, the entire family jumped to television in their own sitcom, and, in 1973, Hanna-Barbera animated them and secured their spot on Saturday morning TV. In the 1990s, they became the stars of two movies, and in 2010, they opened on Broadway in "The Addams Family," a new musical comedy. On Friday, they return for a two-weekend engagement at Ridgefield High School.
Time has passed for the charmingly "creepy, kooky, mysterious and spooky" family. Wednesday, the daughter of Gomez and Morticia Addams, is now grown and has fallen in love with a "normal" boy. Chaos ensues when she invites him and his conservative parents to dinner at her haunted home so that the two families can get acquainted.
The gravity of playing such iconic characters is not lost on the student actors. "I definitely did my research," says junior Kyra Linekin, who plays Wednesday. "I watched the original television show and clips of the Broadway show, and my parents had an impression of Wednesday from the 1970s. My main takeaway was a determination to get her inner twisted darkness right. She is described as an 'irrepressible bundle of malice' so the audience will be slightly surprised when she is pulled in a new direction."
"I was very much influenced by what has come before," says senior Evan Smolin, who plays Gomez Addams. "My take on Gomez is based on Charles Addams's description of his personality, but I want to honor all the performances that have established this character while also giving Gomez my own spin. Gomez drives the central conflict of the story. He spends the entire show trying to reconcile his loyalties to Wednesday and to Morticia and endlessly fighting to make things work out as they spin out of control. Even with all their kookiness, the Addams Family is in many ways not that different from any family. There are a lot of lessons in the story if you decide to look for them."
Senior Thomas Mitchell, who plays Uncle Fester, agrees. "I hope that the audience is entertained, but I also hope that there's some takeaway from the show," he says. "If it gives someone the confidence to defy being normal, then I think that we accomplished the goal of the show. I didn't realize just how popular these characters were until after I started looking. They are timeless and have evolved over the years. I'm not going to deviate too much from the source material, but I want to give my own take on the character. I see Fester as a kind of emcee of the entire show. He enjoys watching the chaos unfold."
Directed by RHS Performing Arts teacher Sherry Cox, the student cast includes Evan Smolin as Gomez Addams, Emily Parker as Morticia Addams, Thomas Mitchell as Uncle Fester, Kyra Linekin as Wednesday Addams, Harrison Cluney as Pugsley Addams, Lucy Basile as Grandma, and Matthew Carpenter as Lurch. Owen Gaydos plays Wednesday's boyfriend Lucas Beineke, with Liam Huff and Sophia Smith as his parents, Mal and Alice. The Addams Family ancestors, who serve as the show's ghostly chorus, are played by Beatrice Altopp, Callie Amill, Eleanor Andresen, Annabel Briody, Ava Cowles, Vanessa Diana, Nya Fozouni, Hannah Jay, Lucy Kubrin, Camryn Liem, MacKenzi Macko (dance captain), Caroline Malley, Tyler Munson, and Emma Young. Matthew Marczak and Haydn Wilfinger are swings.
Shane Jaeger is the production stage manager. She is joined on running crew by Maeve Cunningham, Leah Dodd, Emma Kiernan, Matthew Marczak, Caroline Smith, Elena Tittel, Sarah Tonra, and Haydn Wilfinger. Working tech are DJ Ammirato, Emma Jaeger, Olivia Clausen, Dennis Dowding, Conor Hankla, Maiki Muursepp, and Jonah Pereyra on lights, and RJ Carey, Donata Libonati, Dennis Dowding, Emma Joyce and Jack Schaefer on sound. The production's hair and makeup team includes Kaitlyn Mitchell, Olivia Wieland, Devon Hard, and Lashawnna Mullins.
Playing in the production's pit orchestra, conducted by musical/vocal director Kevin Haines, are Andi Chakraborty, Brendan DiMiceli, Emma DiMiceli, Greg DiMiceli, Sarah DiMiceli, Ryan Francis, Coleman Hoffner, Ian Koh, Reed Koh, Elisa Kovacs (Concert Mistress), Michael Kovacs, Celine Lee, Angela Lin, Sammi McLemore, Quinton Miller, Abigail Morris, Ryan Pratt, Sarah Pratt, Ryan Sierakowski, Hunter Sims, and Matthew Vivian. The musical features songs by Emmy-winning composer Andrew Lippa and a book by Oscar winner Marshall Brickman and three-time Tony nominee Rick Elice.
The Addams Family will have four evening performances, March 15, 16, 22 and 23 at 7:30, and one matinee, March 17 at 2 p.m. The snow date is March 24 at 2. Tickets are $15 for adults, $10 for students with school ID and for seniors age 60+. Ridgefield seniors who have a Gold Card may enjoy one show for free but must have the Gold Card with them for admission. Tickets will be sold at the door beginning one hour before the performance. Online ticket sales are at rhsperformingarts.info. Online ticket sales close at least six hours before the performance time. RHS telephone: 203-894-5750.
Submitted to The Ridgefield Press by the Ridgefield High School Theatre Boosters Club.