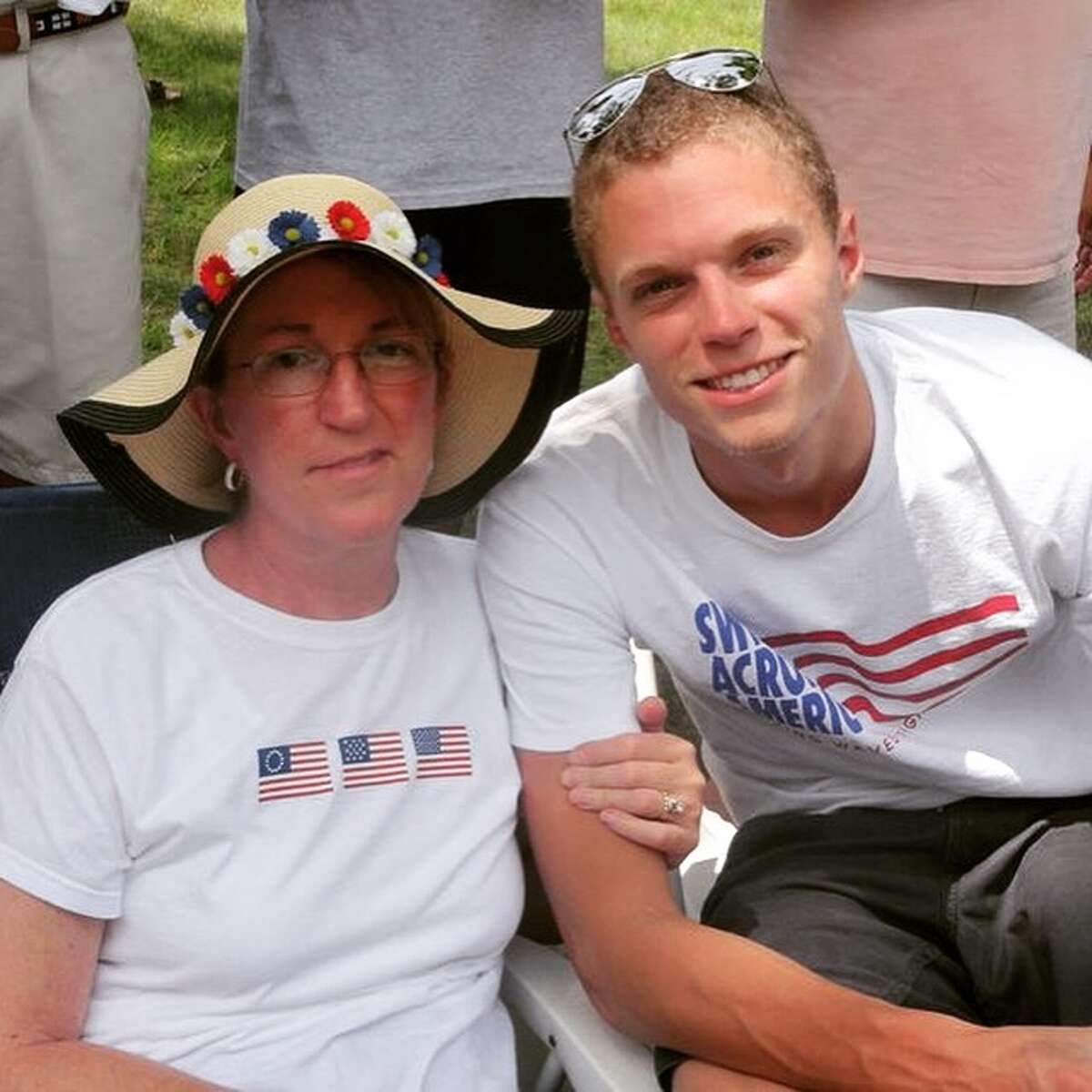 More than 300 swimmers and 100 volunteers will participate in the 13th annual Swim Across America Fairfield County open water swim Saturday, June 22.
The swim takes place in Long Island Sound on the Old Greenwich-Stamford border at the headquarters of the swim's beneficiary, the Alliance for Cancer Gene Therapy (ACGT). This year is expected to be bigger than ever with a goal of raising more than $300,000 to go toward breakthrough cancer gene therapy research. While the swim attracts swimmers and volunteers from throughout Fairfield County and the tri-state area, the New Canaan community has always been a big supporter of this swim and its mission to raise funds to fight cancer.
Thomas Brown of Ridgefield will be swimming this year in memory of his mother, Kim Cooke Brown.
"My mom passed away peacefully, with family by her side, in 2014 after a long five-year battle with brain cancer," said Tom. "Growing up as a swimmer, my mom hardly missed a single event and would wait hours on the pool deck just to watch a race that lasted only a few minutes, or even seconds. She was there starting from summer league meets with the Duxbury Dolphins, to the countless races with the Ridgefield Aquatics Club and the Wilton Wahoos, and finally to watching me swim for her alma mater at Bucknell University.
"My mom was again up in the stands for my last race as a senior at Bucknell, despite fighting through another round of chemotherapy," Brown added. "Before my 200-yard backstroke race started, I jumped in the pooI and pointed up at my mom and dad to say thanks for all their support over the years. I will always remember the times we shared through swimming and am grateful to have those memories. Swim Across America will be the first time she isn't there in person to watch me swim but I know she'll be looking on and cheering like she always has."
42 chemotherapy treatments
A special presentation on Saturday will be from guest speaker Mike Brock, whose wife Shân is a stage IV colon cancer patient.
When diagnosed in 2014, Shân was given less than a five percent chance of surviving five years. Today, five years after enduring 42 chemotherapy treatments and three radiation treatments, Shân is enrolled in an immunotherapy clinical trial at Yale University. She is the first person in the world to receive three immunotherapy medications simultaneously —and progress is thankfully being seen. Shân's first scan after eight weeks showed nearly a ten percent reduction in tumor size. Shân's subsequent scans have shown further small reductions in tumor size.
"It's amazing to note that the last few years have seen an exponential growth in the number of clinical trials available for many different types of cancer with some extraordinary curative results," said Mike Brock. "This gives hope where there was none before. But many of these novel clinical trials and treatments require and continue to require funding. That's why it's so important to fund Swim Across America Fairfield County and the swim's beneficiary ACGT."
Come Saturday, Mike Brock and he and Shân's youngest daughter Brontë, will be swimming in the open water swim and Shân will be volunteering as a kayaker, keeping watch over the swimmers.
"Swimming and kayaking are our small contribution to helping make waves in the fight against cancer," said Shân.
More info
In the past 12 years, the Swim Across America Greenwich-Stamford event has raised more than $3.8 million for crucial support of the Alliance for Cancer Gene Therapy (ACGT). One hundred percent of all Swim Across America Greenwich-Stamford funds donated to ACGT go directly to support cancer cell and gene therapy research. The Swim has supported nine different scientists over the past 11 years. This year's Swim will raise funds to support ACGT-funded research grants with Greg Delgoffe, PhD, of the University of Pittsburgh School of Medicine, who is working on immune-based therapy and vaccines for melanoma, and Noriyuki Kasahara, MD, PhD, of the University of California, San Francisco, who is working on virotherapy for brain cancer.
While Swim Across America is a national organization and offers 20 open water swims from Boston Harbor to under the Golden Gate Bridge, its roots are firmly anchored in Connecticut and along the shores of Long Island Sound. Darien, Connecticut, resident Matt Vossler and his lifelong friend and college roommate Jeff Keith founded Swim Across America in 1987.
Nationally, Swim Across America has raised more than $80 million in the fight against cancer. More than 120 Olympians support Swim Across America, including Michael Phelps, Craig Beardsley, Donna De Varona (a honorary Greenwich-Stamford co-chair), Rowdy Gaines, Janel Jorgensen McArdle (who grew up in Ridgefield, Connecticut), Bobby Hackett, Ryan Lochte, Glenn Mills, Christina Teuscher and many more.
Co-chairs of the annual Swim Across America Greenwich-Stamford swim are Michele Graham, whose 22 year-old daughter Nicole recently finished undergoing treatment for relapsed leukemia, and Nancy Carr, who has been a long-time land volunteer and has spear-headed the Make Waves retailer and restaurant days for Swim Across America Fairfield County. The annual Make Waves Day will be held on June 20, two days before the open water swim, where area stores and restaurants will donate a portion of the day's sales to Swim Across America Fairfield County.
Honorary co-chairs of the Swim Across America Greenwich-Stamford event are Olympic Gold medalist Donna de Varona (1960, 1964 Olympics) and her husband John Pinto of Greenwich. Olympic swimmers Craig Beardsley (1980) and Cristina Teuscher (1996) will also be at the swim and Cristina will be diving in the water with the rest of the swimmers.
For those interested in participating in Saturday's Swim, visit swimacrossamerica.org/fairfieldcounty.
It's never too late to donate, swim or volunteer. Pool swims and virtual swims are also available and there are pool swims scheduled at the Riverside Yacht Club on July 14, the Rocky Point Club and the Greenwich Water Club later this summer, and a rowing event with the Greenwich Crew team at the Greenwich Water Club on September 15.
Follow Swim Across America Fairfield County on Facebook, Instagram and Twitter.