This is a carousel. Use Next and Previous buttons to navigate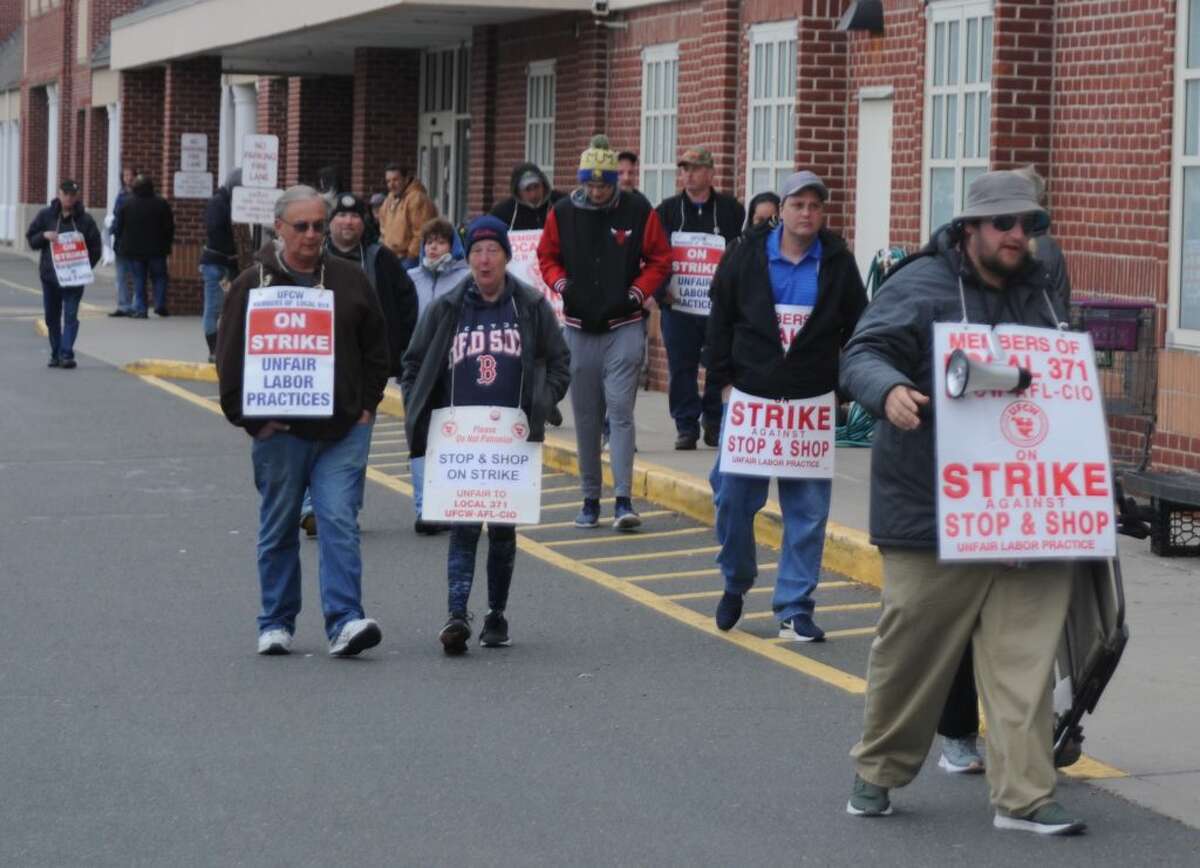 "Stop and Shop is on strike. Your neighbors have been out of work for eight days. Honor our picket line," said the voice on a bullhorn. 
Striking workers marched with signs in front of Stop and Shop supermarket in Ridgefield's Copps Hill Plaza earlier today — marking a week since the store was left closed for two-plus hours on April 11.
"There are other stores open," the striker with the bullhorn continued. "Your neighbors need your support."
There have been no incidents or trouble at the Ridgefield store said Lt. Jeff Raines of the Ridgefield Police Department, who was on duty Thursday in the parking lot not far from the store — as arranged by Stop and Shop with the Ridgefield Police Department.
"They're out here, doing their thing," he said of the strikers.
"It's open. It's all managers inside," Raines said.
Shoppers who wanted to get into the store were able to.
Strikers said they had no idea how much longer they'd be out of work.
"Still negotiating," one said.
"No way of knowing when it's going to end," said another. "There's updates every day, but no timeline."
None of the strikers were comfortable giving their names to a reporter.
A manager inside the store Thursday morning, after checking with higher-ups on the phone, said a reporter wouldn't be allowed to roam the store, or interview customers inside. He also also corporate management said a reporter couldn't talk to "associates" — including striking workers outside the store.
But another reporter who visited the store early Thursday afternoon and went inside for a look said the Ridgefield store and most of its shelves were nearly empty — the bakery completely empty, pre-made foods nearly empty, fruit dwindling, meat dwindling, and paper goods dwindling. Dairy products were available but many had "sell by" dates for this weekend. The vegetable and fruit displays were also close to barren.
The store itself was silent and nearly empty, with about half a dozen customers inside.
One striker said the raises the company was offering would be outweighed by the increased share of health benefits' costs that workers were being asked to pay.
The company disputes this, with a "myth" versus "fact" new release saying the company "would pay 92% of premiums for family coverage and at least 88% for individual coverage" and that employees share is "well below the national average for health premiums."
"I've been working at this company 29 years," said one workers outside the Ridgefield Stop and Shop, and her pay is "a couple of dollars over half of that" — not close to $20 a hour, she said.
The company issued a media statement on the strike Thursday in connection with former Vice President Joe Biden's visit to strikers in Massachusetts.
"There is nothing we want more than having our associates back in the stores, taking care of customers and our communities," said Jennifer Bogan, the company's director of external communications. "We have offered fair and responsible contracts and remain in active negotiations to reach new agreements as quickly as possible that keep our associates among the highest paid grocery retail workers in New England, while also providing excellent health care and increased contributions to a defined benefit pension plan."