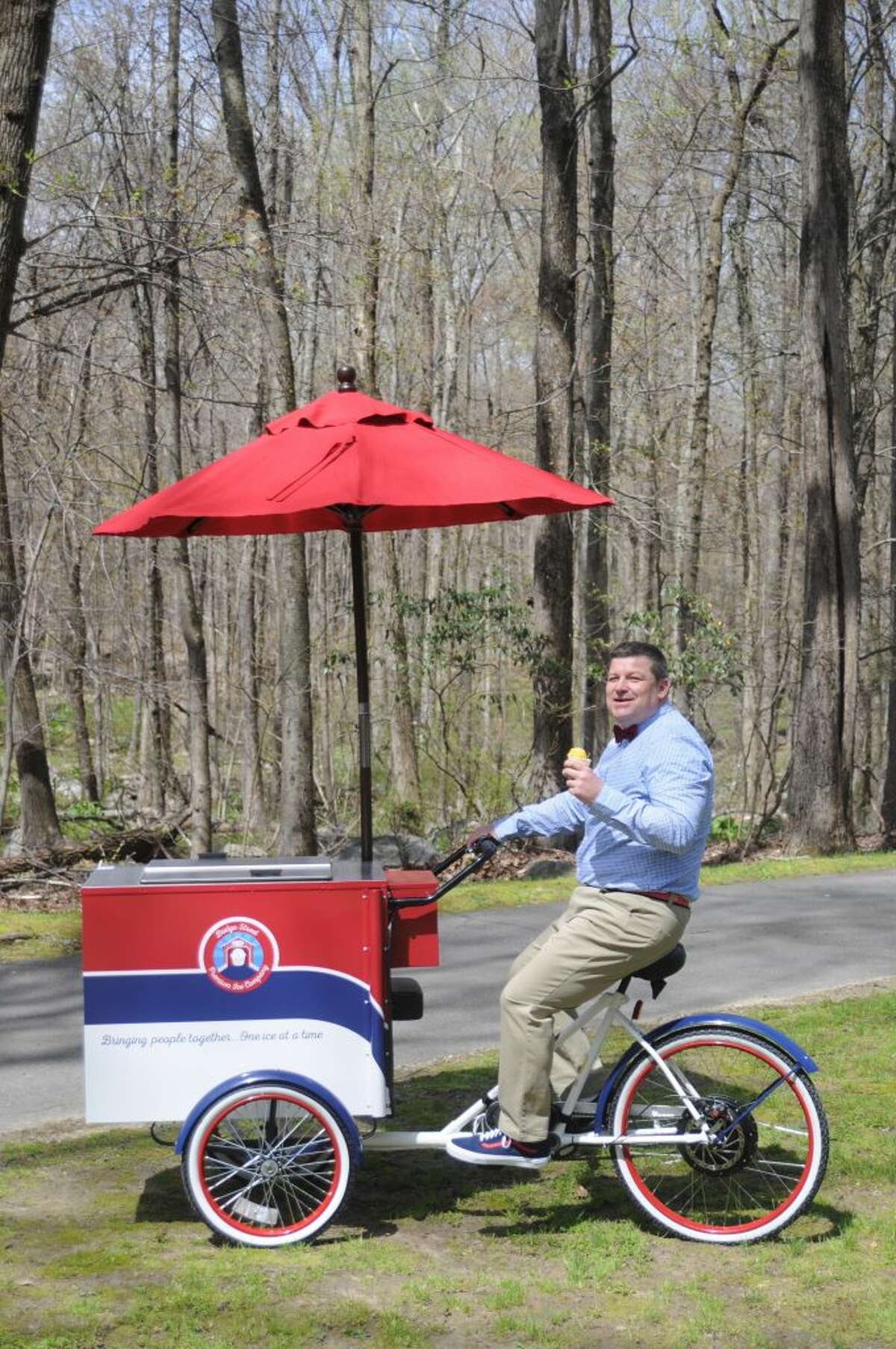 Hot dogs, burgers and fries, cold tasty sorbet — the season of outdoor eating got an official start when the selectmen approved permits for three food vendors last month.
Bridge Street Premium Ice Company, selling sorbet from a tricycle-cart, is new to Ridgefield, although owner-operator Michael Cunningham and his wife Maureen have lived in town eight years. The other two vendors approved by the selectmen April 17 are long established local businesses that got permit renewals: the Chez Lenard hot dog stand on Main Street, run by Mike Principi; and the Zwack Shack lunch truck operated off Route 7 by Greg Zawacki.
"My goal is to serve a premium product," Cunningham told the selectmen. ".. .I'm just trying to fulfill a dream I've had in life."
"I'm a retired firefighter from New York City and I've always wanted to be an entrepreneur," he later told The Press.
"I have a red white and and blue trike. I'll be serving exclusive sorbet," he said.
"It harkens back to a unifying American theme — my whole message is to bring people together. My tagline is: 'Bringing people together one ice at a time.' Wherever you fall on whatever spectrum, or ideology, we can come together over a really good sorbet."
Cunningham will serve six flavors — lemon, cherry, passion fruit, mango, coconut and chocolate — with up to four available at a time. He can get up to 20 flavors, he said, and he'll try to honor specific flavor requests from event organizers.
"I'll be primarily doing special events and private parties," he said.
He'll be out at the softball tournament to benefit Sunrise Cottage that's planned for the weekend of May 4 and 5, on various fields around the village —Veterans Park, East Ridge, and Governor Park.
Cunningham also hopes to be out on Main Street for the Memorial Day Parade.
"I'm looking to partner with Lounsbury House and Suzanne Brennan. We're going to try to work something out for Memorial Day. I'm partnering with the American Legion, as well," he said. "... I will be making a donation to the American Legion in town, based on my sales that day."
Cunninghan's vending trike was made at Worksman Cycles in New York City, and is street legal in Connecticut, he said.
The Board of Selectmen, in granting him a permit for events and private parties, specified that they didn't want him riding the sorbet trike on town roads or sidewalks.
Cunningham agreed to that condition, adding he has a trailer to haul the trike to events.
The selectmen voted 4-to-1 to grant the permit, with dissenting vote by Maureen Kozlark. She has long sought to limit competition that low-cost mobile vendors give to the town's brick-and-mortar businesses — "the people who are also trying to build businesses, in their little shops," as she told Cunningham.
"I'm sorry, I'm opposing it," she said when the vote came up.
Cummingham told The Press he doesn't see himself as competition for established businesses.
"I'm here to just get along with everybody and I just want everybody to thrive, and just want to be one business that operates in town that may be a little unique, and has a really good product to serve at a private event," he said.
"I'm looking to enhance the charm of the town."
Zwack Shack
Greg Zawacki came to the selectmen for renewal of a permit for The Zwack Shack, a lunch truck he sets up on a pull-off area long Route 7, across from the motel, between Branchville and Florida Hill Road.
"Eight years," he told the selectmen. "This is going to be the ninth."
"It's been good," he said.
The Zwack Shack sells a lunch menu with a variety of specialty burgers like "the bacon blue" with blue cheese, bacon and caramelized onions, or hot dogs like "Dad's dog" with chili, cheese and house-made onion sauce. He also offers grilled cheese sandwiches, fried chicken sandwiches, fries, onion rings, cheese fries.
"We do have a new plant-based protein burger," Joan Zawacki, Greg's mother and business partner, told the selectmen.
Selectman Bob Hebert asked about the food trucks at The Nod Hill Brewery just down the street from the Zwack Shack.
"They seem to be getting a good rotation of trucks," Zawacki said.
"It hasn't hurt you?" Hebert asked.
"Not noticeably," said Zawacki.
The Zwack Shack is open 11:30 to 4, Monday through Saturday.
The vote to renew his permit, which covers his location as well as events and parties, was unanimous.