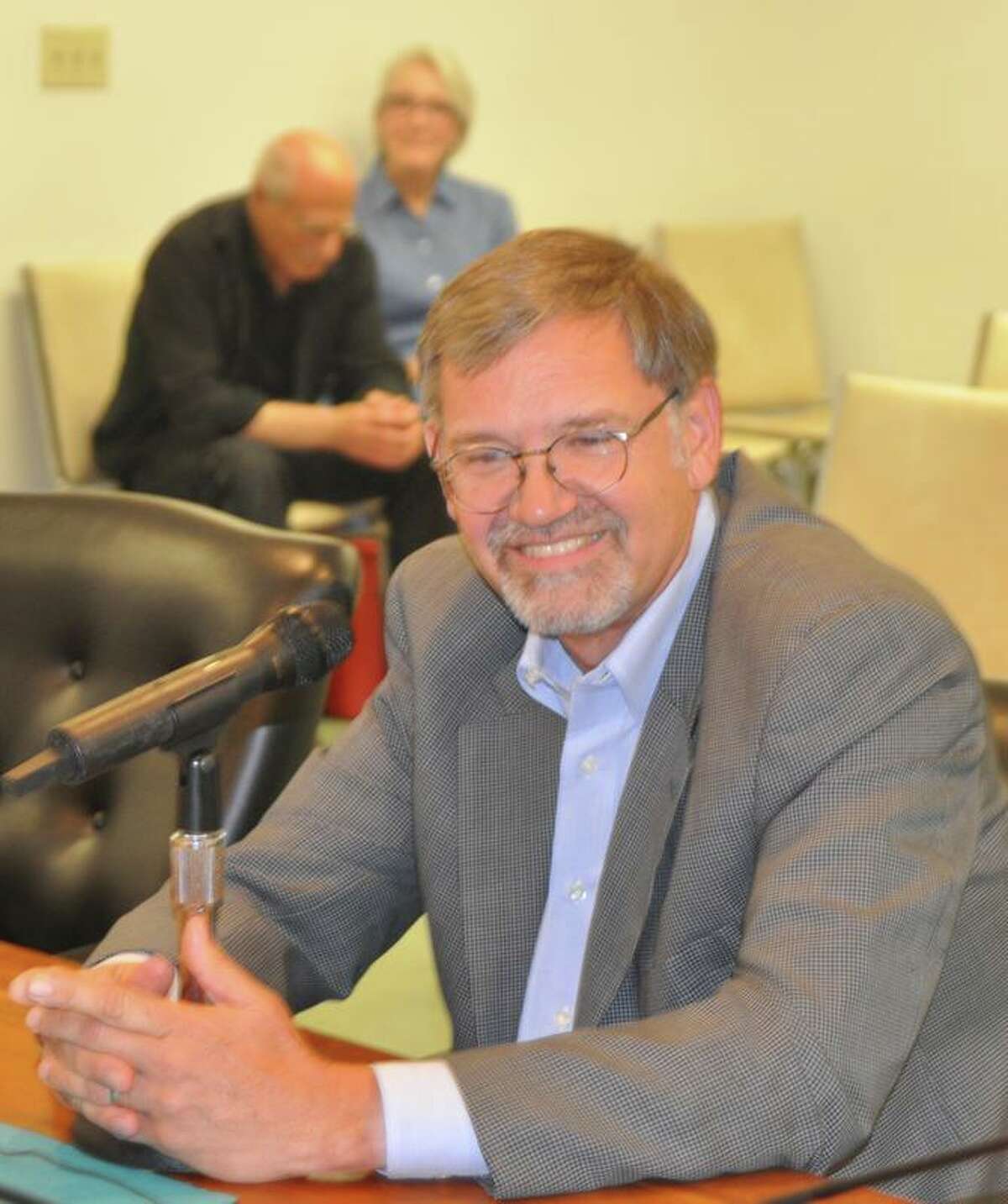 After sharing thoughts on a variety of issues, four Conservation Commission members were reappointed by the Board of Selectmen on Wednesday, March 20. But there was also interest in someone who wasn't reappointed.
"Ben Oko has decided not to stand for reappointment," Conservation Commission Chairman James Coyle told the selectmen. "After 18 years, it's going to be a strange place without him."
One of the commission's leaders for many years, Oko's last term was as an alternate.
Reappointed by the selectmen were Conservation Commissioners Daniel Levine, Timothy Bishop, Alan Pilch and alternate Kitsey Snow.
"I fully support all of them," Coyle told the selectmen.
Levine, Bishop and Pilch attended the March 20 selectmen's meeting. Snow couldn't make it.
"I knew I cared deeply about the town and our environment and open space," Levine told the selectmen.
"I didn't know what I could contribute."
Levine said he hoped to "raise awareness" through his service as a commissioner.
"A lot of people don't know what the Conservation Commission does," he said.
Levine also said he was active in last year's charter revision debate concerning the separation of the Inland Wetlands Board from the Planning and Zoning Commission — which was approved, and will go into affect after a new wetlands board is put in office as part of this November's election.
"I was very vocal and active about the splitting of inland wetlands and planning and zoning. That was a deep concern for me," Levine said.
"What was awesome for me was people showed up — no matter what side you're on."
Land use
Alan Pilch told the selectmen he's a very active participant in the Conservation Commission's advisory reviews of the land development applications that come before the Planning and Zoning Commission.
"I'm an engineer and a landscape architect. I've been doing this for 35 years," he said.
"... I think one of the real challenges we have, in general, is there's a lot of pressure of land use on habitats."
Development has used up nearly all the good land in town.
"Every site now becomes challenging," Pilch said.
"Steep slopes and bedrock and wetlands — that's what's left."
He said the commission had been looking to update the natural resources inventory it did a few years back.
"Part of that has to do with the deer hunt," Pilch said.
He added, "I, too, was strongly involved in seeing the inland wetlands and planning and zoning split."
'Team player'
Tim Bishop recalled his initial urge to seek a seat on the Conservation Commission.
"I was relatively new in town. I wanted to get involved," he said.
"I, too, professionally am an environmental consultant — as Rudy knows, on the property remediation side," he said.
Bishop expressed concern about protecting groundwater and the quality of well water drawn to serve homes.
"I don't know the percentage of wells in town, but it's pretty high," he said.
First Selectman Rudy Marconi said he's becoming concerned about the use of salt on roads, and the potential long-term affect on groundwater.
"It's something we need to look at," Marconi said.
Bishop agreed salt is a concern.
"Once it's in the fractures in the bedrock and the aquifer, you're not getting it out," Bishop said.
Bishop said his approach to working on the commission is open-ended.
"I try to keep my hands involved in everything, and to be a team player," he said.
New alternate
Kitsey Snow, now a commission alternate, couldn't attend the meeting, but she did write to Marconi expressing her wish to be reappointed.
"The commission has had a very busy and productive year," she wrote, "and there are many ongoing projects I would like to continue to work on."
The reappointment of all four was approved unanimously by the Board of Selectmen.