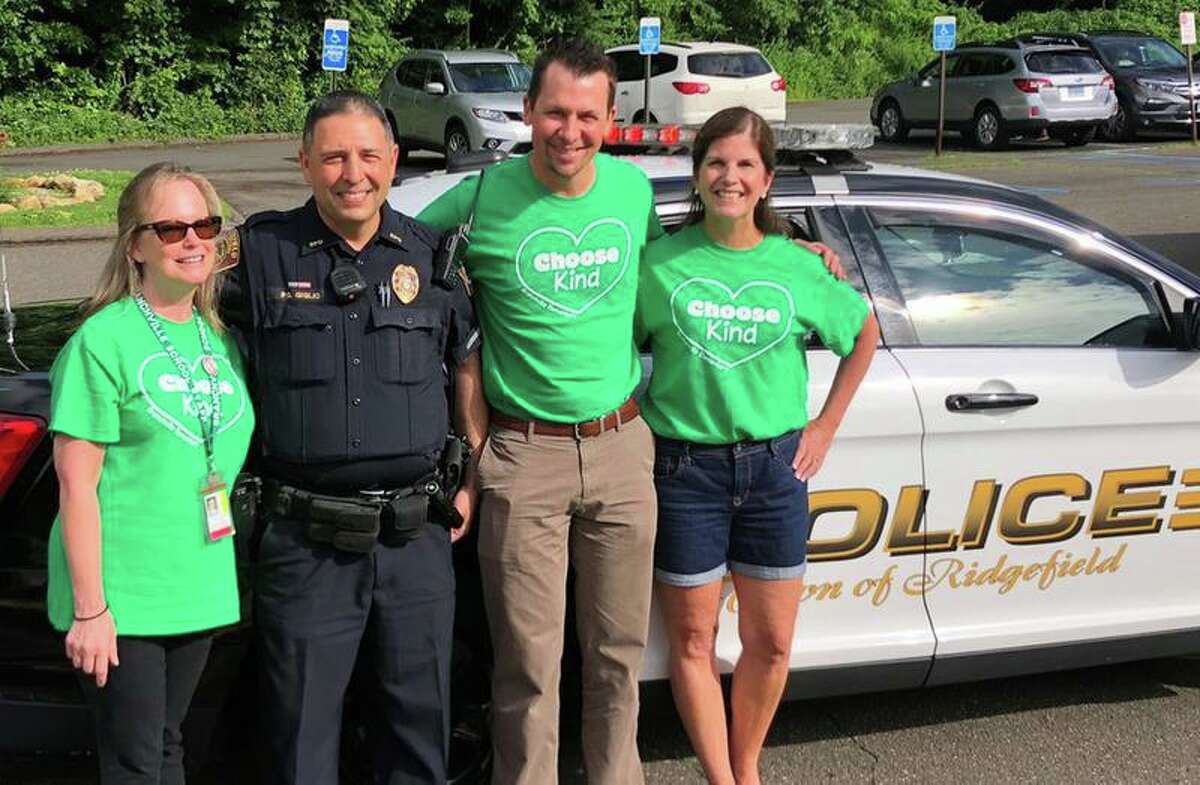 In recognition of Autism Awareness Month in April, a Darien police officer is behind an initiative that will make officers and the public more aware of those on the autism spectrum.
The initiative involves Autism Awareness magnets, an Autism Awareness Patch Challenge, and a free seminar that educates Darien police officers on autism.
The man responsible for the initiative in town is Officer Richard Flood, a Ridgefield resident who has a child on the autism spectrum
As part of the initiative, all 15 Darien police cars will be displaying Autism Awareness magnets on their right side passenger door. The magnets contain the words "Autism Awareness," surrounding a circle with a blue puzzle piece inside it. Blue represents autism.
The magnets will be displayed on the vehicles every April, going forward.
In addition, several police officers from the department will be taking a free seminar in April called Autism Shield Training. The seminar will teach them to be aware of the condition of autism, and its symptoms and characteristics. It will also provide information to better recognize a person with autism, and response methods for officers in the field.
Sometimes, autistic behaviors can be mistaken for criminal behaviors, and officers need to be aware of this when they are on duty. One example of this is stimming, which is the repetition of physical movements, sounds, or words, or the repetitive movement of objects. While stimming can be seen in those on the autism spectrum, a lot of this behavior also resembles drug use, according to Flood.
"Those who are stimming are doing a lot of things that are consistent with a drug user," said Flood, who has been with the Darien Police Department for two years. Prior to this, he was an officer in Eastchester, N.Y.
"The goal of the seminar is to open our eyes to something that we don't know," he added.
The Darien Police Department is also going to be participating in the Autism Patch Challenge. The challenge was started in 2017 by Christopher T. Greco, a New Rochelle, N.Y., police detective, who has an autistic son.
Greco created Christopher's Voice, a charitable foundation to help prevent the wandering of autistic children, to provide financial assistance and support to struggling families with autistic children, and to promote public awareness and safety within the first responder community. Over 150 agencies have participated in the challenge throughout the United States.
As part of the challenge, officers wear an autism awareness patch on their uniform during the month of April. To date, the patch has not received final approval yet at the Darien Police Department.
The Autism Awareness magnets and the seminar were also created by Greco.
"The Darien Police Association, our police officers' union, has paid for the magnets, which cost about $600," said Darien Police Lt. Jeremiah Marron. "They also gave the department $1,000 for the uniform patches."
Christopher's Voice also offers a go bag, which contains toys that children on the autism spectrum are more attracted to. "They help to keep an autistic child assured and calm when dealing with the authority figure," Flood said.
"We will start having the go bags accessible in some of the police cars within the month," Marron said.
Marron added that 20 years ago, when both himself and Flood first became police officers, "the level of open mindedness that we needed in regard to autism was nothing compared to what we need in 2019."
"We want to be better equipped to better help these people," Marron said. "We are reaching out there to the community and saying 'We get it, we are here to help. We want you to know that if you need us, call us.'"
"We want people to know that we are sensitive to the needs of autistic children and adults," Flood said.
On April 7, in honor of Autism Awareness Month, a percentage of sales at Kirby Girl, a gift shop for young women and girls on 14 Brook Street in Darien, will go toward Christopher's Voice. For more information on Christopher's Voice, visit christophersvoice.org.