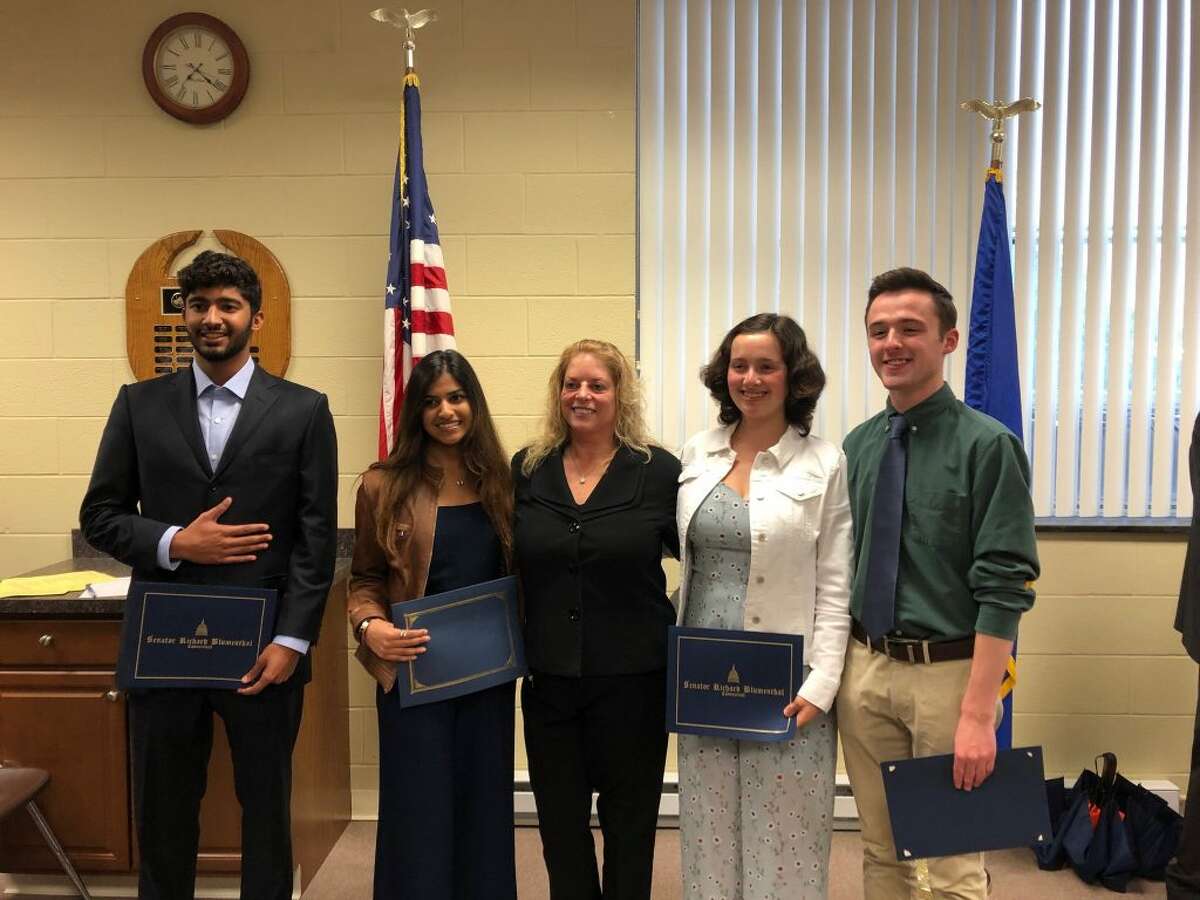 Volunteers and musicians, sustainable coffee farmers and debaters — those were some of the achievements acknowledged for the 12 students honored by school principals and administrators at the May 13 Board of Education meeting.
Ridgefield High School students Tara Krishna and Clay Vaughan received the Connecticut Association of Boards of Education (CABE) student leadership awards.
"Tara kept me on my toes," said Principal Dr. Stacey Gross. "She was a listener and was very active when she didn't think something was being done right."
Krishna, who will attend Barnard College in the fall, served as the student representative on the state's Board of Education. She was also a founding member and mentor with Ms. President US.
Dr. Gross praised Krishna's work for the Turning Pages club, a non-profit organization that distributes books to area low-income schools and libraries.
"She worked with a school in Delhi, India, and helped them with their literacy program," Dr. Gross told the board.
Dr. Gross also had kind words for Vaughn, the school's student body president.
"He was a columnist for the student newspaper and a member of our debate team — always very involved with our school and community outreach," she said.
She recalled his passion for government and history and said the Eagle Scout would undoubtedly "make a difference" in whichever field he ended up choosing for his career.
In the fall, Vaughn will be attending the University of Virginia.
Other CABE recipients were Liliana Matte and Felix Maisonet III from East Ridge Middle School and Juan Pablo Briones Lopez and Corrie Vakil from Scotts Ridge Middle School.
Patricia Raneri, principal of East Ridge Middle School, recalled how Liliana built houses for the impoverished down in Costa Rica last summer.
"She also worked at a sustainable coffee farm and helped teach English while she was down there," Raneri said.
Tim Salem, principal of Scotts Ridge Middle School, said that Corrie's volunteer spirit was an inspiration. According to Salem, the eighth grader has volunteered at the Leukemia Lymphoma Society, ROAR, and the Ridgefield Library — all while maintain high grades and playing the viola.
"She'll be missed by everyone in our building next year," he said.
WCSA
Superintendent Dr. William Collins awarded the Western Connecticut Superintendents Association (WCSA) honors to high school students Sophia Haber and Vidur Hareesh.
"Vidur represents RHS flawlessly," Dr. Gross said of the school's student president. "I'll miss working with him."
Hareesh, who will also be attending University of Virginia in the fall, will study business.
Dr. Gross said one of his many highlights was placing first at the Future Business Leaders of America conference earlier this year.
Haber, who was the co-founder of the school's We the People organization and editor of the Lodestar literary magazine, was praised as a "classy, great leader."
Other WCSA recipients were Devon Noonan and Jacob Voellmicke from East Ridge Middle School; Kavya Podila and Shane Miller from Scotts Ridge Middle School.
Devon is a volunteer at Ridgefield Crossings and a Girl Scout. She's also a member of Torch Club at the Boys and Girls Club.
Jacob, a volunteer at Laurel Ridge, donated his time last winter to feeding the homeless at a shelter in New York City. He's also a member of Ridgefield Little League and helped hang lights on Main Street for the Holiday Stroll.
Like his other middle school peers, Shane was praised for volunteering time at St. Elizabeth Seton Church and the Dorothy Day House. He was also noted as an accomplished trumpet player.
Kavya, who helped underprivileged students India, was called "confident and humble."
"She's destined to achieve excellence wherever she goes," Salem said.