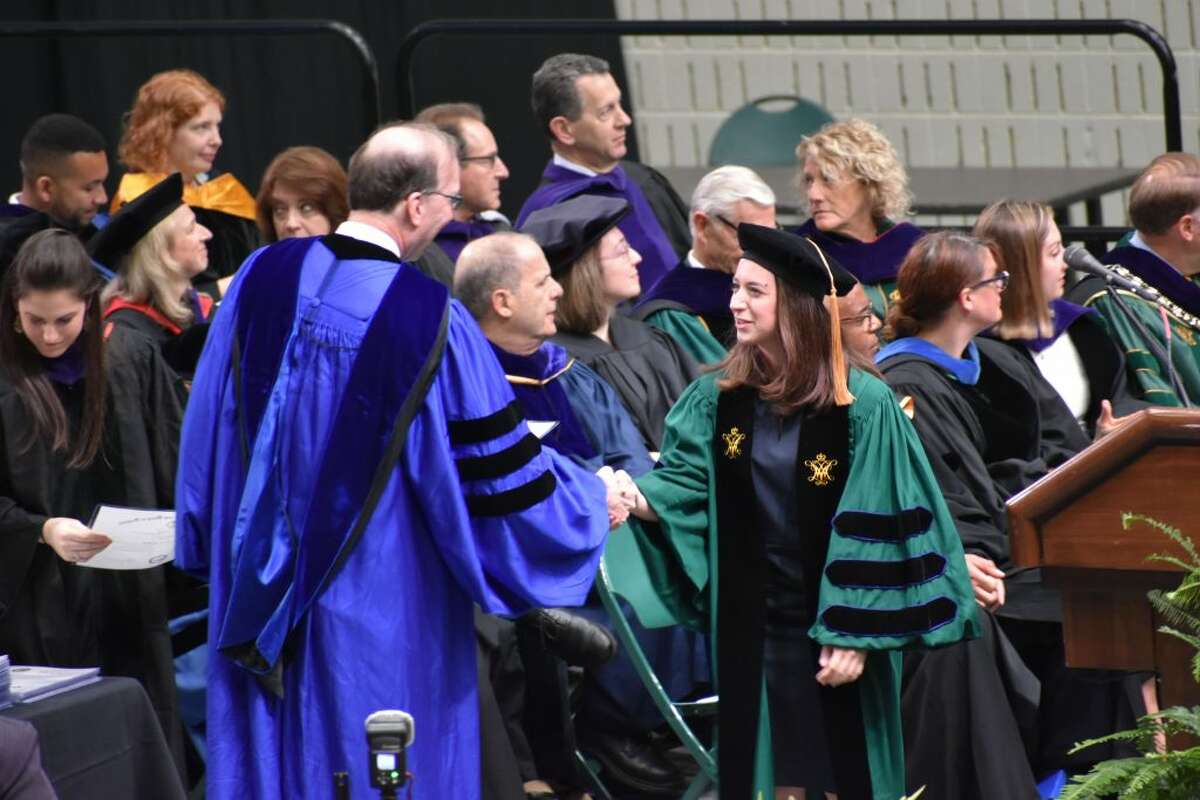 The following students earned degrees from Bucknell University: Stefano Cobelli, bachelor of science in computer science and engineering; Robert Fornshell, bachelor of arts in sociology; Olivia Miloro, bachelor of arts in economics; Jess Quindlen, bachelor of arts, interdepartmental.
Drew Bedard, son of Doug and Valerie Bedard of Ridgefield, graduated May 16 from the University at Albany School of Business with a master's in accounting. A 2014 Ridgefield High School graduate, Drew will be employed by PricewaterhouseCoopers in the fall.
Ridgefield students who graduated from the University of New Hampshire are: Spencer Assiff, master of arts, economics; Timothy Barton, bachelor of science, environmental and resource economics; Kyra Evarts, bachelor of arts, sociology; Jacob Lantner, bachelor of science, mechanical engineering; Talyah Uslianer, master's degree in social work.
Scott Smith graduated from Paul Smith's College with a bachelor's degree in recreation, adventure & education leisure.
Local students graduated from Clemson University at spring commencement ceremonies: Ty Anthony Cruz, bachelor of science in accounting and Amy Claire Lucisano, bachelor of science in marketing.
The following students were named to the spring semester dean's list at Northeastern University: Mathew R. Bornstein, business administration; Sloan Coughlin, health science; Abigail V. Fennell, linguistics; Karen J. Lang, psychology; Jonathan H. Vayness, psychology. In addition, members of the university's honors program named to the spring dean's list are: Annette Meyers, mechanical engineering; Navin R. Mani, computer science/business administration; Steven L. Arditti, computer science; Dillon Hammer, computer science.
Emily Margaret Fornshell, daughter of Robert D. and Antoinette Fornshell, graduated May 12 from William & Mary Law School with a juris doctorate degree. While studying law at William & Mary, the 2015 graduate of Mount Holyoke College and 2011 graduate of Greenwich Academy was the president of the Transactional Law Team, a member of the Business Law Review, and recipient of the Carter Kaplan & Company International Finance Law Award. She also was recognized as a Law School Public Servant for her pro bono work as an intern with the City Attorney of Hampton, Va., and with the Federal Income Tax Clinic at William & Mary, in addition to her volunteer work with The Community Tax Law Project in Richmond, Va. Fornshell plans to sit for the bar examination in Maryland at the end of July.