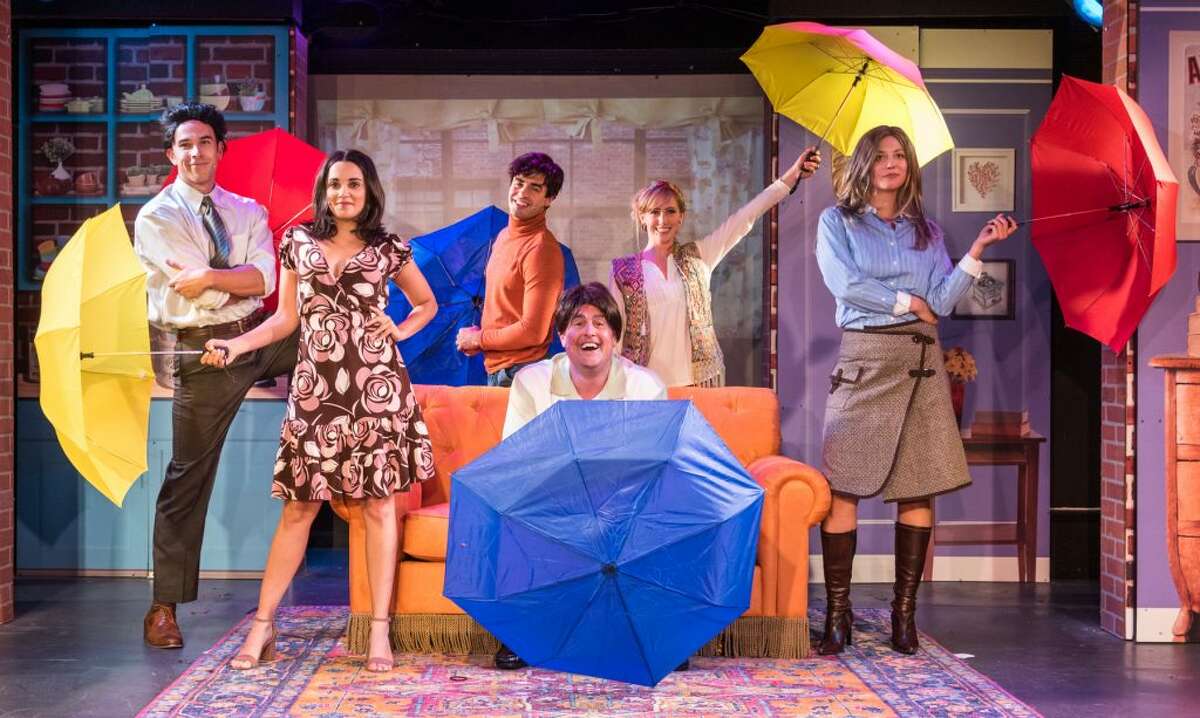 Monica, Rachel, Phoebe, Joey, Ross and Chandler are back in FRIENDS! The Musical Parody coming to The Ridgefield Playhouse on Wednesday, October 24 at 8pm. Enjoy songs like "495 Grove Street – How Can We Afford This Place?"; "How you Doin?" and "We Were on a Break!" in this hilarious new musical that lovingly lampoons TV's "Friends" and celebrates the wacky misadventures of your favorite group of 20-something pals as they navigate the pitfalls of work, life, and love in 1990s Manhattan. Fresh from a successful Off-Broadway run, this delightfully naughty confection plucks the best moments from the show's ten years and recreates them through an uncensored, fast-paced, music-filled romp. For mature audiences only. This show is part of Barts Tree Service Comedy Series, Ridgefield Magazine Broadway & Cabaret Series and STAR 99.9 & Western Connecticut Health Network's Pinktober.
FRIENDS! The Musical Parody is an unauthorized musical parody based on the wildly popular television series.  Additional songs from Friends! The Musical Parodyinclude:  "Oh. My. God. It's Janice!" sung by Janice-– yes, they've brought back Janice!–– "Will They or Won't They" by Ross and Rachel; "The Ballad of Fat Monica"; "The Chick and The Duck Song"; "I am Marcel, the Monkey!";  "Could I BE Anymore...in Love with You" by Chandler; "The One Where We Make a Million Dollars an Episode" and "We'll Always Be There For You." "It's smart, funny and moving," proclaims Broadwayworld.com. The show is produced by Right Angle Entertainment and McSmith Family Entertainment.
FRIENDS! The Musical Parody was created by Bob and Tobly McSmith, the pair behind Full House! The Musical, Showgirls! The Musical,  Katdashians! The Musical!; Bayside! The Saved by the Bell Musical (NYTimes Critic Pick), 90210! The Musical and The Office! A Musical Parody! coming this Fall to The Theater Center (Times Square, NYC) -- yes, they have a yen for popular television series of the 80s, 90s and 00s. Special attention to detail was given to costumes designed by David Rigler.
"A lot of thought has to go into re-creating something that is so ingrained in people's memories, especially with such a vast amount of material to work from -- because the show aired for 10 seasons, there is an abundance of research to pull from" says Rigler. "The collaboration with the creative team was key, but even more so was the contributions the cast made to the costumes. Our cast brought these characters to the stage in a brilliant way and once I honed in on their versions of these characters, the process of designing the costumes became much less daunting."
For tickets ($39.50) call or visit the box office, 203-438-5795 or go online at ridgefieldplayhouse.org.  The Ridgefield Playhouse is a non-profit performing arts center located at 80 East Ridge, parallel to Main Street, Ridgefield, CT.