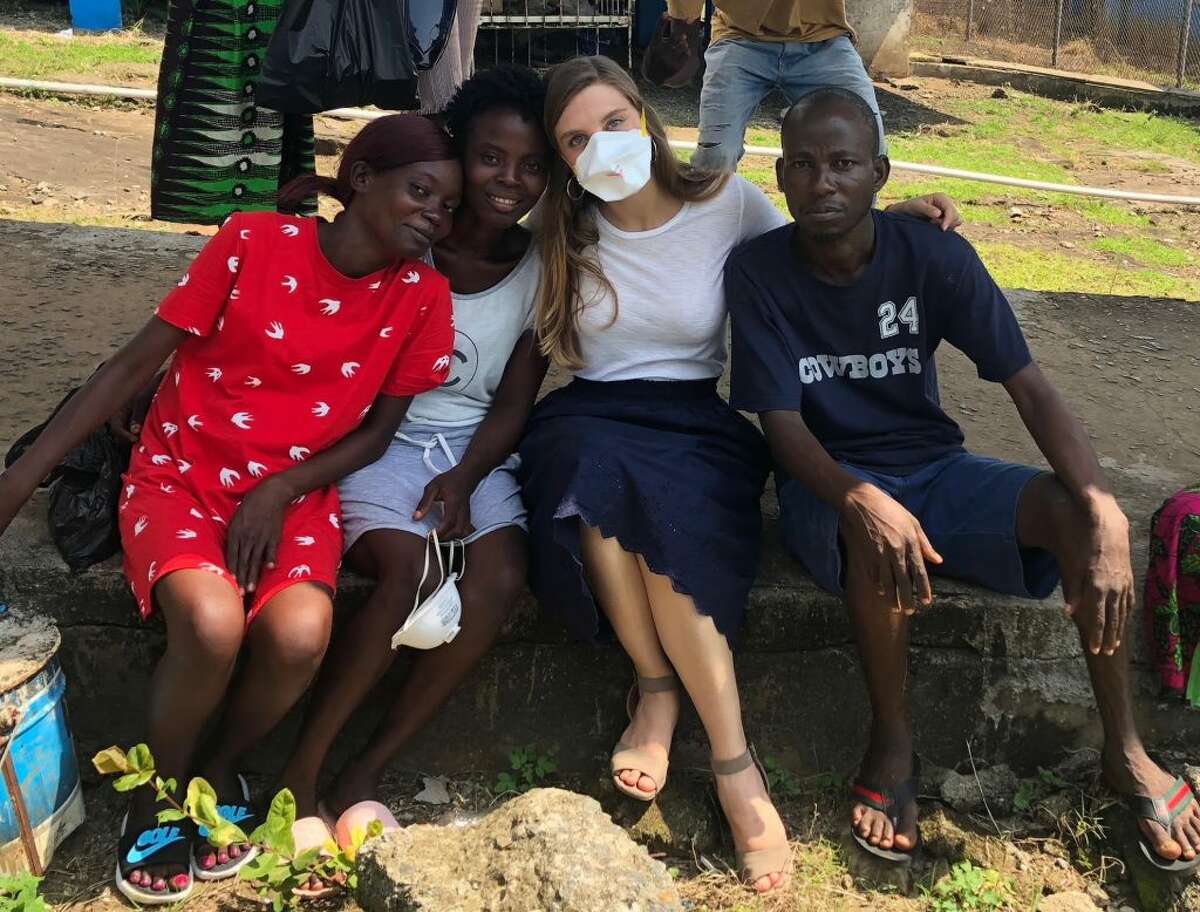 When treating patients infected with tuberculosis, wear a mask with an N95 filter, and "make sure your hands are clean," said Margaux Amara, Ridgefield High class of 2014.
Amara, 22, spent six months on the ground in Liberia with Partners in Health, a nonprofit helping the Liberian government rebuild its tuberculosis program. In 2014, the West African nation people faced an outbreak of the ebola virus, which devastated the nation. Partners in Health was one of the international organizations that offered to help with the crisis.
"Partners in Health decided to stick around, and that's why we're here," said Amara, who was previously featured in The Press last August for her efforts lobbying in Washington, D.C., to get more funding to fight the tuberculosis.
"We go to the hardest to reach places with the least amount of resources … and that's kind of our goal," she added.
Ebola was the latest in a long line of misfortunes for the nation of about 5 million people, which was founded as a harbor for freed slaves in 1847. Through most of the 1990s and part of the early 2000s, the country was rocked by two brutal civil wars sparked by political unrest. It is now the seventh poorest nation in the world, with an annual gross domestic product of about $456 per-person, according to the World Bank. 
Enter tuberculosis, a bacterial infection largely eradicated in the United States (there were around 9,000 new cases in the U.S. in 2017, according to the CDC). Those who fight the disease, say it "knocks on the door of the poor," Amara said. "It shows up in the poorest places in the world."
"It's a social disorder" that's the result of "massive inequity," she added.
Putting the work in
Day to day, Amara worked as an administrative assistant in the capital city of Monrovia (named for U.S. President James Monroe), helping to manage money raised through the Global Fund, a grant program for fighting diseases set up by the United Nations.
She spent part of each day at a hospital set up for patients with tuberculosis, where she worked on a program helping to raise awareness of the disease's risks, and help reintegrate those who had been cured back into society. In some cases, patients treated for tuberculosis were rejected by their families or communities.
She took part in weekly support groups for patients. "In some cases, we provide them with school fees, or micro-loans to get their business started," Amara said.
Was she concerned at any point that her job put her in danger?
"That's an interesting question," Amara said with a laugh. "The answer is I should be concerned," but not "if the proper procedures are followed," she quickly added. 
That means clean hands and a mask to ward against airborne transmission of the disease. 
"It's airborne — lot of people all over the world just don't know that,' she said. "Part of our work here, too, is trying to really educate our patients on transmission … I think it's really just one of those diseases that just kind of been swept under the rug on a global level."
Fitting in
Working with patients — most of whom speak a pidgin form of English similar to creole — could produce some interesting results. "It's a very strong dialect," Amara explained. "I work for two Haitian doctors … I've been in a room with a Haitian doctor, a Liberian patient, and we're all speaking English, but we can't understand each other."
Despite the thousands of miles of Atlantic Ocean between Monrovia and Ridgefield, Amara said she immediately felt at home. "It's probably because I felt really ready to experience something new, but also because Liberian people are just really wonderful," she said. "Liberians are a welcoming people — they're funny, they're loud, they're energetic." 
They've endured. "The Liberian people are a strong people — they've been through two civil wars and an Ebola epidemic," said Amara.
She will be returning to Ridgefield on Feb. 6, when she plans to take the Medical College Admission Test — she graduated from UConn with a major in molecular and cell biology, and is working toward becoming a doctor. 
She noted that Partners in Health is involved in the country only because they were asked to help by the Liberian government. The eventual goal is that they won't be needed at all. 
"I think that's something about NGOs [non-government organizations] that's often overlooked— what happens when they leave?" said Amara. 
Helping to rebuild the healthcare system of Liberia after the Ebola outbreak means patients 15 years from now will be able to get the care they need, she said. It's national guidelines that "affects millions of people." 
"It's really an amazing thing," she said.