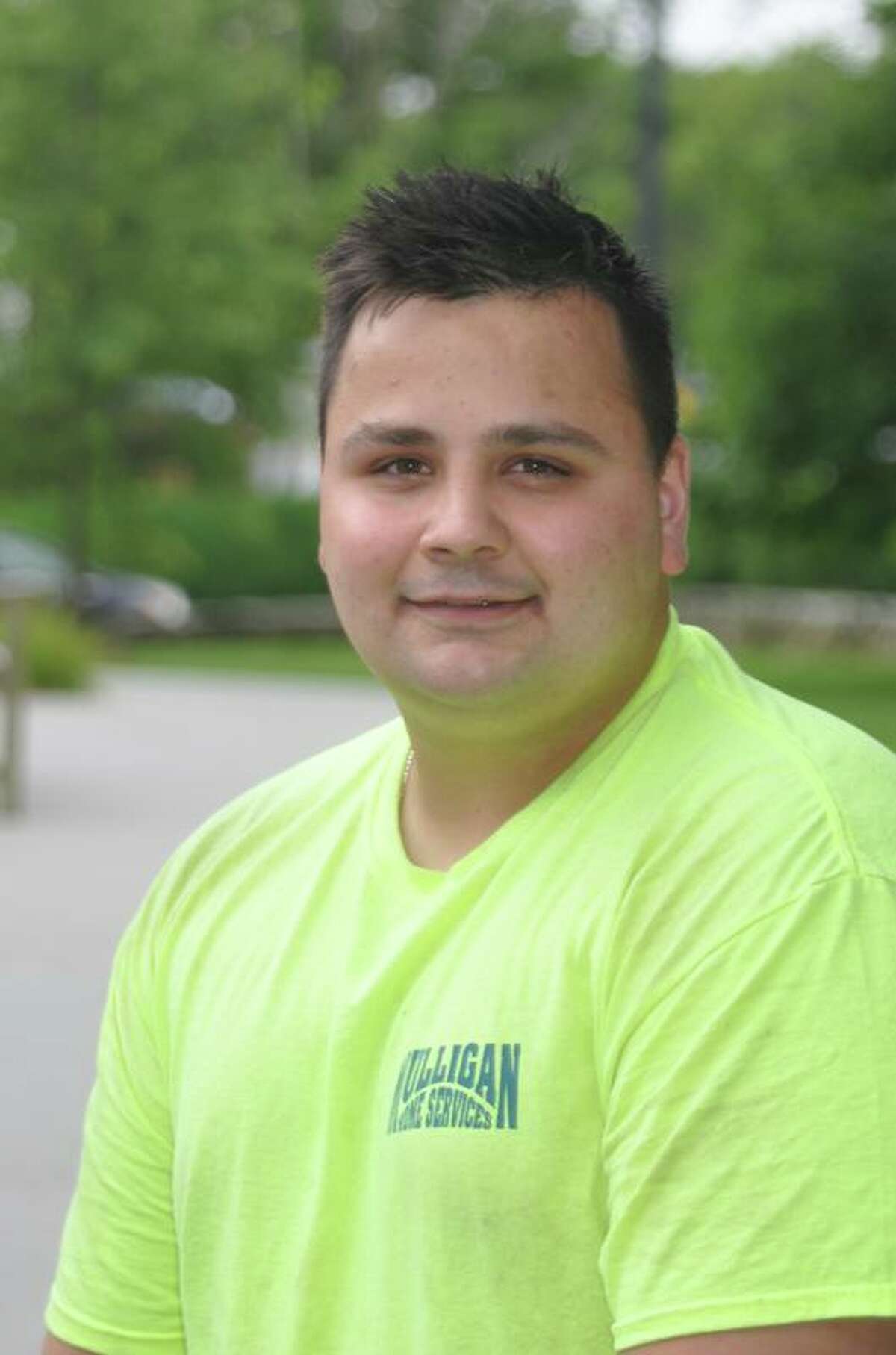 Saturday mornings, oh, about 8:30 to 9, Tim McLean is out doing volunteer work. He changes out the bags at Main Street's dog stations.
"I'm not too proud to help out with something like that," he said.
"It's not that glorious," he said with a chuckle.
But it's not a lot of trouble, either.
"It's something easy. I don't mind helping out," McLean said.
He stepped forward to do the job after reading that First Selectman Rudy Marconi and Town Treasurer Molly McGeehin were looking for people to take on the job that a student volunteer had retired from after a couple of years.
The task, basically, is going once a week to the four Main Street dog stations, taking away a big bag filled with smaller bags that have dog leavings inside, putting in a new big bag in the receptacle, and maybe refilling the supply of smaller plastic bags that are offered to dog owners.
McLean was quite willing.
"I saw the article," he said. "I saw that it was an issue and no one was stepping up to do it. I said, 'Hey, after work, it takes maybe half an hour.' I contacted Mr. Marconi after speaking to Ms. McGeehin online."
As things have worked out, he usually does it Saturday mornings, rather than after work.
"It's not much to stop and do it. I figured: 'Why not?' " McLean said.
Happy selectman
When McLean contacted him, First Selectman Marconi was glad to hear from a potential volunteer.
"He was very happy," McLean said.
Marconi had reached out to The Press, suggesting an article about the need for a volunteer to tend the Main Street dog stations. A week later he was asked if there's been any response.
"It worked!" Marconi said. "I've gotten several calls, people willing to be volunteers. Right now, a young man, his name its Tim McLean … He said 'I love the town, I think it's great. And I'd like to be able to help out and wouldn't have any problem doing it at all.' "
Marconi said Animal Control Officer Kris Zulkseki had also responded, and is a potential back-up for the job.
Busy station
While McLean doesn't have a problem with the nature of the work, it can't be said that he never runs into problems.
One consistent difficulty is that the dog station near Branchville Road gets over-filled with run-of-the-mill trash — paper coffee cups, food wrappers, soda cans and the like.
"There's other garbage being thrown in there," McLean said. "There's a lot of coffee cups. Early in the morning people must be walking their dogs."
The result is that there often isn't enough room in the receptacle for all the bagged dog leavings produced by Main Street's steady traffic of dog walkers. So people tend to leave poop-filled bags on the ground next to the dog station and it just becomes sort of a mess.
"It piles up," he said.
McLean's solution was simple.
"I started going twice a week," he said.
That's reduced the overfill problem. But McLean also plans to talk to Marconi about putting a regular trash can in the vicinity, so people with empty coffee cups are less tempted to misuse the dog station.
He hasn't found overfilling to be so much of a problem at Main Street's three other dog stations: by West Lane, across from the fountain; by Gilbert Street by Ballard Park; and at Pound Street, across from Casagmo.
"The containers on these other ones are fine," he said.
Neither McLean nor Marconi knew why the Branchville road dog station seemed to get overfilled when the others don't, other than it sees more traffic.
Bag breaks
The only other problem is the occasional broken bag — the large bag with the poop bags inside it will break, and require some careful clean up.
"I started using my own bags — heavy duty," McLean said.
A Ridgefield native, McLean is a 2012 graduate of Ridgefield High School. He attended Norwalk Community College and works with Mulligan Home Services doing heating and cooling, renovations and home repairs.
He has plans of starting his own business — the tentative name is Home Services LLC — to do a wdie range of house and yard type jobs, from putting up fences to repairing drywall.
"Just whatever I can do on the side," he said.
"I have had many customers already locally. My goal in the end is to turn over real estate after renovating and remodeling it," he said.
McLean said people who see him out caring for Main Street's dog station have been appreciative.
"I have had dozens of thanks," he said.
"...For the most part it's Saturday mornings, so people are out walking."
He added, "I get enjoyment from helping out!"
Does he have a dog?
"I do not," McLean said. "I want one. I don't know if I can take care of one right now."
But his volunteer work is helping a lot of other people look after their dogs.