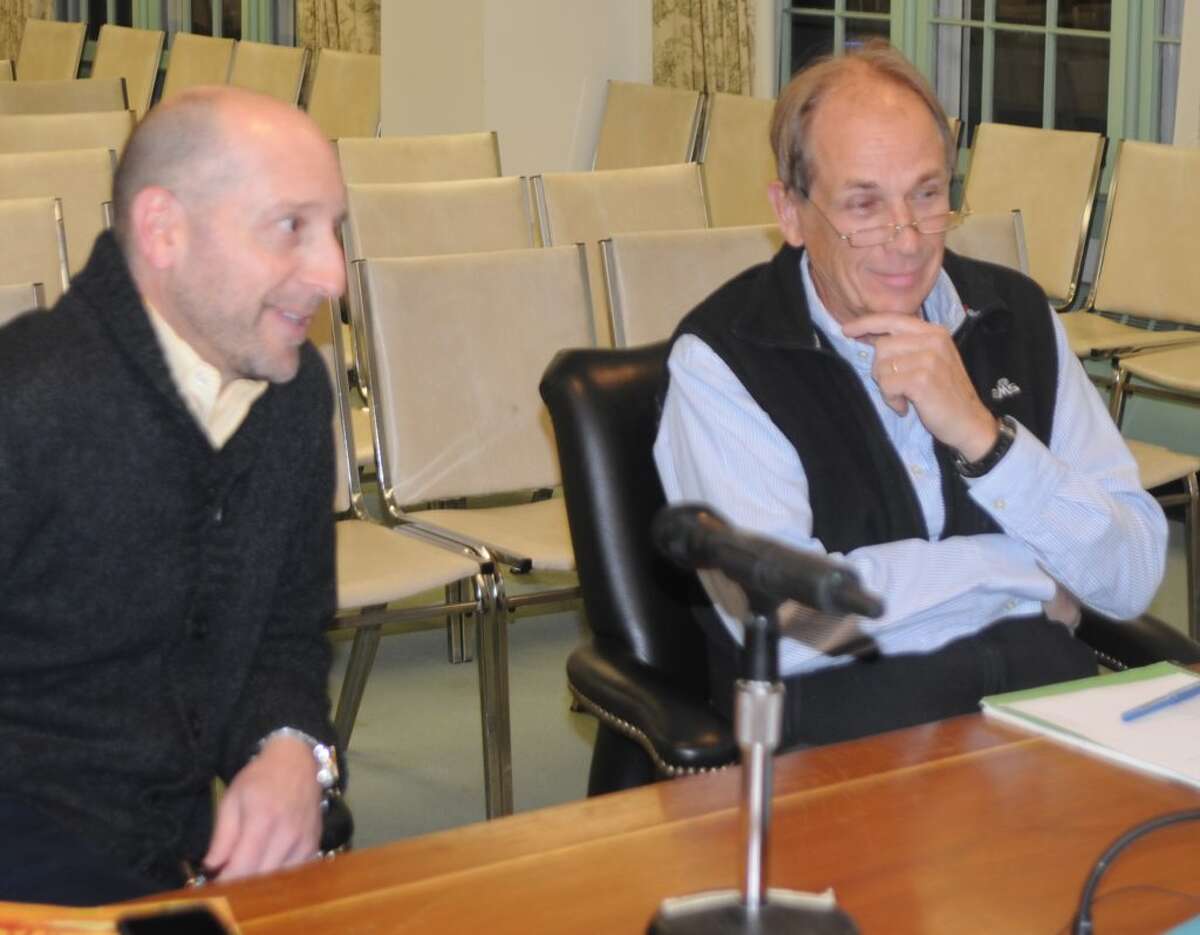 Parking and pickleball dominated conversation when two members of the Parks and Recreation Commission, Phil Kearns and David Shofi, were reappointed by the Board of Selectmen.
"I am going to bring up the 'p-word' — that's parking," said First Selectman Rudy Marconi said as the joint interview began.
"We have had terrible parking problems," he said.
Marconi recalled attending an event at the complex that includes the Recreation Center and Founders Hall when both venues were busy.
"Anywhere you could park a car, they jumped the curb and parked," he said.
"Parking has been a problem for a number of years," said Kearns, the commission's chairman.
"Some of that is Founders Hall," he added.
"We do plan to add up to 40 spaces down near Founders Hall," he said. "Due to our budget issues its been pushed out a couple of years.".
And more people have been joining the Recreation Center in the last year or so, since the state finally completed the bridge project that tied up traffic on Route 35 right in front of the driveway.
"Membership is up," Kearns said.
"Have employees park farther away," suggested Selectwoman Maureen Kozlark.
"Employees have to park down by the field, or in the overflow," Kearns said.
"The people from Founders Hall, they're circling looking for spots and they're not finding them," Kozlark said.
"It's a good problem to have. We're successful," said Shofi, who'd let chairman Kearns do most of the talking. 
"It really is two wonderful facilities," added Kearns.
Pickleball
Pickleball — and players' complaints about paying $240 a year to play — eventually came up.
Pickleballers paid $120 for memberships last year and the commission had originally looked at raise the price in steps — $240, $360 up to $480 —but that had been dropped, Kearns said.
The $240 pickleball players were being asked to pay for a year's membership worked out to $20 a month, Kearns said. Playing twice a week, for two hours each session, that amounted to paying $5 for four hours of pickleball, he said.
"It's still a lot," Selectwoman Barbara Manners said.
Single day drop-in prices for pickleball had been raised from $5 last year to $10 in 2019 — the same $10 drop-in fee paid for facilities like the indoor swimming pool and the Spray Bay outdoor sprinkler park, Kearns said.
And there's a lot of pickleball scheduled each week, for players to choose from`.
"We started at six or seven hours. We're up to thirty-nine hours," Kearns said.
He dismissed the notion that the Parks and Recreation Commission was focused on serving young people and indifferent to the needs of the mostly senior pickleball players.
"We give a 10% seniors discount," said Kearns. "...Four of the seven commissioners are seniors, including me."
Kearns has been on the commission 14 years, and served as its chairman for seven. "I am passionate about the Town of Ridgefield and appreciative of all the community has provided to my family and myself," Kearns wrote to the selectmen. "I strongly believe those of us who are so blessed to live here should give back. My membership on the commission is one of the ways I do so."
Shofi has served on the commission five years. "My background in engineering, sales and the law has helped me contribute in a meaningful way to discussion and to analyze issues for the commission and town," his letter to the selectmen said.
The two were unanimously reappointed to the Parks and Recreation Commission by the selectmen on April 2.