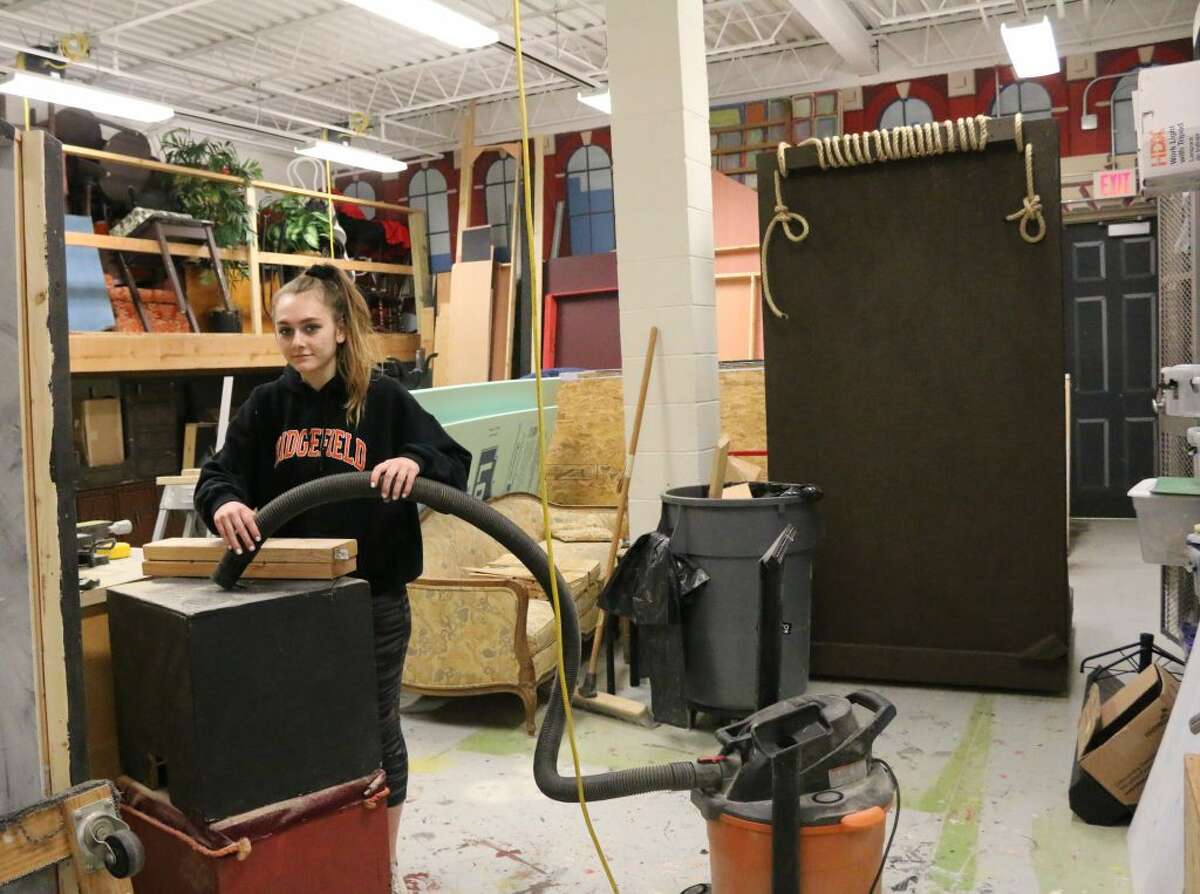 When the curtain goes up on The Addams Family at Ridgefield High School on opening night March 15, RHS freshman Matthew Marczak says the audience will be in awe of the set.
Marczak, a member of the lead set build team and the cast, says, "The iron gate is pulled away and you see the outside of the house and the Addams crypt. The mood is spooky and gloomy. Inside, the house is elegant, but very old and creepy. The size and complexity of the set is mind-blowing. The ability that the Ridgefield High School theater students and Mrs. Cox have to make this production a Broadway-like experience for the audience is incredible. The Addams Family will be a night to remember!"
Set painter Elena Tittel, a sophomore at RHS, agrees.
"The set has turned out to be absolutely incredible," she said. "We did a good job of capturing that Addams Family vibe. It's spooky enough in the sense that we have bats and black marble paint. The vision for the set has most certainly come to life. I think the audience will be extremely impressed!"
The Ridgefield High School Visual and Performing Arts Department will stage the musical comedy The Addams Family on March 15-23, in the Anne S. Richardson Auditorium of Ridgefield High School. Working on set build and painting was a lead student team of Beatrice
Altopp, Lucy Basile, RJ Carey, Liam Huff, Emma Joyce, Emma Kiernan, Matthew Marczak, Elena Tittel and Stage Manager Shane Jaeger.
Based on Charles Addams' classic cartoons first published in the New Yorker and the 1964-66 ABC television series, The Addams Family is directed by RHS Performing Arts teacher Sherry Cox. The large cast includes Evan Smolin as Gomez Addams, Emily Parker as Morticia Addams, Thomas Mitchell as Uncle Fester, Kyra Linekin as Wednesday Addams, Harrison Cluney as Pugsley Addams, Lucy Basile as Grandma, and Matt Carpenter as Lurch.
The Addams Family will have four evening performances, March 15, 16, 22 and 23 at 7:30 p.m., and one matinee, March 17 at 2:00 p.m. The snow date is March 24 at 2:00 p.m. Tickets are $15 for adults, $10 for students with school ID and for seniors age 60+. Ridgefield seniors who have a Gold Card may enjoy one show for free but must have the Gold Card with them for admission. Tickets will be sold at the door beginning one hour before the performance. Online ticket sales at http://www.rhsperformingarts.info/ Online ticket sales close at least six hours before the performance time. RHS telephone: 203-894-5750.
Submitted to The Ridgefield Press by the Ridgefield High School Theatre Boosters Club.