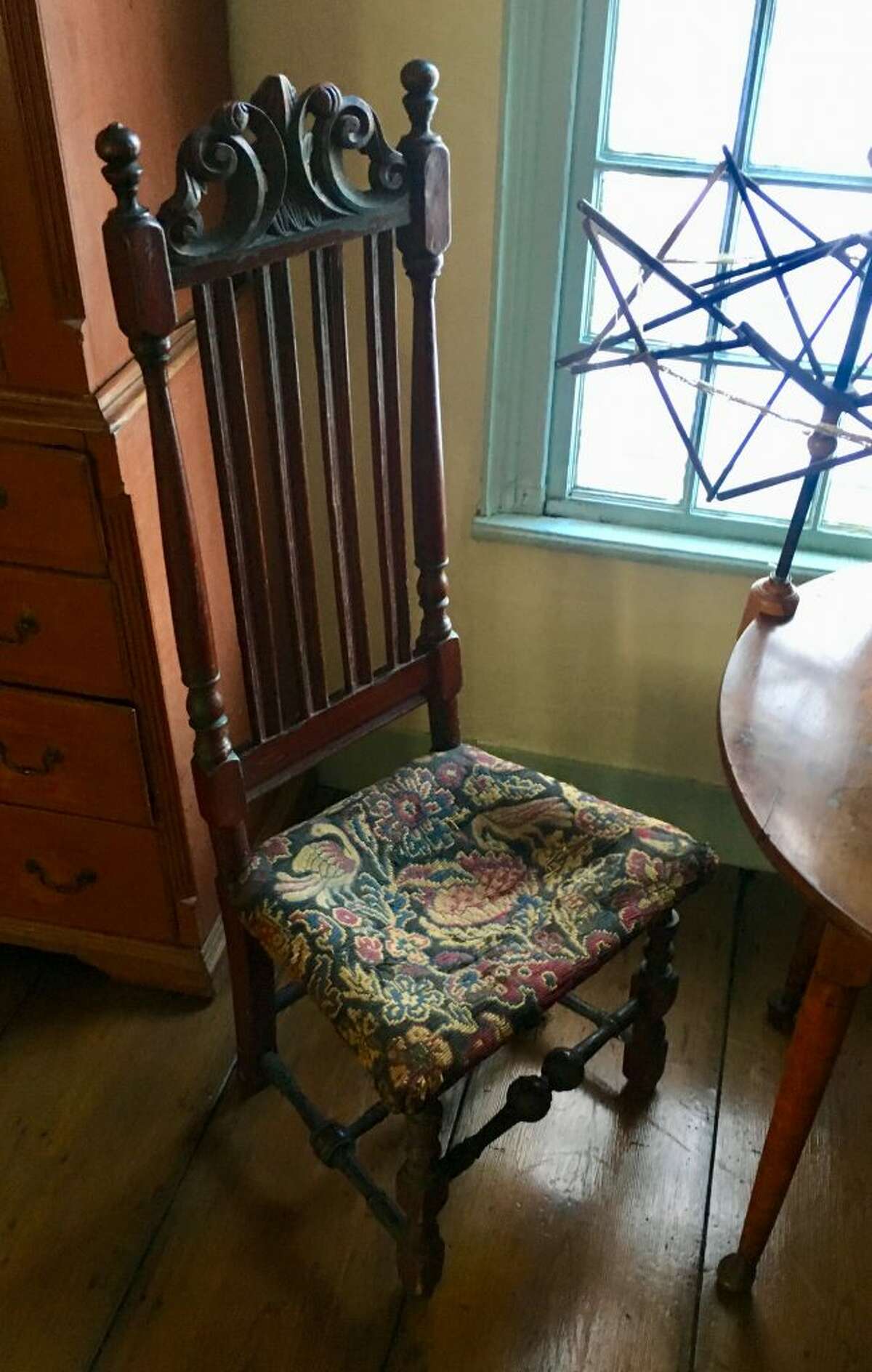 The Keeler Tavern Museum and History Center is raising money to restore an early 18th century painted banister back side chair that is on display in the Hoyt Parlor, which is the earliest room in the historic tavern and interprets the lives of the original builder and first resident, Benjamin Hoyt, and his family.
The museum will be participating in Fairfield County's Giving Day, a 24-hour online fundraising drive, between 12:00 a.m. and 11:59 p.m.Thursday, Feb. 28. The drive is hosted by Fairfield County's Community Foundation with lead sponsor Bank of America.
About the chair
The banister back chair gets its name from the design of the back supports — four or five vertical slats framed by an often intricately carved top crest rail. Reflective of elaborate Baroque styles, its design is considered a uniquely American contribution to furniture design. Many fine New England furniture makers produced variations of this popular chair throughout the 1700s.
Unusual for banister back chairs, the original woven rush seat on the chair Keeler Tavern Museum is seeking to restore was replaced twice: first, by a leather seat with horsehair upholstery, and later by a tapestry seat cover reusing the same horsehair stuffing. Remnants of leather tacks can be found under the heads of the existing fabric tacks. 
"It appears that the owners did not want to part with this sturdy and well-built chair that after 300 years still presents beautifully with its original wood dowels and red paint over black to suggest mahogany wood grain," said Erika Askin, the tavern's curator of collections.
However, after centuries of use, the crewel wool embroidered tapestry cushion has become worn and slightly threadbare, and the horsehair stuffing is hanging out. Restoration of the chair would include disassembling the seat, repairing the embroidery on the tapestry seat cover, re-upholstering the seat using the original horsehair as well as reassembling the chair for display purposes.
The cost of the restoration, which is all done by hand, is around $3,000.
Giving history
Last year, Keeler Tavern Museum was able use the funds raised through Giving Day to purchase a flat-bed scanner and digital camera to digitize its collection.
In past years, the history center has used Giving Day funds to restore several items from its textile collection, including Julia Gilbert's court gown and Anna Marie Resseguie's childhood sampler.
On Feb. 28, Keeler Tavern Museum hopes that donors will make equally generous contributions to help it continue its mission of preservation. Donations can be made online at keelertavernmuseum.org or by calling the museum office at 203-438-5485.