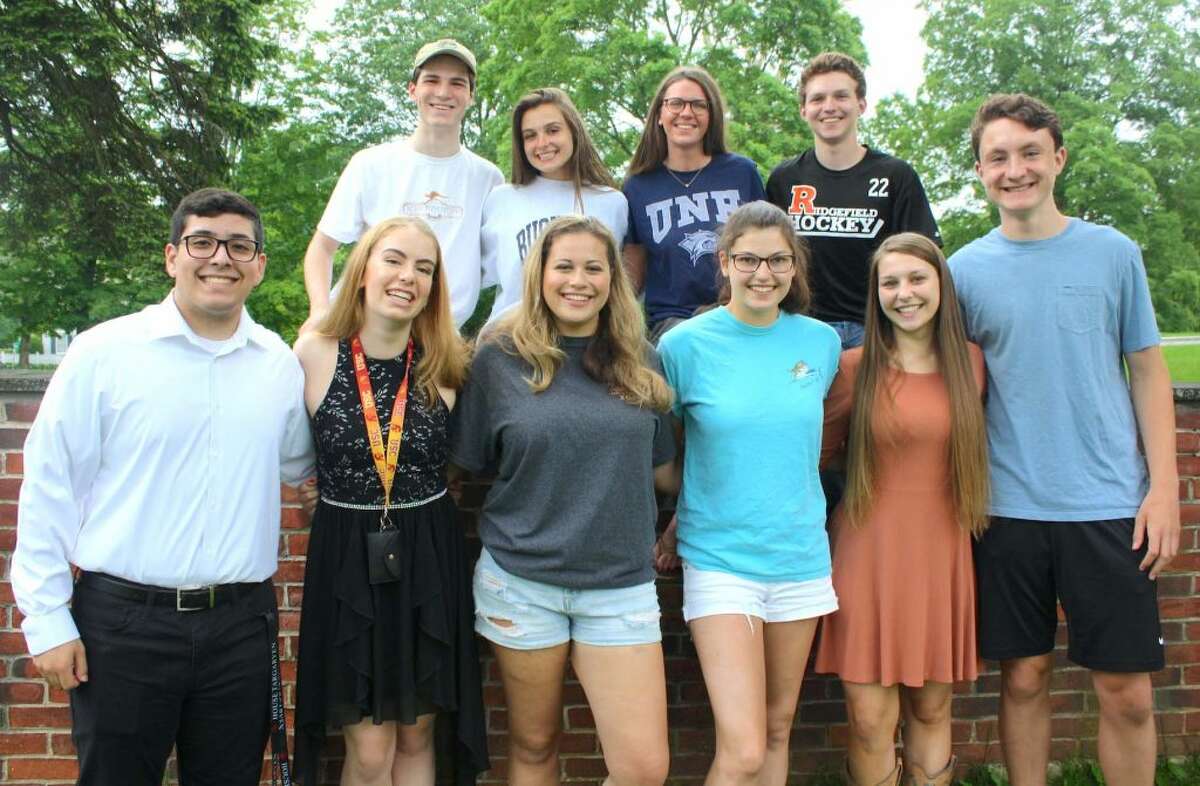 A record 281 high school students and adults from the Ridgefield area are on their annual Appalachia Service Project mission trip this week, working to make homes "warmer, safer and drier" in Kentucky and Tennessee.
The Jesse Lee ASP group, now in its 36th year, departed in 42 vans and SUVs early Saturday morning, after a commissioning ceremony with family and friends. This year's send-off again had to be held in Ridgefield High School's auditorium because everyone no longer fits in the sanctuary of Jesse Lee Memorial United Methodist Church, the group's home base.
Participation in Jesse Lee ASP has set or tied a record for six straight years: 165 in 2014; 183 in both 2015 and '16; 199 in 2016; 242 last year; and now 281. This year's number again means that Jesse Lee ASP is the second-largest local ASP group in the United States. It also represents more than 1 percent of the entire town.
Saturday's departure celebration included recognition of 10 recent graduates who have participated in ASP during all four years of high school. They are: Olivia Anderson, Dackerie Bowes, Danielle Butz, Eugenia Cashman, Bridget Kager, Emily Parker, Jack Pereira, Pierce Savino, Miles Tullo and Grant Yaun.
Additionally, Tullo was named recipient of the John Ward Love in Action Award, a $1,000 scholarship established in 2017 that honors John Ward, now in his 32nd year of participating in Jesse Lee ASP. The scholarship is awarded to a graduating senior who has been on ASP at least once and who has committed to ongoing community service in other arenas be-sides ASP.
The 281 Jesse Lee ASP participants are split up this week, working in Johnson and Washington counties in Tennessee, and in Breathitt and Knox counties in Kentucky. Crews of two adults and five students team up to repair, build or replace roofs, foundations, floors, interior walls and wheelchair ramps, while also developing relationships with the homes' residents. They're eating and sleeping in "centers" organized and operated in schools and churches by the national ASP organization.
The volunteers will return to Ridgefield in a honking, waving caravan on Sunday, July 7, at approximately 5 p.m., for a welcoming reception at Jesse Lee. For an updated time of return, watch the website www.jesseleeasp.org on that Sunday afternoon.
The Jesse Lee ASP group will celebrate their safe return in two ways: with an ice cream social at the church on Saturday, July 13, at 6:30 p.m., featuring a slide show of all the crews' experiences; and special Sunday morning services at Jesse Lee on July 14 at 9 and 10:30. All are invited to both.
In addition to the local teams working in Appalachia this week, five college students from Ridgefield (and all Jesse Lee ASP veterans) are working there all summer as paid ASP staff members. In her third summer on a center staff, Caitlyn Brandon is director of the ASP center in Summers County, W. Va. New this summer on center staff are: Claire Dollins (Rutherford County, N.C.); Saralyn Collins (Magoffin County, Ky.); and Johannes Bonwetsch (Greenbrier County, W. Va.) Their tasks include helping to evaluate applications from homeowners, stocking the "center" with tools and supplies, planning and overseeing home repairs, hosting and assisting the weekly teams of volunteers, and much more. Grace Franklin has a summer internship working on the Advancement Team in ASP's headquarters in Johnson City, Tenn.
Appalachia Service Project is a national Christian volunteer organization whose participants make an annual weeklong mission trip where they work to improve local folks' homes. Since its founding in 1969, more than 410,000 volunteers from across the nation have repaired 18,300 homes in central Appalachia.
Jesse Lee ASP is open to anyone who has completed their freshman year of high school.
Funds to support Jesse Lee ASP's trip were raised through car washes held at Jesse Lee on Saturdays this spring, from "stock" sold by participants, and through gifts from the Jesse Lee congregation.
For more information, call the church at 203-438-8791 or go to www.jesseleeasp.org.