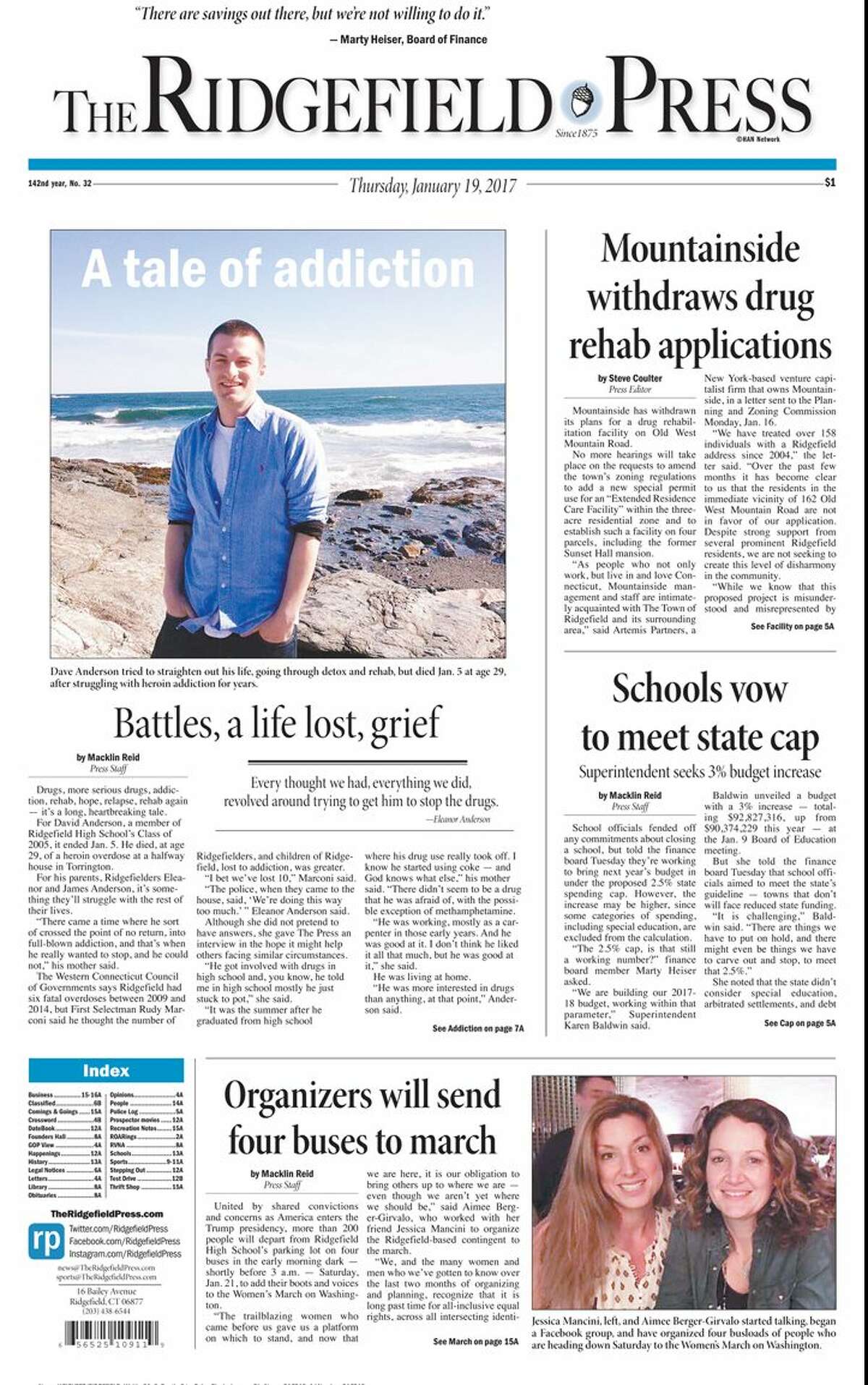 Here's a look at some of the headlines in this week's Ridgefield Press:
The Board of Finance questioned if the school district was serious about closing Scotland Elementary School Tuesday night, or if administrators were simply "kicking the can."
A tale of addiction is told through the lens of one Ridgefield mother, whose son lost his life to heroin earlier this month.
The Women's March on Washington will have four buses full of Ridgefielders Saturday.
Speaking of Washington, a large contingency of local Republicans will be taking in the prestigious presidential inauguration Friday — and the rest of the weekend.
It's not all politics though: there's traffic, too. More of it on Route 35 this week, and plenty more ahead the rest of this winter.
Mountainside pulled its application for a drug rehab facility Tuesday, meaning that Sunset Hall is back on the market for whoever has $4.75 million to spend on a lush, 22-room mansion.
It wasn't the only news coming out of the planning department this week: the brewery on Route 7 leaped over its last local hurdle Tuesday night, up next is getting state approval.
Also from the zoners: a proposed apartment building on the town's Schlumberger property that will neighbor a proposed senior living facility. Ideas for the property are popping up in abundance these days!
In sports, boys hockey, swimming and boys basketball all collected wins.
The Ridgefield Press is on Facebook — become one of more than 4,401 friends and get news updates at Facebook.com/RidgefieldPress
More than 16,714 people have signed up for Ridgefield Press news bulletins via Twitter. You can, too, by stopping by twitter.com/RidgefieldPress
Don't forget to sign up for Press alerts on our latest social media platform: Instagram. Go to www.instagram.com/ridgefieldpress/ or search @ridgefieldpress on the app.