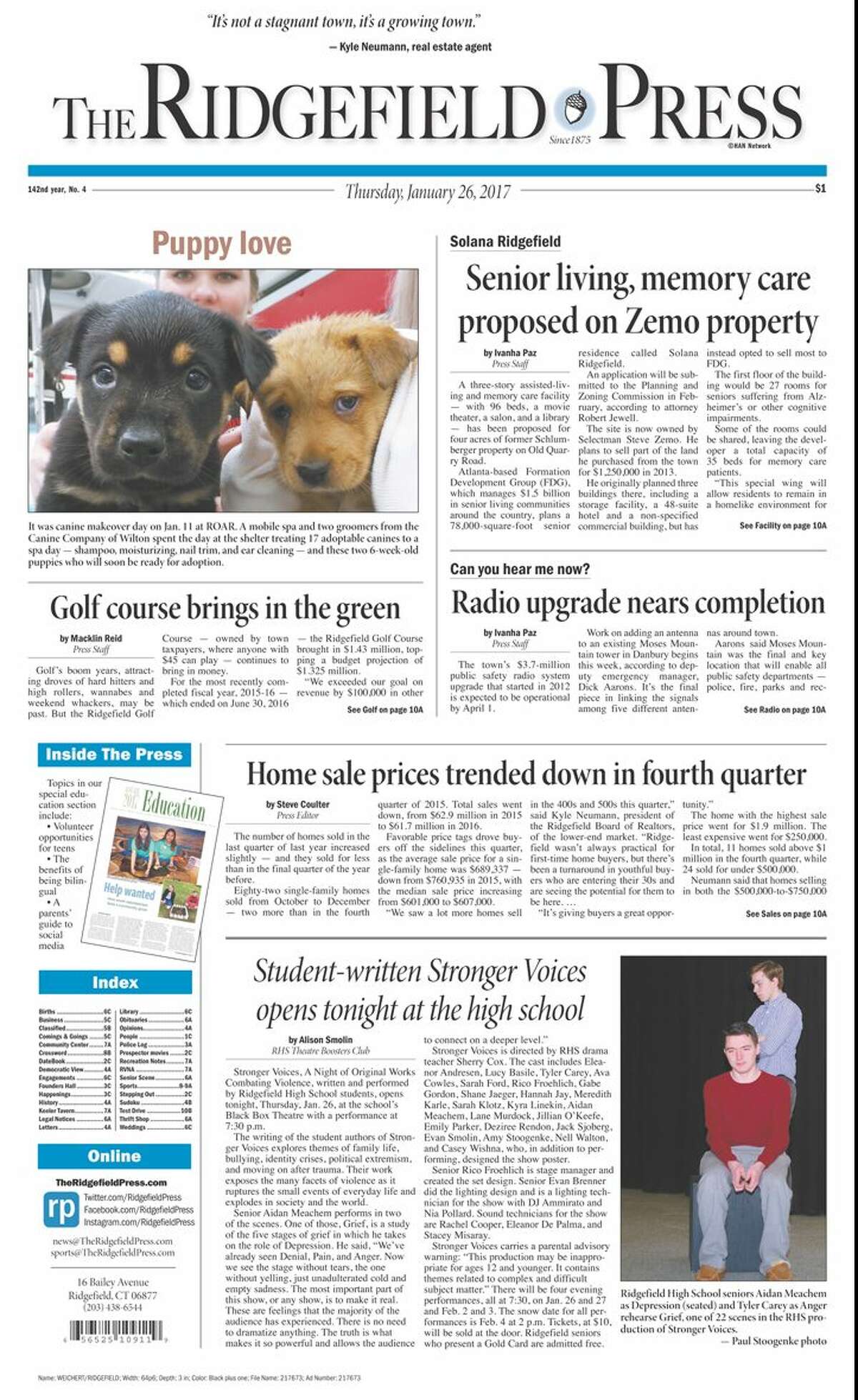 Here's a look at some of the headlines in this week's Ridgefield Press:
The town's golf course is bringing in the green. $1.43-million, to be exact.
Money in, money out. The $3.7-million price tag attached to the town's radio project will finally pay dividends when the system is operational April 1. The last step is actually construction work on a tower in Danbury.
Speaking of out of town, 275 Ridgefielders headed to the nation's capital last weekend to protest. They weren't alone. Ridgefield's Suzanne Benton was the first speaker at the march in St. Petersburg.
High schoolers are putting on a play this weekend that aims to combat violence.
Main Street committee has drawn critics from a resident and a business owner who feel their voices are being neglected at the state level.
The Board of Selectmen are considering taking ownership of the Ridgebury Cemetary.
Elsewhere in town government, the Planning and Zoning Commission is looking to fill an empty seat.
In sports, the hockey team is No. 1 in the state after a big win last weekend.
In the People section, a former high school grad has made a name for himself playing the saxophone.
The Ridgefield Press is on Facebook — become one of more than 4,428 friends and get news updates at Facebook.com/RidgefieldPress
More than 16,841 people have signed up for Ridgefield Press news bulletins via Twitter. You can, too, by stopping by twitter.com/RidgefieldPress
Don't forget to sign up for Press alerts on our latest social media platform: Instagram. Go to www.instagram.com/ridgefieldpress/ or search @ridgefieldpress on the app.