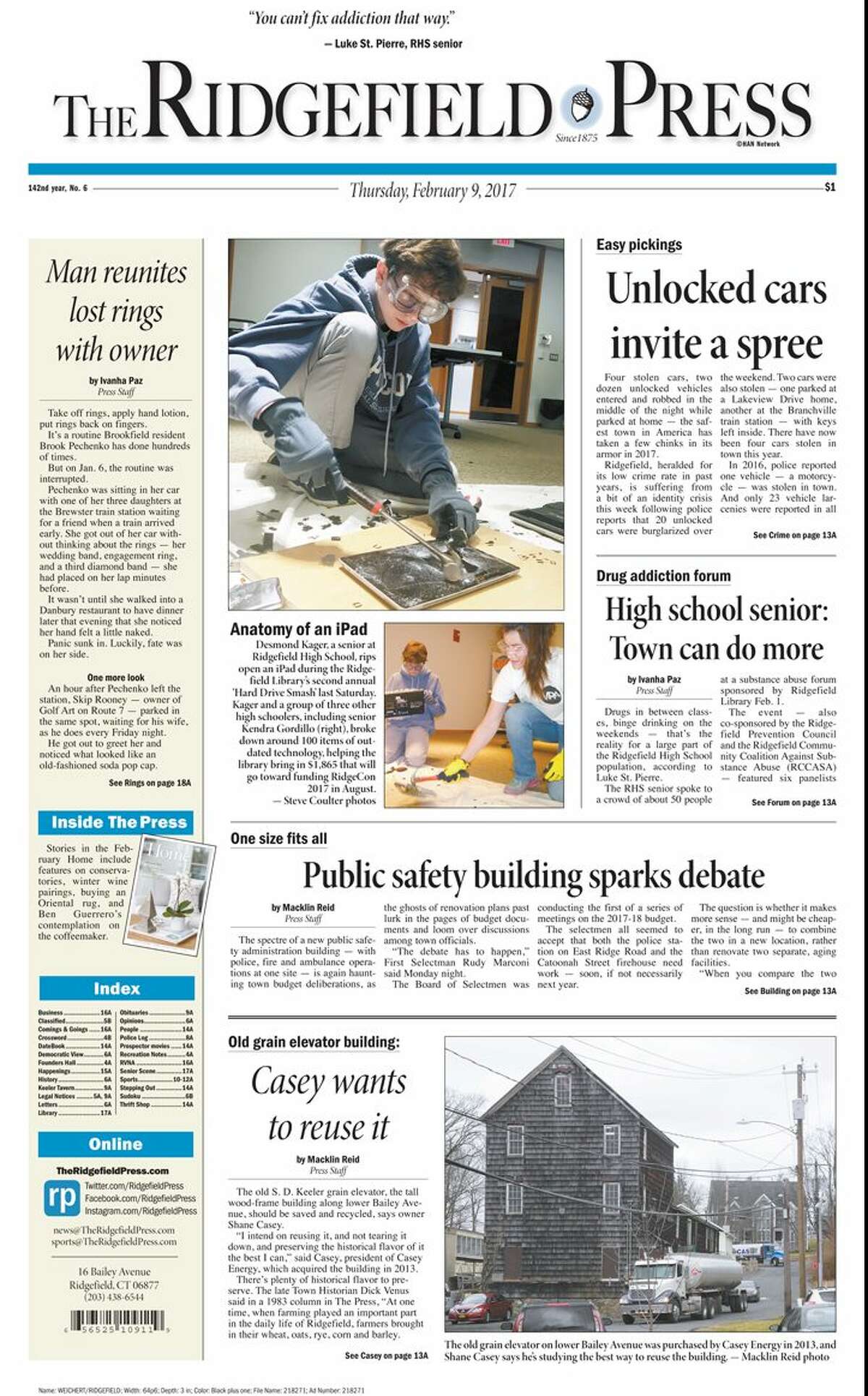 Here's a look at some of the headlines in this week's Ridgefield Press:
It's a Valentine's Day story for the ages: a Brookfield woman lost three rings in Brewster last month only to discover they had been found by a Ridgefield business owner.
Police and fire: can the departments merge into one building? How much will it cost to renovate the existing headquarters on East Ridge Road and Catoonah Street? More than they town can afford currently, and there's no silver bullet to fix this ongoing problem.
Speaking of the cops, they had their hands full over the weekend. Twenty cars were robbed and two more stolen.
A drug forum at the library last week saw speakers from the school district — as well as a high school senior who's trying to curb addiction and youth drinking.
It wasn't the only even taking place at the library last week: four high schoolers were busy destroying technology as part of the second annual hard drive smash.
Some headlines out of the Planning and Zoning Commission Tuesday night: The Boys and Girls Club seeks an expansion, the golf center on Route 7 gets approved for green repairs, and a new commissioner gets appointed.
The zoners weren't the only board producing headlines this week: educators slashed $257,000 from their budget but need to cut a lot more to meet the state's spending cap.
In sports, girls cross country runners finished second at the FCIAC Championships in New Haven last week. And the boys finished fourth.
Boys hockey beat No. 2-ranked New Canaan Tuesday night. The top-ranked Tigers remain undefeated in conference play as they enter the final stretch of the season.
Swimming also won last week — it was a good week for the Tigers.
On the editorial page, readers continue to voice their concerns with an art project in front of the Aldrich Museum that's suffocating trees.
Well, good news for them: the museum has announced the exhibit ended Sunday and the trees are coming down.
The Ridgefield Press is on Facebook — become one of more than 4,485 friends and get news updates at Facebook.com/RidgefieldPress
More than 16,980 people have signed up for Ridgefield Press news bulletins via Twitter. You can, too, by stopping by twitter.com/RidgefieldPress
Don't forget to sign up for Press alerts on our latest social media platform: Instagram. Go to www.instagram.com/ridgefieldpress/ or search @ridgefieldpress on the app.