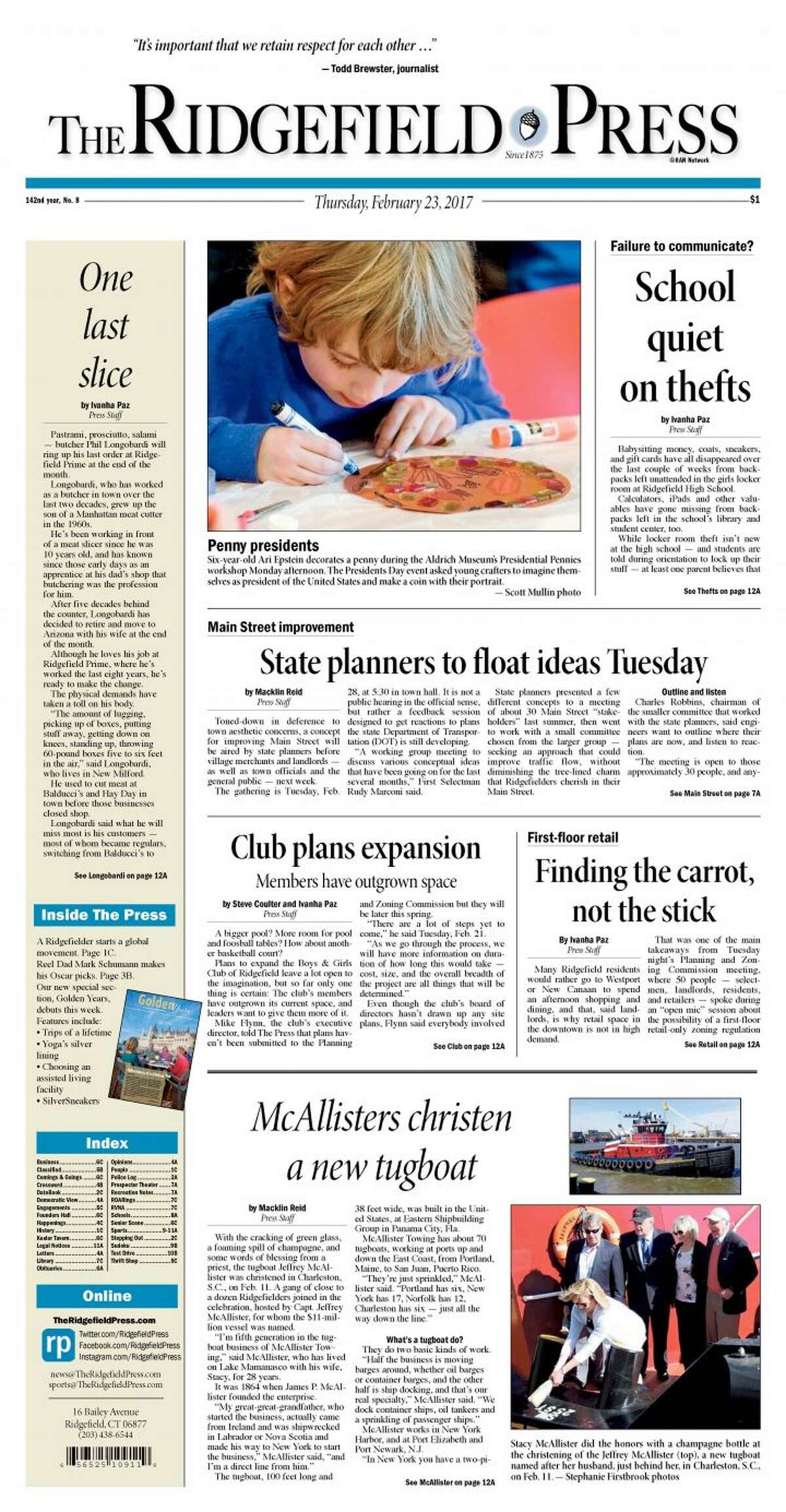 Here's a look at some of the headlines in this week's Ridgefield Press:
A new scam is afoot — and Ridgefield Police say even their officers have been targeted.
There are two special meetings Saturday morning — a rarity for Ridgefield. One involves the 2017-2018 proposed school budget; the other will feature a trio of local politicians who are angry about the governor's budget plans for next year. Both are open to the public.
Speaking of public gathering: Fixing Main Street will never be easy but a meeting next Tuesday with state engineers looks to inspire inclusivity amongst a group of local critics.
Who wants to read a feature? The Press an abundance of them this week: Ridgefield Prime's butcher is retiring at the end of the month; Capt. Jeff McAllister's $11-million tugboat launched in South Carolina on Feb. 11; and, a week before that, Ridgefield High School grad Chris Savino thwarted an art heist in Boston.
The high school was in the headlines for other reasons this week, too: a series of larcenies in the girls locker room has parents upset, but the school is giving everyone — students included — the silent treatment.
The school's decision not to say anything about the thefts — and failing to inform students on social media, or elsewhere — drew the ire of The Press' editor in this week's editorial page.
Also in the editorial section: An attack on sarcasm, Fairfield County's Giving Day, and facing substance abuse — together.
In sports, the boys basketball team is playoff bound after a pair of wins, while the Tigers' hockey team split two keys games over the last week as it heads into its postseason conference tournament.
The Ridgefield Press is on Facebook — become one of more than 4,523 friends and get news updates at Facebook.com/RidgefieldPress
More than 17,113 people have signed up for Ridgefield Press news bulletins via Twitter. You can, too, by stopping by twitter.com/RidgefieldPress
Don't forget to sign up for Press alerts on our latest social media platform: Instagram. Go to www.instagram.com/ridgefieldpress/ or search @ridgefieldpress on the app.