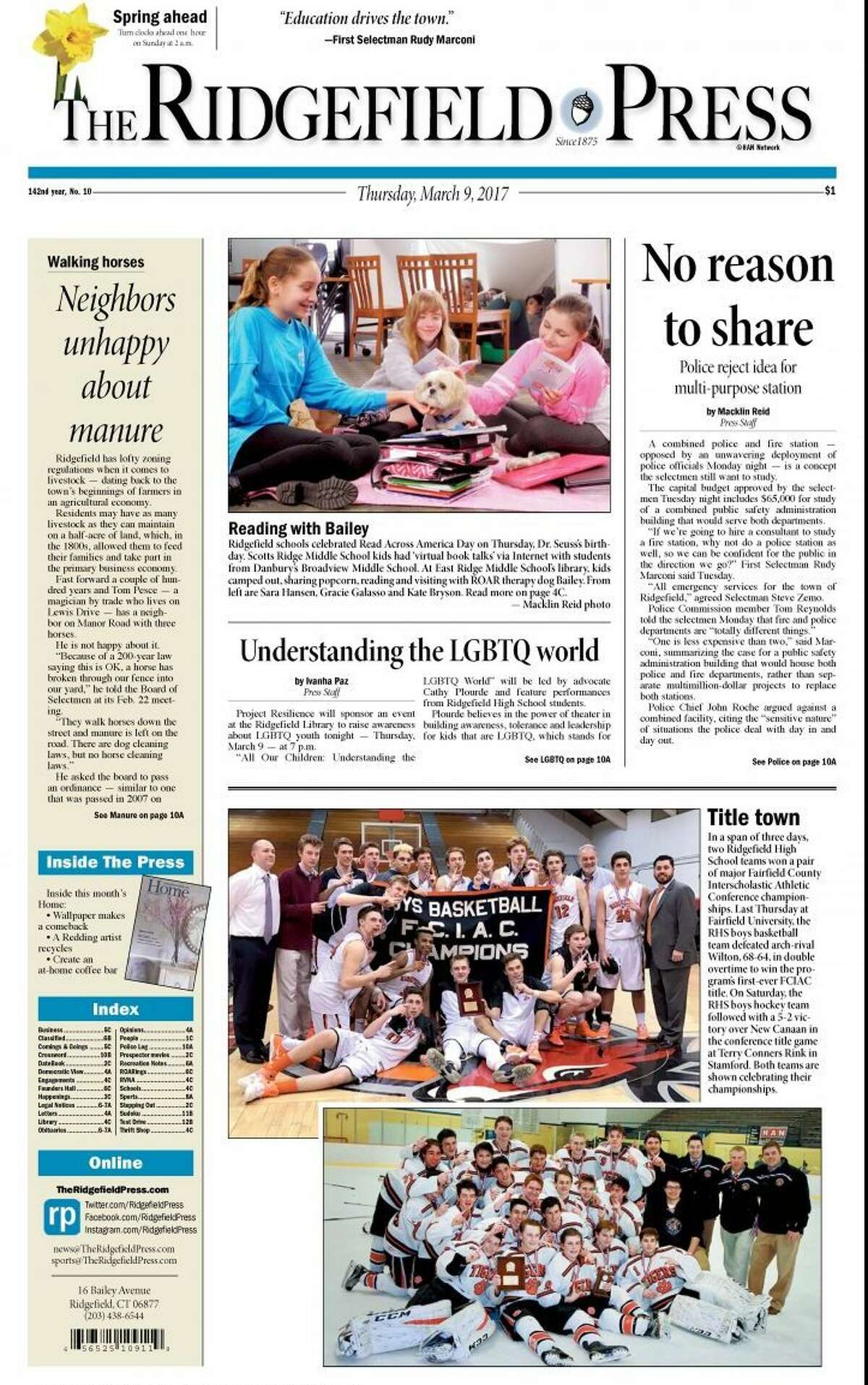 The town and school operating budgets received Board of Selectmen approval Tuesday night — now it's on to the Board of Finance for review at the end of the month.
That wasn't the only budget making headlines this week: Sen. Toni Boucher and State Rep. John Frey were at Town Hall Saturday morning to go over the governor's state budget and how it would affect Ridgefield. The consensus in the room? Everyone is not to pleased with the fella with the last name Malloy.
How about something more lighthearted? Horse poop sound OK? Good. Neighbors on Lewis Drive are asking the Planning and Zoning Commission to regulate some wild horses who walk around without much supervision from their owners.
Speaking of planning, the Town Planner Joanne Meder has resigned after a short tenure. Who will replace her? Nobody knows — yet.
That's not the only town department playing the waiting game: the police will wait for the selectmen to study the feasibility of a combined public service public despite a substantial protest Monday night. Oh well, what's a few more years after you've already been patient for two decades — right?
The Thrift Shop is moving from Catoonah Street to Governor Street. The business will be open at the former Balducci's location — finally one last eyesore downtown.
The library will host a group of Ridgefield High School students tonight who will perform pieces about what it's like living in the LGBTQ world.
It's been a busy week at RHS: the boys basketball and hockey teams took home FCIAC championships, knocking off rivals Wilton and New Canaan, respectively. They'll be talking about these teams — and this year's class of athletes — for a long time.
For their success, a local business is offering free wings and soda to all varsity teams at the end of their respective seasons.
Strong athletic performance would be a good argument against starting the high school at a different time, but that counterpoint hasn't been raised yet. Instead, the battle wages on between a group of parents who want to see RHS start at 8 — or even 8:30 — and the Board of Education, who has pledged to do all it can...next year.
In this week's news briefs: the skate park opens Saturday, the recycling center rejects Styrofoam and the Land Conservancy received accreditation.
Friday is the Chamber of Commerce's annual breakfast. Kathy Graham of Fairfield Bank has been named Volunteer of the Year, while Ridgefield Prime will take home the honor of Business of the Year.
The Ridgefield Press is on Facebook — become one of more than 4,590 friends and get news updates at Facebook.com/RidgefieldPress
More than 17,160 people have signed up for Ridgefield Press news bulletins via Twitter. You can, too, by stopping by twitter.com/RidgefieldPress
Don't forget to sign up for Press alerts on our latest social media platform: Instagram. Go to www.instagram.com/ridgefieldpress/ or search @ridgefieldpress on the app.