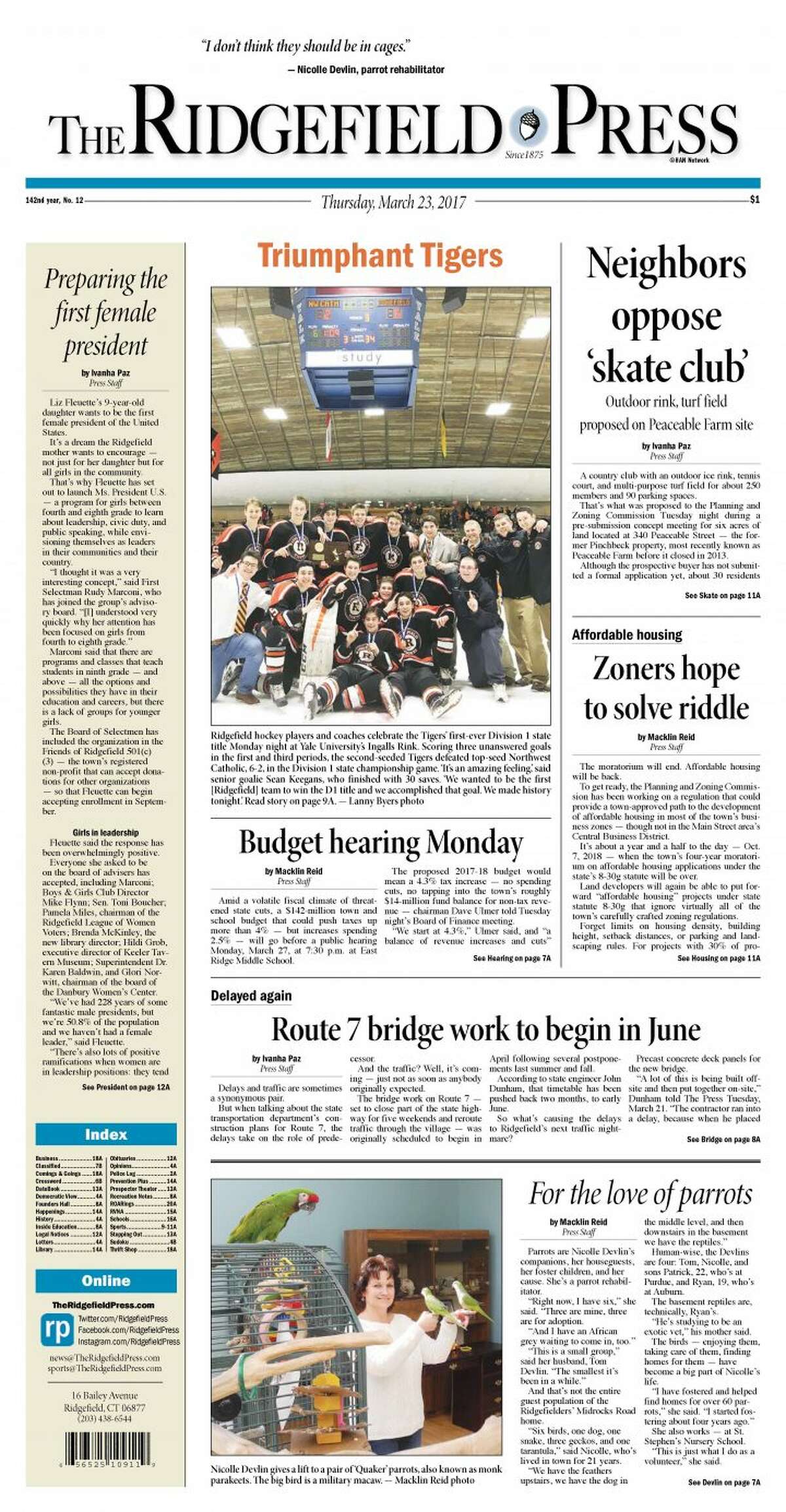 Here's a look at some of the headlines in this week's Ridgefield Press:
An incredible year for Ridgefield High School athletics hit its apex Monday night when the boy's hockey team claimed the program's first-ever Division 1 state championship. Senior defensemen Harrison Chuma said it best: "This is the culmination of four years of hard work. This was what we were working for."
Although sports claimed the top spot on the front page, The Press wasn't shy on news this week: the biggest story came Tuesday night at the Planning and Zoning Commission meeting where a group of 30-plus residents sat wearing pins in protest of a proposed project on Peaceable Street. Why the pins? Well, nobody in the crowd was allowed to talk.
Plenty of people will be speaking their mind Monday night when the Board of Finance hosts a public hearing for the 2017-18 town budget at East Ridge Middle School.
Construction on Route 7 is being delayed — again. A state engineer predicts the project will begin in June.
There was a fire in Georgetown Sunday night — and a Wilton firefighter was injured.
Three women stole booze from a liquor store on Route 7 last month, and the cops have released their pictures for the public to help catch the suspects.
It wasn't all serious news this week: a local parrot enthusiast is featured on the bottom of this week's front page.
And in the rail, a local mother has started a group that inspires girls to be world leaders one day.
Speaking of girls taking on a leadership role, The Boys and Girls club named its Youth of the Year earlier this month. RHS junior Catalina Carmona took home the hardware.
It wasn't the only headline involving the club: attorney Robert Jewell presented another pre-submission concept Tuesday night to the zoning commission that involves expanding the club's Governor Street building.
The Ridgefield Press is on Facebook — become one of more than 4,637 friends and get news updates at Facebook.com/RidgefieldPress
More than 17,323 people have signed up for Ridgefield Press news bulletins via Twitter. You can, too, by stopping by twitter.com/RidgefieldPress
Don't forget to sign up for Press alerts on our latest social media platform: Instagram. Go to www.instagram.com/ridgefieldpress/ or search @ridgefieldpress on the app.