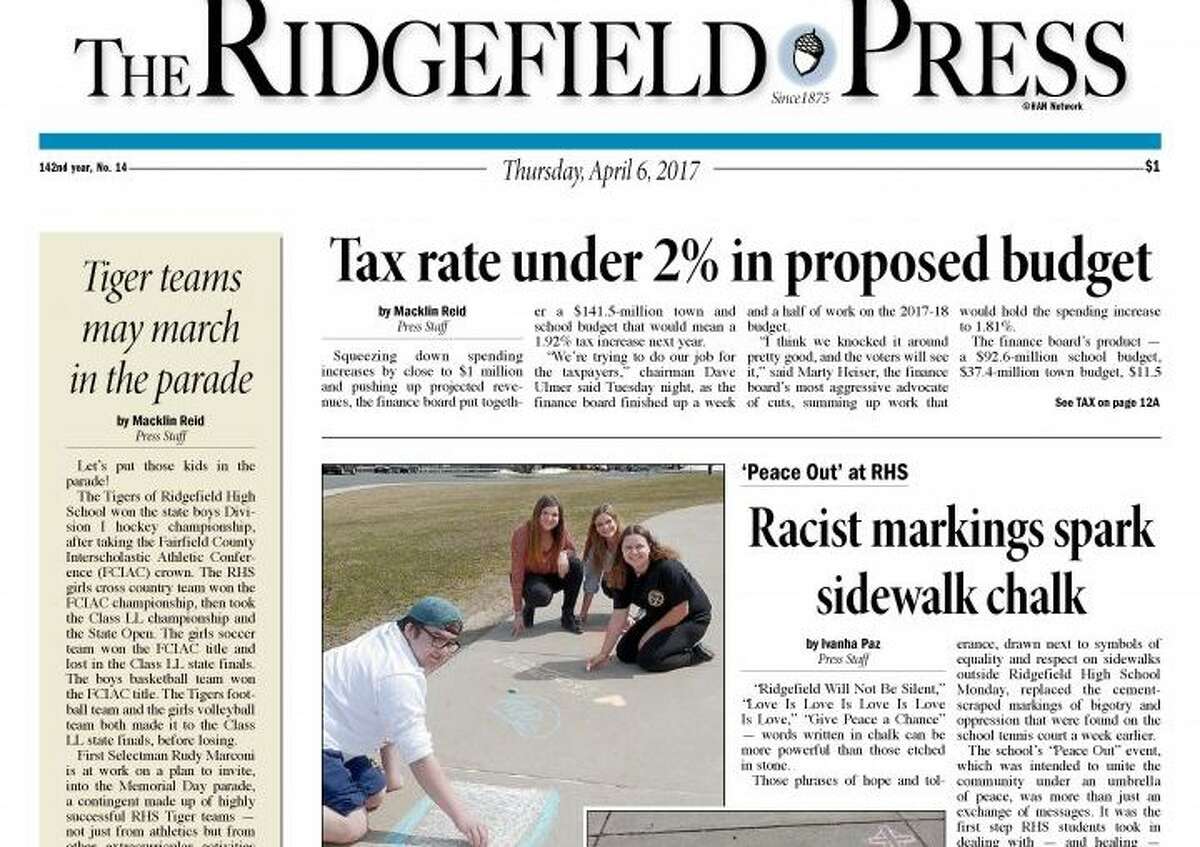 Here's a look at some of the headlines in this week's Ridgefield Press:
The 2017-18 proposed budget has been finalized — with a significant reduction to school finances — and will be sent to voters in early May.
Racist markings at Ridgefield High School last week spurred a bevy of responses in the community, and a few articles in this week's Ridgefield Press: one on the front page, one in sports and one on the editorial page.
Ridgefield High also made headlines this week when First Selectmen Rudy Marconi mentioned that this year's athletes could take the front position at the Memorial Day Parade in honor of their success on the field (and in the classroom).
Away from the high school, and back towards the center of town,  parking in the village was once again a topic at the selectmen's meeting last month. Could event organizers foot the bill to make sure everyone gets where they need to be?
A town employee was significantly injured Monday at the highway department. According to the first selectmen, he's in stable condition but the road to recovery will be long.
The Ridgefield Police Department is cracking down on distracted driving this month. Consider yourself warned.
Speaking of the cops, the radio project that's been in the works since 2012 has been pushed back again — until June.
How about a nice feature? Everybody likes those, and The Press has plenty of them this week: one on RHS grad Amanda Berta, another on Sally and Rudy Ruggles, and a third on comedienne Christine O'Leary.
In the sports section, it's spring preview time: the high school's lacrosse, tennis and cross country teams get looked at as they begin their season, ditto for boys volleyball, baseball and softball.
The Ridgefield Press is on Facebook — become one of more than 4,666 friends and get news updates at Facebook.com/RidgefieldPress
More than 17,439 people have signed up for Ridgefield Press news bulletins via Twitter. You can, too, by stopping by twitter.com/RidgefieldPress
Don't forget to sign up for Press alerts on our latest social media platform: Instagram. Go to www.instagram.com/ridgefieldpress/ or search @ridgefieldpress on the app.