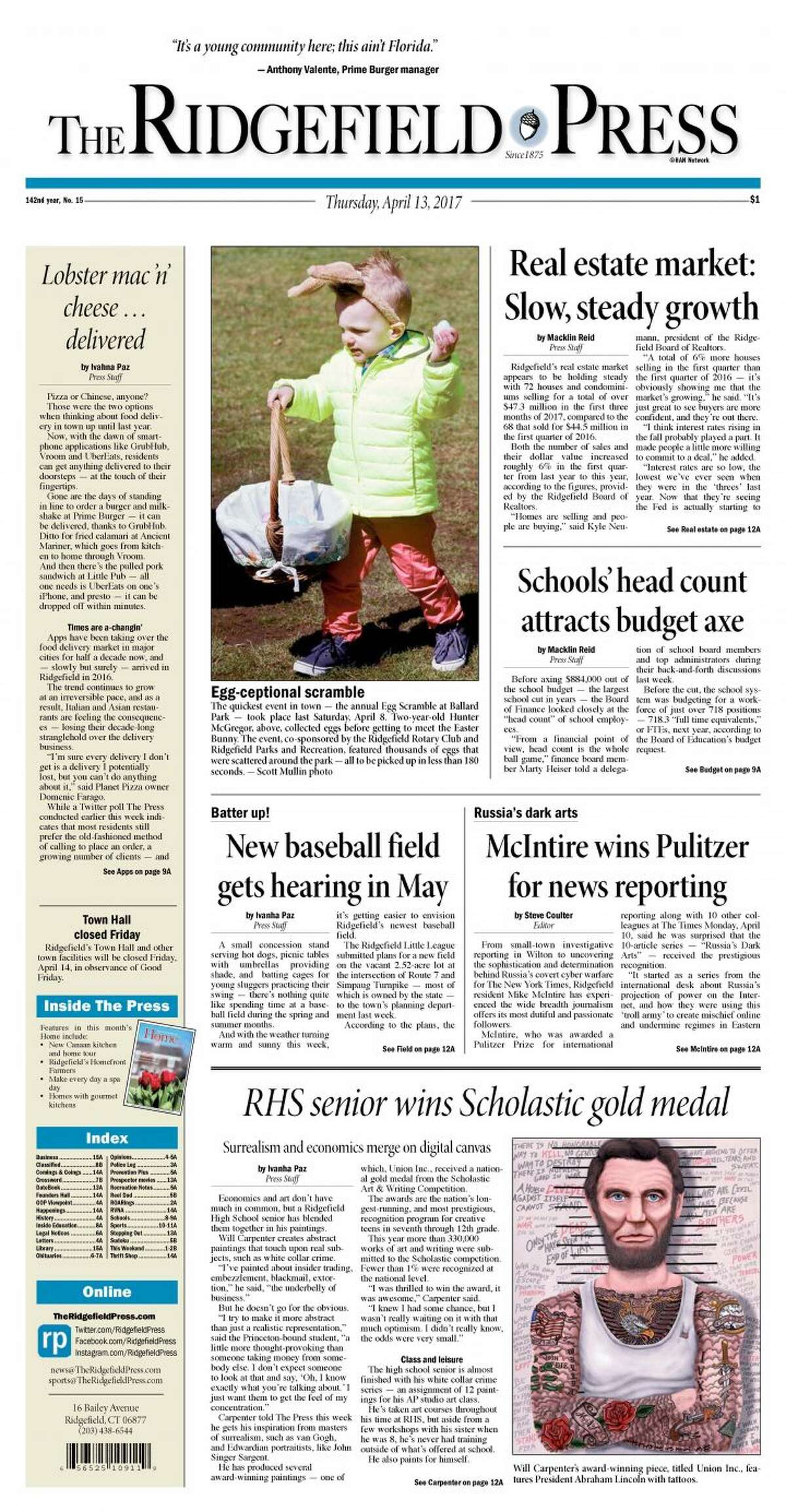 The real estate market's first quarter closed two weeks ago and the prevailing ethos amongst realtors is that things are steady: the numbers sales are slightly up; prices are slightly down. Buyers are being enticed to come off the sidelines, but will sellers give them the keys to their homes?
Ridgefield's Will Carpenter was honored with a national gold medal for his painting, Union Inc., which portrays a tattooed Abraham Lincoln. 

The Ridgefield High School senior was recognized last night month with a national gold medal from the Scholastic Art & Writing Competition. National medalists will be celebrated at the National Ceremony at Carnegie Hall in New York City on Thursday, June 8.

Carpenter wasn't the only person receiving recognition for his work: New York Times journalist Mike McIntire, who lives in town, celebrated his third Pulitzer Prize victory Monday night for his working in the Russia Dark Arts series that ran throughout last year.
Pizza or Chinese — food delivery has become so much more over the last year. Residents can now order everything from fried calamari to pulled pork french fires, and have it delivered to their doorsteps.
An almost $1 million budget cut has caused a rift between the finance and education board. The Press looks into how the cut compares to past budget work that's taken place in April. The real question is: Will voters see the cut and approve this year's budget?
On the editorial page, parking in the village — particular for summer concerts in Ballard Park — has a simple solution that nobody's voiced. Hint: It has something to do with being less lazy, and parking further away from the venue.
Also on the editorial page, letter writers voice frustrations with the fuel depot replacement and school start times.
Speaking of start times, they're back on the headlines this week.
So is the open fire chief position: applicants can now apply for the position that former chief Kevin Tappe left vacant with his resignation in January.
A Ridgefielder will run in next week's Boston Marathon. She is collecting money for Dana Farber in Boston.
She's not the only one fundraising: The United Way is giving $10,000 to Ridgefield's Social Services but could always use more funds.
In sports, the boys and girls lacrosse teams drop a pair of close games Tuesday, while baseball and softball stayed undefeated Wednesday.
The Ridgefield Press is on Facebook — become one of more than 4,666 friends and get news updates at Facebook.com/RidgefieldPress
More than 17,495 people have signed up for Ridgefield Press news bulletins via Twitter. You can, too, by stopping by twitter.com/RidgefieldPress
Don't forget to sign up for Press alerts on our latest social media platform: Instagram. Go to www.instagram.com/ridgefieldpress/ or search @ridgefieldpress on the app.