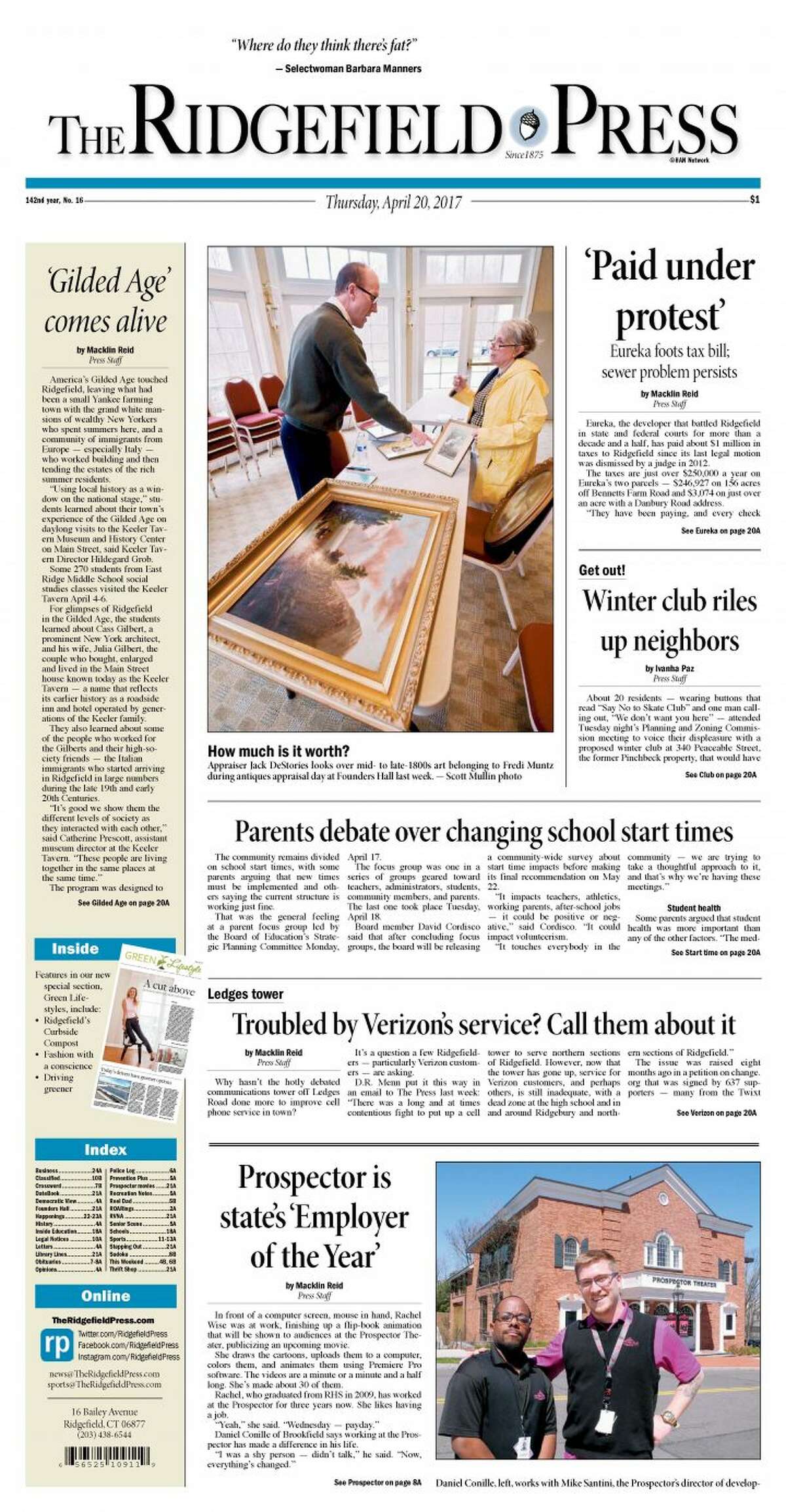 Here's a look at some of the headlines in this week's Ridgefield Press:
The Gilded Age touches down in Ridgefield.
The Ridgebury cell tower continues to infuriate neighbors who have Verizon.
And they're not the only neighbors bothered this week: the folks over on Peaceable Street still aren't for a proposed skating club at the former Pinchbeck property.
Dissatisfaction must be contagious. At a school start time focus group meeting Monday night, parents of high school swimmers voiced weren't too pleased with the concept of pushing back the academic day — it would ruin athletics, they say.
Speaking of battles, the re-enactment that will be taking over town next weekend has a series of local events in neighboring communities like Westport and Danbury. Who's ready for their history fix?
History — and a lot of it with developer, Eureka — is reviewed in this week's lead story. What's the latest? Well, they're paying $250,000 in taxes every year so that's a plus.
There's gotta be some positive news than that out there though, right? Well, yes, The Prospector Theater is the state's Employer of the Year. 
Keeping with the theme of upbeat: Liz W. Garcia debuts her second directorial feature film this weekend at the Tribeca Film Festival. It stars Julia Garner and Juno Temple.
Oh, and the HAN Network's Wishes in Flight program helped send Ridgefield resident Brooke Blake to the Virgin Islands this year.
The budget cuts proposed by the finance board have drawn the ire of the selectmen.
Springtime permits are all the rave up at the town's wetlands and zoning offices.
Speaking of zoning, the planning commission has a new commissioner. 
On the editorial page, it's all about earth day: the lake association, rid litter, and e-waste collection.
In sports, baseball continues its early-season hot streak; lacrosse tramples an out-of-state opponent, and girls tennis stays unbeaten.
Also in sports, a hockey tournament in town got recognition at the New York Stock Exchange.
The Ridgefield Press is on Facebook — become one of more than 4,666 friends and get news updates at Facebook.com/RidgefieldPress
More than 17,511 people have signed up for Ridgefield Press news bulletins via Twitter. You can, too, by stopping by twitter.com/RidgefieldPress
Don't forget to sign up for Press alerts on our latest social media platform: Instagram. Go to www.instagram.com/ridgefieldpress/ or search @ridgefieldpress on the app.