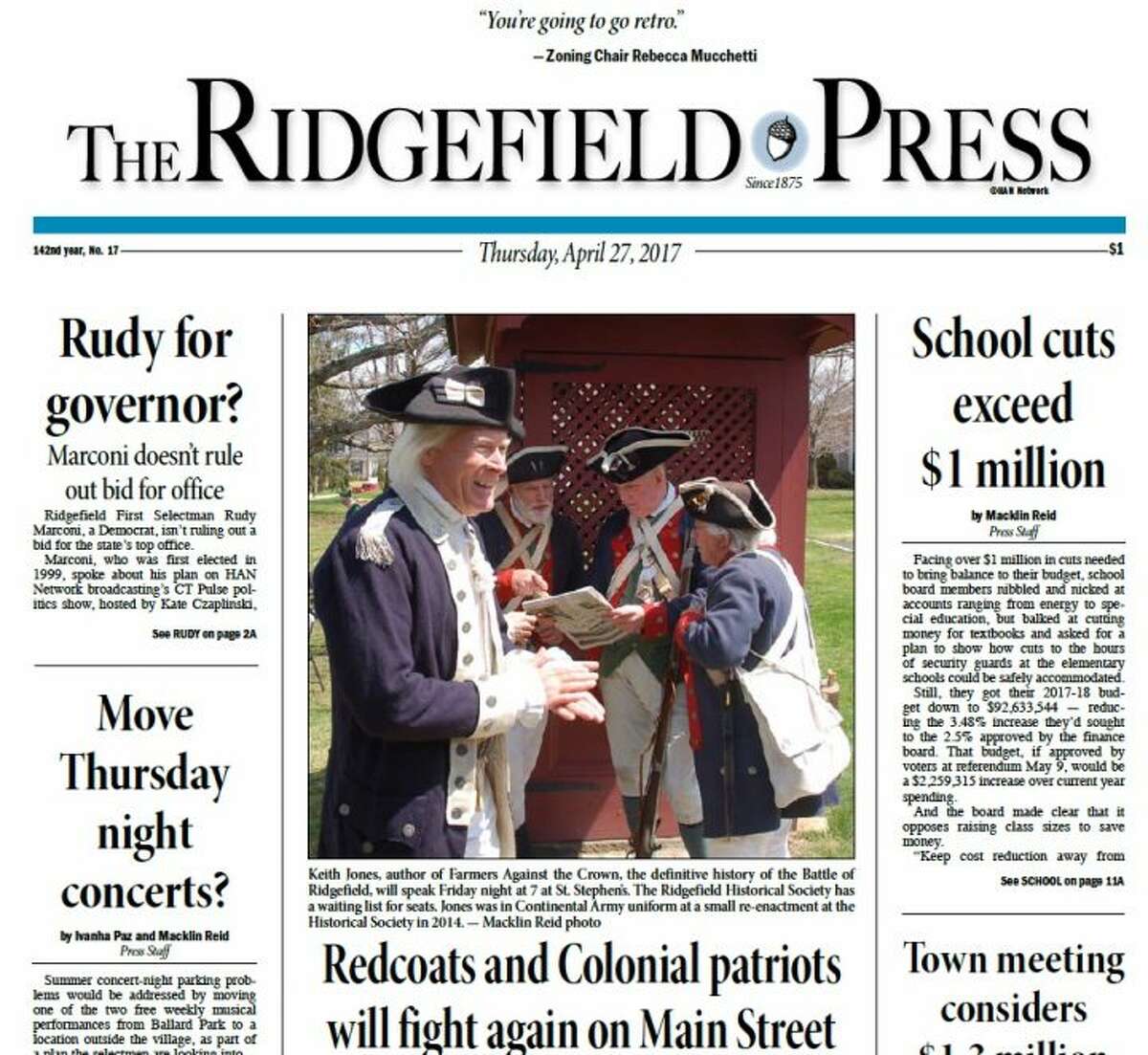 Here's a look at some of the headlines in this week's Ridgefield Press:
After months of planning, the Battle of Ridgefield will receive a reenactment two days after its official 240th anniversary. Battle camps will be pitched Friday night, Main Street will close Saturday, and graves of those who fell centuries ago will be visited Sunday afternoon.
First Selectman Rudy Marconi is on the front page in four different stories this week, but the big headline surfaced Wednesday as The Press was about to head off to the printers. But when your town's top official announces he's considering a run for governor, there's no other option but to stop the presses.
The Annual Town Meeting is Monday night at the Playhouse — the public is invited to give input on all things budget.
Speaking of finances, the Board of Education has been sidetracked with heavy cuts this spring. The bottom line? Over $1 million has been shed this past month from what was originally proposed. Superintendent Karen Baldwin has spoken at a pair of board meetings over the last week, and the message is clear: the cuts will not effect student learning.
Educators aren't the only ones aggravated just look at Rudy and his selectmen. They can't seem to solve the village's parking crisis during summer concerts in the park. It's so bad that moving Thursday night shows to either a school field or the rec center field is being thrown around as a legitimate idea.
Ridgefield High School is No. 4 in the state, according to U.S. News and World Report — now that's something worth celebrating.
If that doesn't have you feeling good, then how about the thought of a nice, frozen margarita on a warm, summer night? Can you picture it? Good, because that's exactly the type of setting Prime Taco is looking to create when it opens its doors in late August or early September. The location is unconfirmed as of now, but this much The Press knows: there is a porch.
Sen. Toni Boucher is also in the headlines quite a bit this week: once on the editorial page and then again celebrating the recent defeat of the state's mileage tax study.
A local resident has created an app for people with Parkinson's Disease — read about it in the Press' People section.
On the business page, Ace Tire goes retro with its Route 7 facade.
In sports, boys volleyball remains undefeated and the baseball team cruises past McMahon.
The Ridgefield Press is on Facebook — become one of more than 4,657 friends and get news updates at Facebook.com/RidgefieldPress
More than 17,618 people have signed up for Ridgefield Press news bulletins via Twitter. You can, too, by stopping by twitter.com/RidgefieldPress
Don't forget to sign up for Press alerts on our latest social media platform: Instagram. Go to www.instagram.com/ridgefieldpress/ or search @ridgefieldpress on the app.