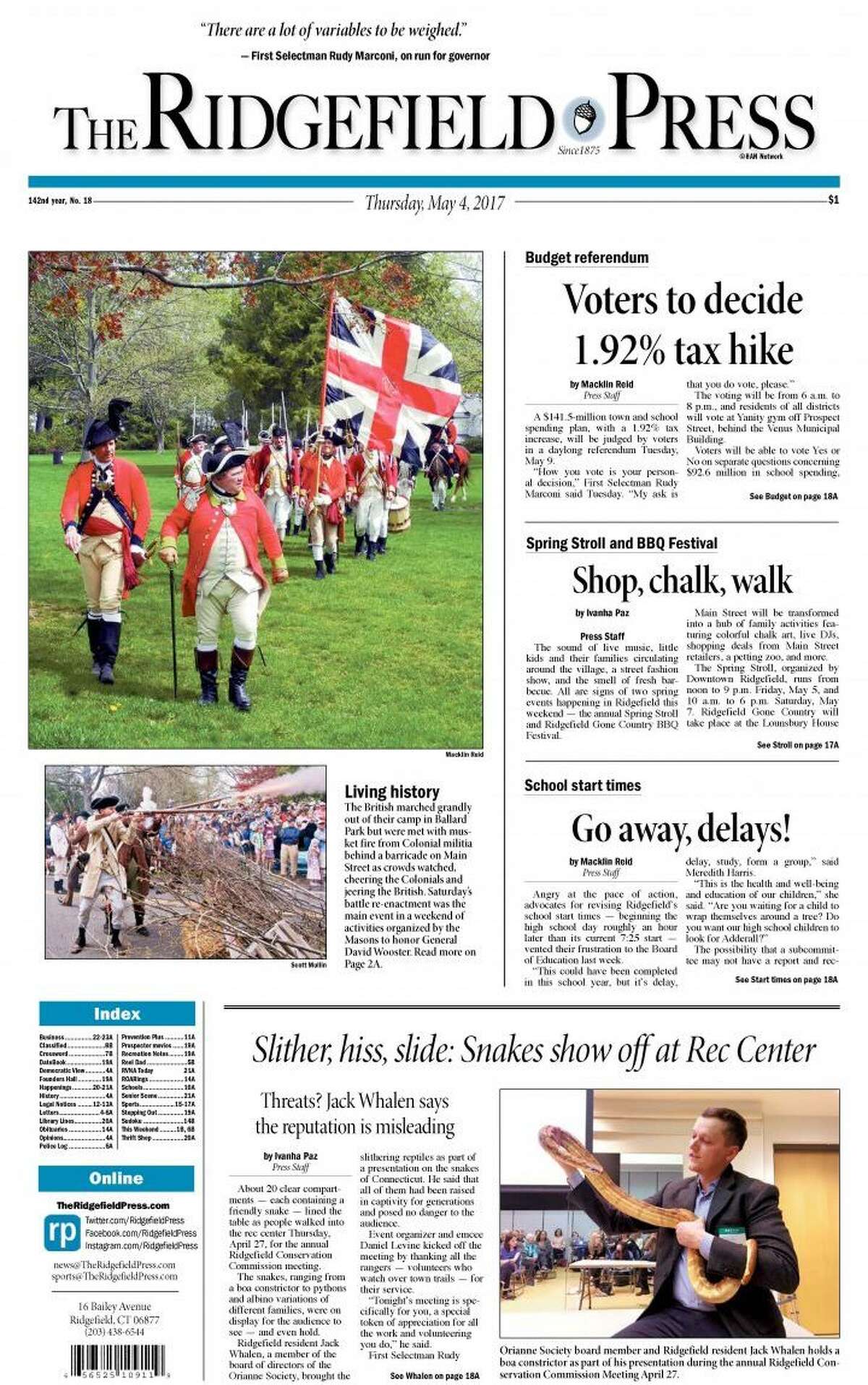 Here's a look at some of the headlines in this week's Ridgefield Press:
Shopping and strolling will take the village by storm this weekend. Ditto, for sidewalk chalk art. Oh yea, it wouldn't be a party downtown without Ridgefield going a little country. The fun kicks off at noon Friday and doesn't stop until Sunday at 5 p.m. There's certainly something for everybody at these two Spring-themed events.
The Conservation Commission held its annual meeting last Thursday at the rec center — and there were plenty of slithery snakes for those in the audience to marvel at.
Speaking of annual meetings, Ridgefield hosted its own budget meeting at the Playhouse Monday night. Three spending critics slowed the process down but the budget has been sent to voters as packaged by the Board of Finance.
The vote is Tuesday at Yanity Gym, by the way. There are seven questions: school, town, capital expenditures, and more.
In the editorial section, The Press advises residents to approve six of the seven items.
The town has a new planning director — and it's a new title, too, for those of you keeping score at home.
That's not the only vacant leadership position getting filled. The chief of the fire department remains up in the air but the selectmen will speak to 10 candidates next week to keep the process moving along.
First Selectman Rudy Marconi talked about the governor's race last week and didn't discount himself as a candidate. A week later, he reflects on who was surprised to hear about his answer. (Hint: He lives with her).
That was far from the only headline with the first selectmen in it this week. Marconi also talked to The Press about replacing the fuel depot on South Street.
Up at the high school, students are tired of paying close to $100 per AP test. Is there anything they can do to save money? And if so, can they forgo payment all together or are they destined to lose some coin regardless of their options?
Also happening at the high school: a RHS business team finished second at a regional competition last month.
In sports, baseball and softball continue to dominate; and girls track sets some state records.
The Ridgefield Press is on Facebook — become one of more than 4,699 friends and get news updates at Facebook.com/RidgefieldPress
More than 17,710 people have signed up for Ridgefield Press news bulletins via Twitter. You can, too, by stopping by twitter.com/RidgefieldPress
Don't forget to sign up for Press alerts on our latest social media platform: Instagram. Go to www.instagram.com/ridgefieldpress/ or search @ridgefieldpress on the app.