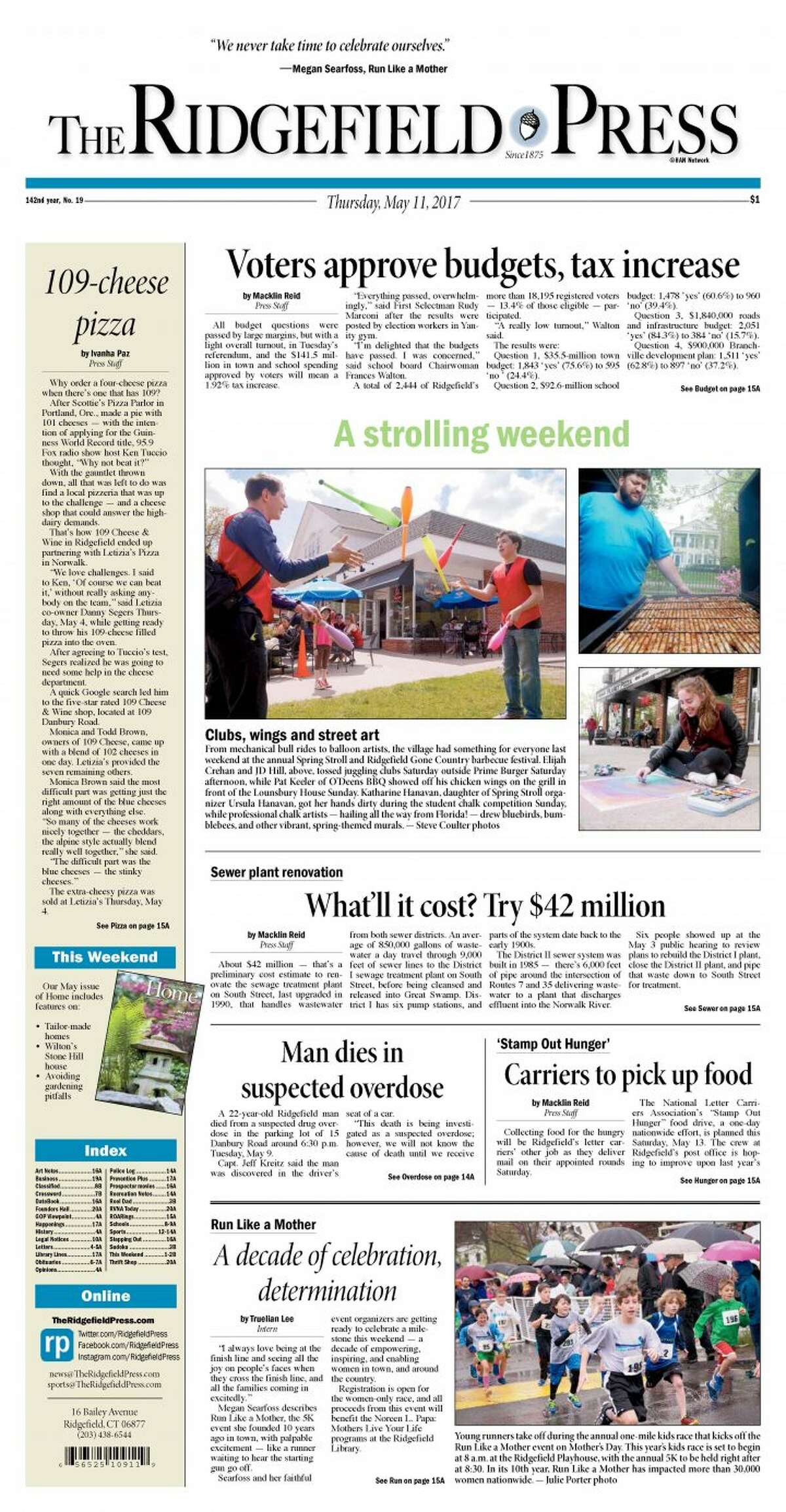 Budget voters helped approve a 1.92% tax increase Tuesday. The school budget, which received the most 'no' votes, passed by a much wider margin then it did in 2016.
An untimely death on Danbury Road is being ruled as a suspected drug overdose, police say. The incident took the life of a 22-year-old Ridgefield man.
There's a food drive this weekend — and it's as simple as leaving goods in your mailbox Saturday. The mailman will do the rest!
Run Like a Mother celebrates 10 years Sunday at Yanity. Hopefully, the rain will hold off this year.
The world's cheesiest pizza will have its lineage traced back to Ridgefield once the Guinness Book of World Records makes an official ruling on the 109-cheese pizza that was crafted last Thursday.
The sewer plant renovation plans that were pitched two weeks ago received public hearing earlier this month. The bottom line is what scared residents the most: $42 million.
A local rocket club will compete for a national championship.
They're not the only club going to nationals: RHS' debate team is also headed for national in Hartford today — Thursday, May 11.
Speaking of Hartford, on the editorial page, Ridgefield state representative John Frey talks about tolls and the ongoing debate going on between Democrats and Republicans in the state's capitol.
Budget voting might be over but that doesn't mean it isn't time to look at the importance — and future — of the Annual Town Meeting, one columnist posits. Should we bother to even have one if it was conducted the way last Monday's meeting went down at the Playhouse?
The Ridgefield High School honor roll is on page 8.
The town has four new restaurants — and possibly a fifth — opening up over the next couple of months. They're led by some familiar faces; and some not so familiar faces.
Sunset Hall is on the market — and will receive a luxury auction next Friday.
The Ridgefield Press is on Facebook — become one of more than 4,727 friends and get news updates at Facebook.com/RidgefieldPress
More than 17,745 people have signed up for Ridgefield Press news bulletins via Twitter. You can, too, by stopping by twitter.com/RidgefieldPress
Don't forget to sign up for Press alerts on our latest social media platform: Instagram. Go to www.instagram.com/ridgefieldpress/ or search @ridgefieldpress on the app.