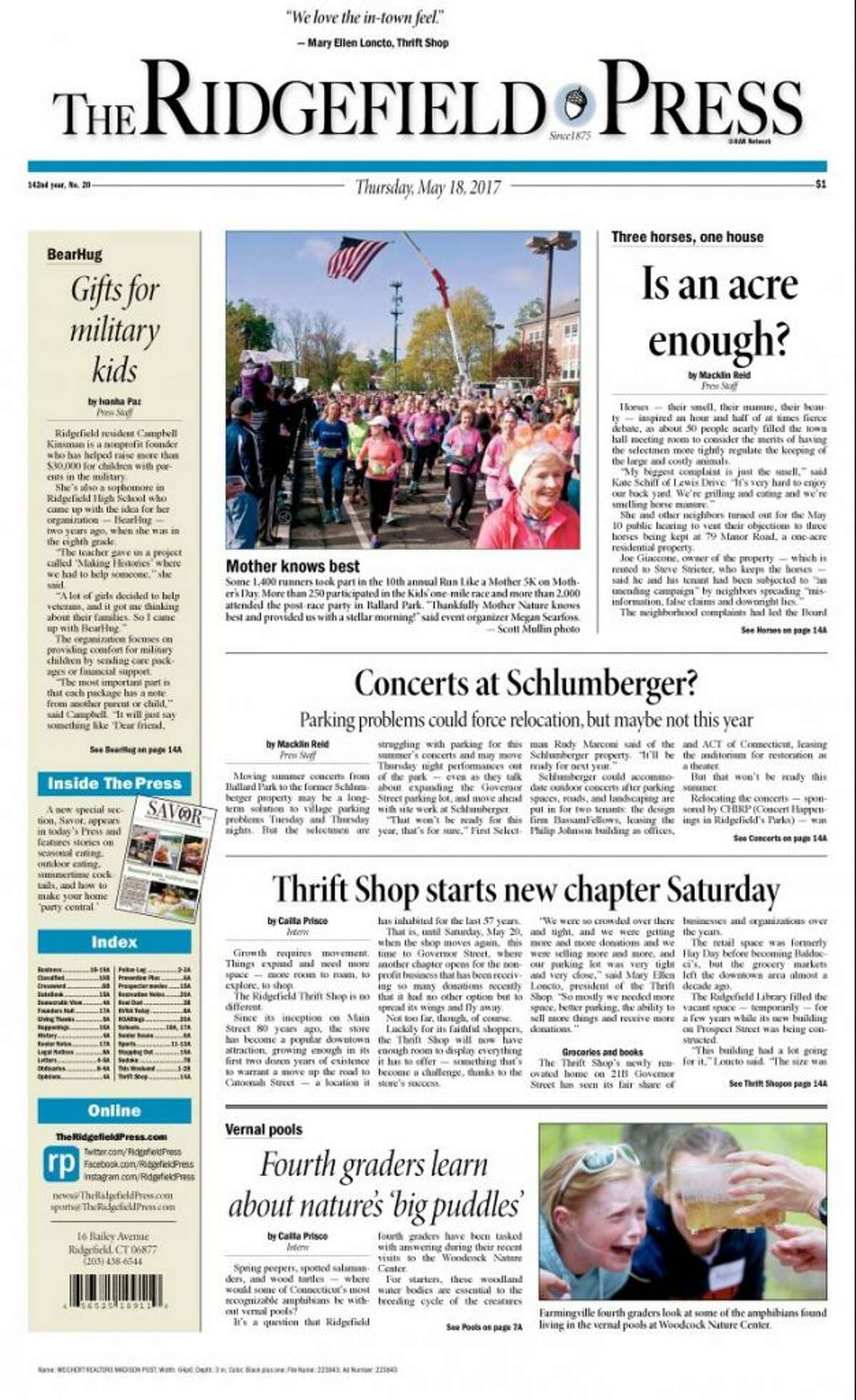 Here's a look at some of the headlines in this week's Ridgefield Press:
Think town meetings are flavorless and boring? Try this one on for size: The Board of Selectmen spent a whole 90 minutes last week on horses — their smells, their manure, their beauty. Has the issue been resolved? Not even close.
Speaking of not being closed to resolve, a public hearing was held Tuesday night for a proposed baseball field on Route 7. Neighbors are not happy, and the Planning and Zoning Commission had to schedule a continuation for June.
One thing that will be completed this week is the Thrift Shop's move from Catoonah Street to Governor Street, where the 80-year-old nonprofit will open in its new location Saturday.
That's not the only move drawing headlines. CHIRP concerts could be setting up shop somewhere other than Ballard Park next summer. With the summer season set to begin at the end of the month, the selectmen don't think any changes will be made in the short-term. Stay tuned though!
The whole concert debacle stems from parking in the village. Well, good news folks: Bailey Avenue could have five new spaces for shoppers and diners. Not sure if that means the sweet sounds of music will still fill the downtown on Tuesday and Thursday nights but it's a start in the right direction.
A crane laid waste to the old Ridgefield Supply Company storefront Monday afternoon. About 20 people attended to say their final goodbyes.
In the editorial section, the local American Legion Commander talks about Memorial Day Parade plans. Do you know where to bring your kids if they're marching? If you don't, check out page 4.
What's going on with the schools? Glad you asked. A young cellist is heading to the National Invention Convention in Virginia on June 1. Read more about the wonderful Lino Marrero on page 10.
In sports, Ridgefield teams won five games Monday, including the lacrosse team that bested Yorktown (NY) 12-9 in a road triumph.
The softball team is heading to the conference playoffs following its own Monday victory.
The Ridgefield Press is on Facebook — become one of more than 4,751 friends and get news updates at Facebook.com/RidgefieldPress
More than 17,782 people have signed up for Ridgefield Press news bulletins via Twitter. You can, too, by stopping by twitter.com/RidgefieldPress
Don't forget to sign up for Press alerts on our latest social media platform: Instagram. Go to www.instagram.com/ridgefieldpress/ or search @ridgefieldpress on the app.