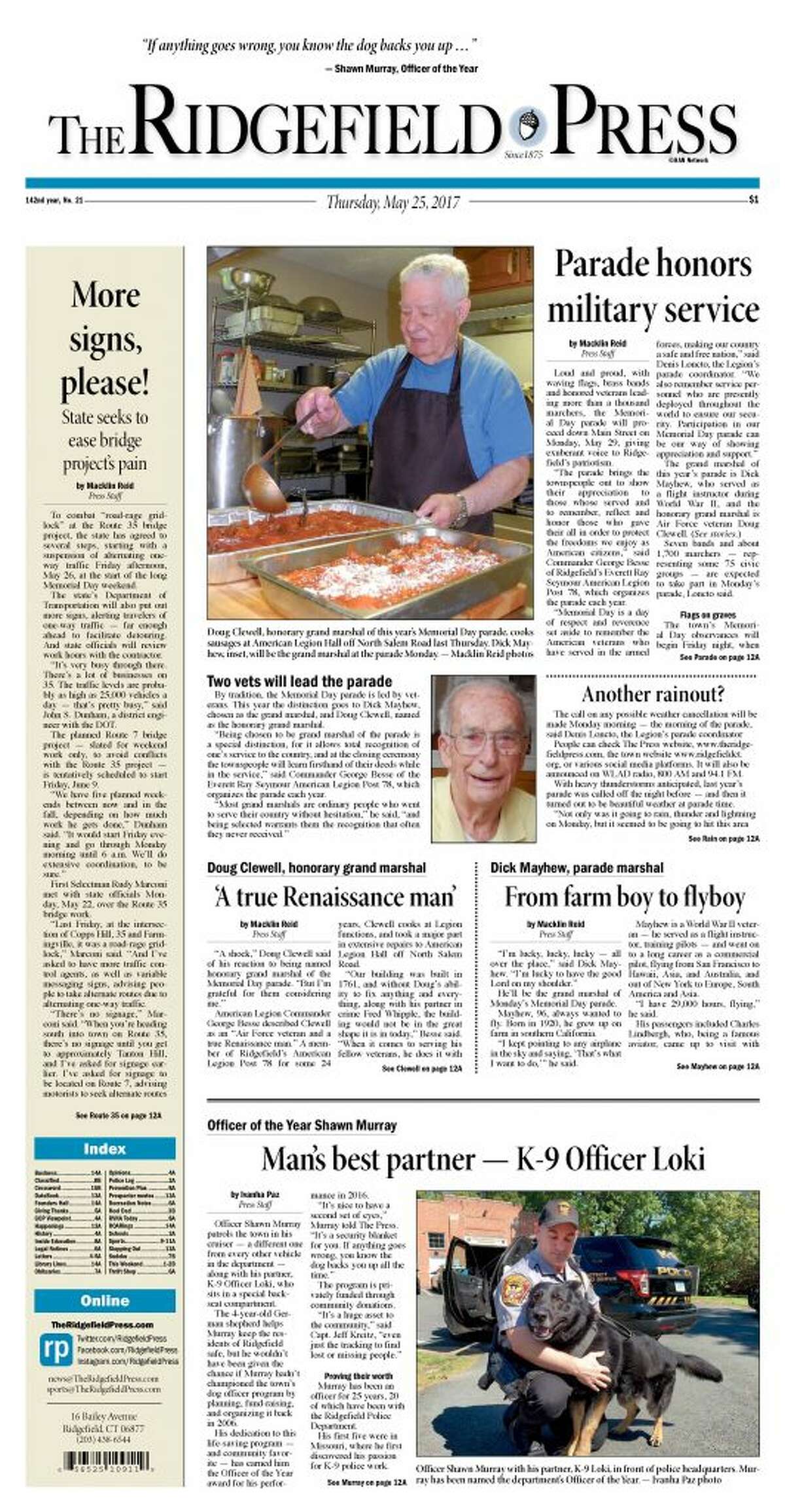 Here's a look at some of the headlines in this week's Ridgefield Press:
Veterans Dick Mayhew and Doug Clewell don this week's front page and tell their respective stories, which include flying The Beatles to America and repairing the American Legion Hall on North Salem Road.
While the Memorial Day Parade will honor plenty of veterans, it will also feature 1,700 marchers from more than 75 town organizations. The whole event will shut down Main Street Monday so don't think about driving!
But what if it rains? Glad you asked, The Press rehashes what happened during last year's parade and how the organizers have changed the cancellation policy. Hint: They're going to wait a few more hours this year.
OK, enough about the parade. What about Route 35 traffic? We've got a story on that. And school start times? Yes, that's in there too. How about food vendors, concert parking and selling Sunset Hall? Check, check and check.
Speaking of traffic, the annual TriRidgefield is going to shut down Havilland Road next Sunday. Don't worry, The Press will send out another reminder beforehand.
In sports, the spring has brought more success to Ridgefield High School. Boys lacrosse, volleyball and baseball continue their march toward conference championships, while girls lacrosse got to the program's first-ever championship game Wednesday night.
In business, Toscana's new owners cut the ribbon and Whip Salon expands downstairs. Haircut anybody?
The Ridgefield Press is on Facebook — become one of more than 4,802 friends and get news updates at Facebook.com/RidgefieldPress
More than 17,806 people have signed up for Ridgefield Press news bulletins via Twitter. You can, too, by stopping by twitter.com/RidgefieldPress
Don't forget to sign up for Press alerts on our latest social media platform: Instagram. Go to www.instagram.com/ridgefieldpress/ or search @ridgefieldpress on the app.