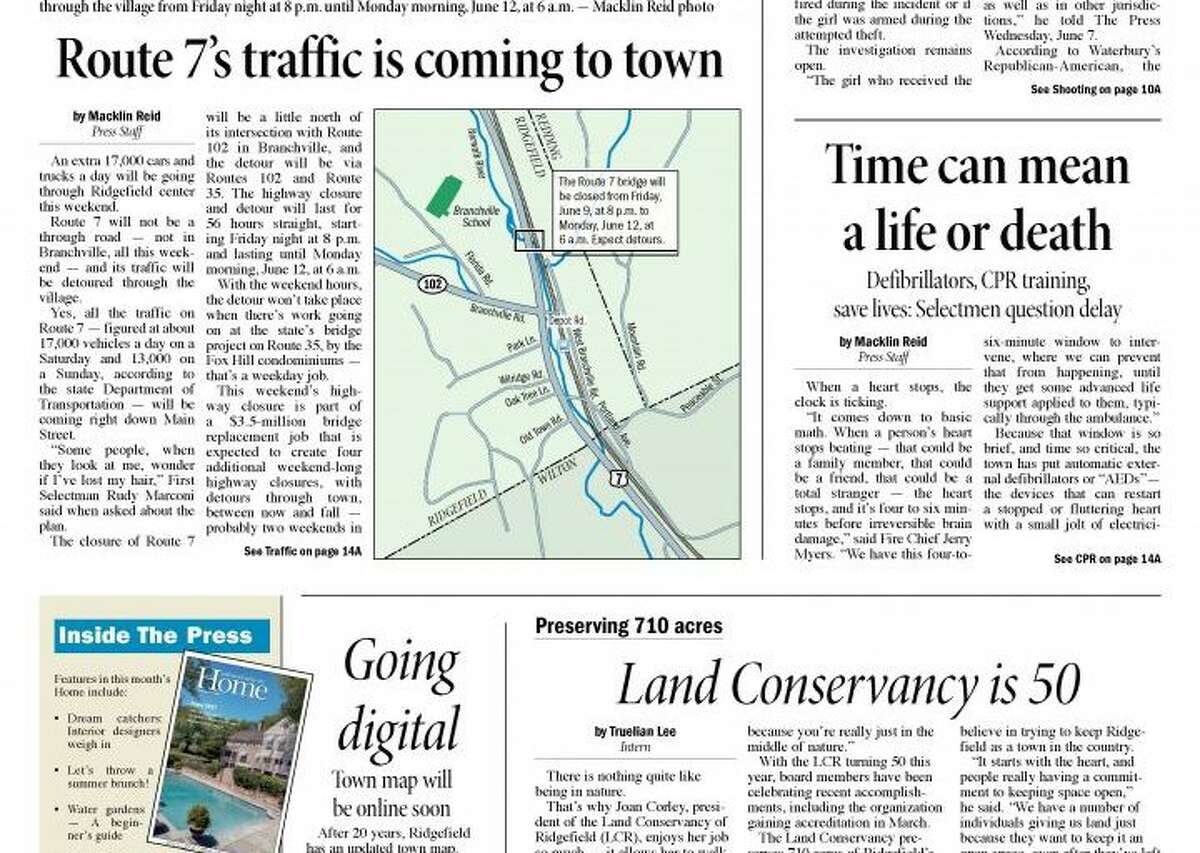 Here's a look at some of the headlines in this week's Ridgefield Press:
The Catholic Church is back in the headlines this week for settlements they made with five men who alleged sexual abuse crimes in the 1970s and 1980s at area churches, including Ridgefield's St. Mary's.
That wasn't the only scandal in this week's paper: Ridgefield had a shooting, only its second in the last five years, Monday morning on Hulda Lane. A 15-year-old girl from Waterbury was injured but will survive. What was she doing at 3 a.m. all the way down here though? You'll have to pick up a copy of The Press on newsstands today. Heck, who are we kidding, you probably already read about it online and posted 50 different comments Facebook.
Route 7 traffic will be detoured to go through the village Saturday and Sunday — and Friday night and Monday morning. It has the first selectmen pulling his hair out, and business owners grinding their teeth. Will downtown survive?
The Land Conservancy of Ridgefield celebrated 50 years of service to the town recently. They're featured on this week's front page.
Speaking of the environment, how did last week's Paris Climate Accord affect Ridgefield?  The shift in federal policy will create a local strain, leader
Inside The Press, there's a story about the town's paving plans this spring and summer. Will your road be affected? Open up to page 4.
In sports, Ridgefield baseball gets closer to its first-ever state championship game.
The Ridgefield Press is on Facebook — become one of more than 4,841 friends and get news updates at Facebook.com/RidgefieldPress
More than 17,836 people have signed up for Ridgefield Press news bulletins via Twitter. You can, too, by stopping by twitter.com/RidgefieldPress
Don't forget to sign up for Press alerts on our latest social media platform: Instagram. Go to www.instagram.com/ridgefieldpress/ or search @ridgefieldpress on the app.