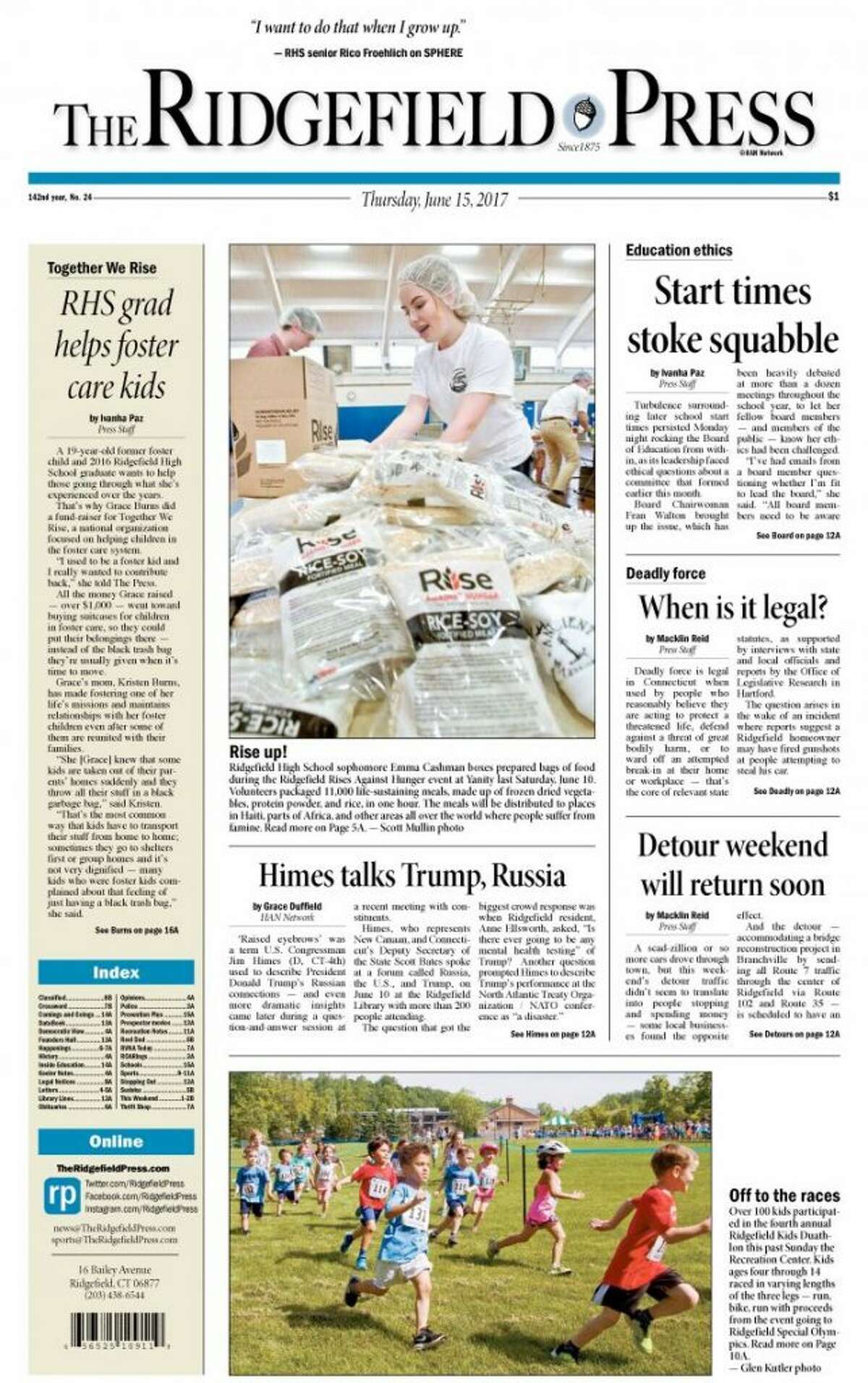 Here's a look at some of the headlines in this week's Ridgefield Press:
Russia and Trump have been making a lot of national headlines in the first half of this year. They don the front page of this week's paper for the first time because of a forum that the Ridgefield Library hosted last Saturday.
That's not the only headline about an event that took place last weekend: The Route 7 detour left police and business owners hoping for more when construction crews return to town June 23-25.
The Board of Education had a squabble about school start times this week but this time it didn't come from a member of the public — it came from within.
Speaking of schools, a Ridgefield High grad is celebrated on the front page this week for her recent charity work to help foster care kids.
Current students were also in the paper this week: Four for putting a food-packaging event last week and another for putting on a Disney-themed show this Friday.
Of course, it's not all pleasant news: Racist graffiti was discovered in Ballard Park Wednesday morning following Tuesday's CHIRP concert.
That will keep the local police busy — if they didn't have their hands full already investigating a shooting that took place on Hulda Lane June 5. The question The Press looks at this week is, did the homeowner have the right to use deadly force? Police still haven't confirmed if he or she was even the shooter so that makes it all one gigantic, legal hypothetical.
What's not hypothetical is that a Ridgefield man was behind the horse who won this year's Belmont Stakes. He spoke to sports editor Tim Murphy about the race and what made this horse primed to take home the trophy down in Long Island.
The Ridgefield Press is on Facebook — become one of more than 4,857 friends and get news updates at Facebook.com/RidgefieldPress
More than 17,904 people have signed up for Ridgefield Press news bulletins via Twitter. You can, too, by stopping by twitter.com/RidgefieldPress
Don't forget to sign up for Press alerts on our latest social media platform: Instagram. Go to www.instagram.com/ridgefieldpress/ or search @ridgefieldpress on the app.