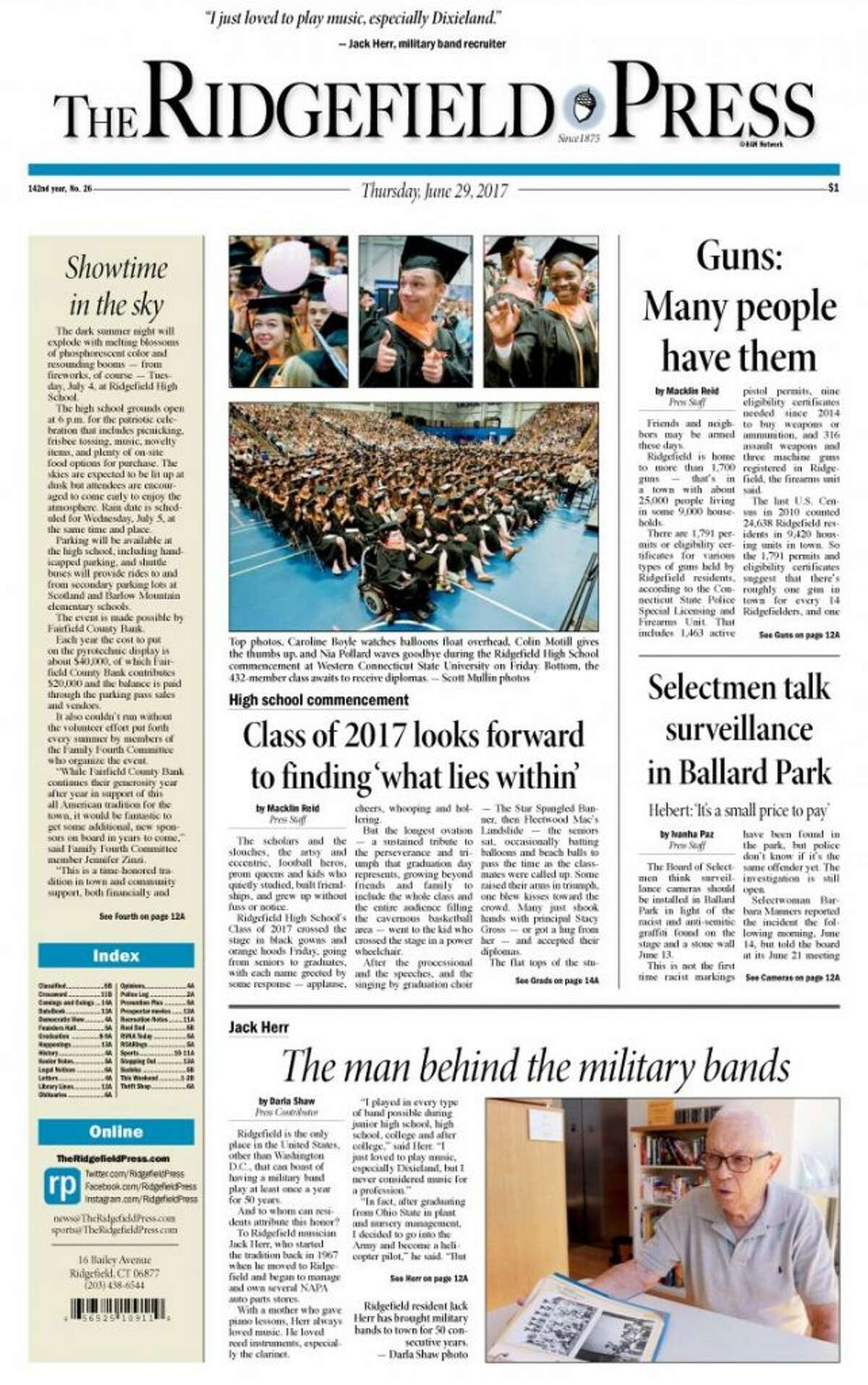 Here's a look at some of the headlines in this week's Ridgefield Press:
Jack Herr, the man who has been wrangling military bands and bringing them to Ridgefield for the last 50 years, talks about his musical career and why he started this annual patriotic tradition five decades ago.
A rollover crash on Barrack Hill Road Monday morning closed the road down for two-plus hours. Ridgefield police had their hands full with traffic — and searching for the man that caused the accident. He was charged later that day for evading the scene and failing to grant the right of way.
It wasn't the only crash in town this week: A chunk of the Ballard Park wall fell down after a one-car accident on Main Street, according to the first selectmen.
If this week's paper had themes — yes, like the ones discussed in a high school English paper — it would be last Friday's high school commencement and next Tuesday's Fourth of July celebration. Both stories are on the front page and take up some significant space inside. Make sure to find the special graduation pullout section on page 8 and 9 this week.
It's not all upbeat news, of course: Guns grace the front page again this week.
Also on page 1 again: The aftershocks of racist graffiti found in Ballard Park. Will the town buy surveillance cameras? It's looking likely.
Readers only need to flip the page over once to find some upbeat stories, like the Prospector's new technology that enables people with visual and hearing disabilities to enjoy first-run movies. Also, the Prospector is getting a big check from Keith Richards and his wife. The theater will be splitting more than $100,000 with SPHERE. Not bad!
In sports, Ridgefield's All Stars romp in their summer opener and a local swimmer, Kieran Smith, commits to Florida.
The Ridgefield Press is on Facebook — become one of more than 4,895 friends and get news updates at Facebook.com/RidgefieldPress
More than 18,013 people have signed up for Ridgefield Press news bulletins via Twitter. You can, too, by stopping by twitter.com/RidgefieldPress
Don't forget to sign up for Press alerts on our latest social media platform: Instagram. Go to www.instagram.com/ridgefieldpress/ or search @ridgefieldpress on the app.